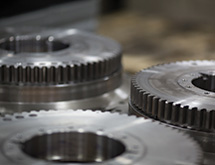 When Avon Gear opened its doors in 1974, the company was  a specialty shop, producing only simple gear and spline hobbing and shaping  services for local manufacturing companies. That all changed in 1998, when it was acquired by Japan-based Okubo Gear and gained the capital to expand its services into turning, drilling, grinding and balancing. President Matt Korth says this, along with partnering with key suppliers in the iron casting, forging and heat-treating services, allowed Avon Gear to become a full-service "raw to finished part" machine shop that serves a number of large heavy equipment manufacturers. But the company isn't stopping there.
Just as the company's growth throughout the years has been tied to its ability to expand its offerings and offer manufacturing expertise on new product introduction, Korth says the key for Avon Gear's continued success will in be expanding the base of customers it serves. Finding new markets for its services is the company's No. 1 priority right now, and Korth says the company is confident that its skill and state of the art capabilities will give it the edge it needs to serve a broader base of industries.
Based in Shelby Township, Mich., Avon Gear manufactures a wide variety of precision gears, splines, housings and axle shafts. The company also provides services including high precision CNC machining and sub-assemblies of transmission components. Its customer base includes some of the largest OEMs in North America, primarily in the construction, agriculture and mining sectors.
Highly Skilled
According to Korth, the work Avon Gear does for its customers can be very specialized, which much of its work being done as a low-volume, high-diversity product mix. Avon currently produces more than 500 different part numbers with an average lot size of 300 pieces. With that said, Avon Gear counts on its highly skilled workforce to help set it apart from its mostly larger competitors. Because of the many changeovers that occur on the production floor on a regular basis, Avon Gear needs its employees to be on the ball and capable of handling a wide variety of part types and change over on the fly. "We're relying on our operators," Korth says. "Our workforce is our greatest asset. All of our machinists have to be highly skilled because they not only have to run production, they have to setup, make adjustments and launch new product on a daily basis, as well."
Another key advantage for Avon Gear over the years has been the influence of Japanese ownership. Okubo Gear's commitment to provide the company with the most advanced equipment on the market ensures that they are able to compete globally. With the latest technological advancements incorporated into its processes, Avon Gear can then apply the lean manufacturing principles of its parent company to succeed in creating cellular concepts even though its product mix is so diverse. "We're creating cellular concepts on similar families of parts, so we're able to get the best of both worlds," Korth explains.
Broadening the Base
Although the company has had great success in serving its customer base over the years, Korth says Avon Gear wants to open itself up to new markets and find new customers to diversify its base. Because so many of the company's customers fall into oil-price-dependent commodities such as construction, mining or agriculture, Avon Gear is susceptible to the normal fluctuations and cycles those industries experience. For example, the natural gas mining sector experienced a boom around 2009 with the introduction of fracture mining, but in more recent years that activity has slowed down considerably. Korth says the company has been running smaller lot sizes than ever before for its mining customers, resulting in more changeovers. In order to maintain their cost structure, Avon has had to embrace lean concepts and quick changeovers. "That becomes a little bit of a scheduling nightmare," he says.
Avon Gear also is tackling the issues created by scheduling through its partnership with cloud based Plex Online. Korth says the company was the pilot company that helped develop Plex's new finite scheduling module, which helped Avon Gear with the higher number of jobs that needed to be scheduled.
Getting the company into new markets is critical for the continued success of Avon Gear because the company needs new customers whose demands can run counter-cyclical to its established customer base. The automotive sector is a great fit for the company because when gas and oil prices are cheap automotive suppliers flourish, and when gas and oil supply is down the prices go up and there are more opportunities in construction and mining. Korth says Avon Gear is confident that it has the people, the technology and the skill to be attractive to manufacturers in virtually any sector.