Smart and sustainable metering solutions
Leading manufacturer of ultrasonic smart meter devices, Axioma Metering, continues to expand rapidly as it works on brand new facilities and products
In 1992, Axioma Metering (Axioma) created Lithuania's first ultrasonic heat meter. Since then, the company has consistently worked to perfect its device technology, and adapt it to a range of new applications. Following a recent boom in the smart meter industry, Axioma has more than doubled in size, stepping up its operations in order to meet ever increasing demand. Despite its rapid growth, the company remains dedicated to innovation, as it seeks to increase production efficiency and the diversity of ultrasonic technology.
Today, Axioma offers a range of ultrasonic smart meters, registering heating and water. The company continually develops new ideas, building on its already expansive knowledge of ultrasonic technology. As Axioma's CEO, Ignas Vosylius, discusses, it took many years of hard work and innovative thought to reach this point: "Our activity
started 30 years ago, in 1991, and from the very first day we were focused on ultrasonic technologies for metering applications. At that time, this was a very innovative way of working, and even to this day most metering is done mechanically.
"The company was founded by a group of technology students, as a sort of pre-cursor to the start-up phenomenon almost 30 years ago. Throughout its history, Axioma has developed a rich depth of technological knowhow, especially in regards to ultrasonic technology and remote communications. Our biggest milestone so far was reached in 2016, when shareholders decided to mass market our smart meters. For context, our company revenue beforehand was about €10 million, and we produced approximately 50,000 meters per year, which is relatively small. We were mostly supplying bigger customers, in order to fill their portfolio gaps, and when we decided to become a mass market player our competitors were much bigger than us.
"We were trying to go up against companies with much larger production capacities, financial capabilities and market shares, so the decision was made that, in order to be successful, we needed to invent a new product, and invest heavily in automated manufacturing. This allowed us to offer something new to the market, whilst managing our production costs and quality level."
Investing heavily in automation was a big risk for Axioma, as it locked the company into its design without much room to make significant changes. "We took the initial €20 million investment, and used it to produce our new design through an automated process. The margin for error was slim, so we had to be confident in our work," states Ignas.
"It was an opportunistic decision, but also a very calculated one. Fortunately for us, it was incredibly successful. Now, instead of 50,000 meters per year, we have a capacity of two million per year. We are in the middle of constructing a new factory on previously owned land, and when that's complete it will extend our capacity from two million to six million units. Our growing footprint is a strong indicator of how quickly the company is growing," he continues.
Having navigated such a major expansion successfully, the company went on to find its niche, and develop its product range to include manufacturing components, as Ignas discusses: "We are an advanced manufacturing company, which means we produce critical machinery through research and development. We have a 100 percent in-house production operation, including plastic molding, SMT, assembly and calibration.
"Our portfolio also includes an array of sector-specific components that have been designed and developed by our research team, meaning we can offer both commercial and industrial products. Overall, we have been quite successful in penetrating the up-and-coming smart metering market, as our products offer a very precise measurement of water and heat, as well as the latest IoT technologies, such as NB IoT or LoRa WAN."
Being dedicated to continuous improvement is one of the ways Axioma Metering has managed such rapid growth. "We are continuously putting in efforts to become more efficient, especially in terms of our production process. Alongside this, we are gearing up to expand our capacity, in order to match the demand of the market.
"This means focusing on volume and quality. Our products are incredibly long-life, lasting around 16 years from a small internal battery, so we have to ensure each unit is faultless otherwise it can cause problems much further down the line. It's one of the reasons we choose to produce 100 percent in-house, because that way our team can monitor our processes, and look out for deviations, with a strong understanding of the technology and what they are looking for," Ignas asserts.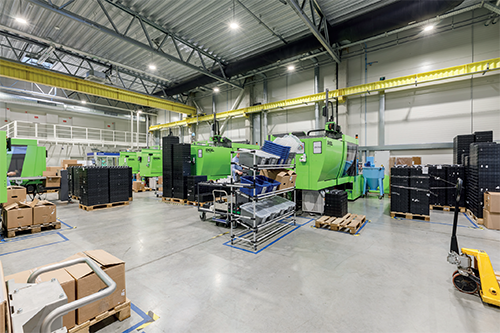 The people behind Axioma are experts in ultrasonic technology, which means that they are capable of achieving high levels of quality control, whilst also developing the company's products for application in new areas, as Ignas explains: "Our product is an ultrasonic metering system. It has no moving or mechanical parts, which means it maintains its quality for a much longer period than traditional systems. The ultrasonic technology works by transmitting a high-frequency signal through a plastic pipe – water flow will move this signal, and that movement can be measured to provide an accurate reading.
"Ultrasonic technology has been around for a long time, but Axioma was one of the first groups to adapt it to metering this successfully. Our products are long-lasting, and continue to provide highly accurate readings for up to 16 years. They also have data transmission capabilities, which supports data analytics and preventative maintenance. Having a smart meter can also support energy efficiency, by providing more accurate usage information."
Amongst Axioma's innovative achievements is the QALCOSONIC W1, an easy to use, reliable and long-lasting smart meter designed using the most refined ultrasonic technology. "The W1 meter is our flagship product, and it has been the basis of all our developments since. Using a brand-new infrastructure, we have added different communication options to the model, and we can even customize the electronical options in light of what the customer would prefer."
It is no secret that the past few years have posed major challenges to supply chains across the world. Axioma overcame these difficulties through a dedicated, data-driven approach, as Ignas asserts: "We managed supply chain and material challenges by being transparent with our customers, and providing them with realistic figures in regards to what we could produce. We also looked closely at the market, and made strategic decisions on the basis of when we expected the demand. Keeping ourselves informed and operational whilst materials were scarce was really important to Axioma, and in the end it helped us weather the storm pretty well."
In the middle of 2022, these supply chain issues are expected to become less prominent, and Axioma has wasted no time in regaining its momentum. The company is currently preparing for a major expansion, as it works to become an industry leader. As Ignas details: "We will soon be constructing the new factory, which will allow us to produce and store up to six million units per year. With tripled capacity, we hope to gain a larger market share, and grow rapidly, hopefully becoming an industry forerunner within three or four years. Because Axioma Metering has so much potential, it's really important for us to continue building up our facilities and designing new products.
"I believe that component shortages and other issues will be insignificant to our overall growth trajectory, and if the company continues on its current path it is going to be in the top five global players for this category. Over the next few years, we will be looking into expanding the technology, and making inroads into new markets, in order to ensure Axioma's continued expansion.
"It's a very fun journey to be on. There will be some challenges and uncertainty, but luckily for us we have a team of great technical minds who are capable of working with different scenarios and combinations of potential risks. We are riding a wave of innovative success created by an up-and-coming market, and we intend to continue that momentum by providing high quality products at an affordable, competitive price point," he concludes.
Axioma Metering
www.axiomametering.eu
Services: Developer of digital metering equipment