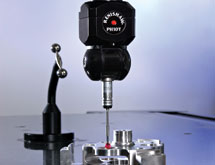 If there is anything critical to a successful business, it is the ability to fill a need. Azmark Aero Systems has done that by constantly meeting customers' needs with assembled package parts, Director of Business Development Jeff Weston says.
"We can do that very, very quickly," Weston says, noting that the company also can work closely with its clients' engineers. "It's a nice value-add for our customers."
For instance, Azmark has R&D and manufacturing engineers who work closely with customers when projects move from prototype to production. This helps save clients costs in the manufacturing processes.
The Gilbert, Ariz.-based company also specializes in flight-weight subassemblies, line replaceable units and complete power systems for commercial and military applications. Azmark was formed in 2010, through the merger of Astrotronics LLC and M-DOT Aerospace.
Both were 25-year-old firms with strong manufacturing capabilities, Weston says. Today, Azmark operates with a staff of 85 from a 40,000-square-foot, temperature-controlled facility in Gilbert.
"[We have] all the certifications that you could desire from a machining and assembly house," Weston says, noting these include AS9100 Rev C, AS9110 Rev A, ISO 9001:2008 and ITAR. "Quality is the most important. It starts with the machine operators and flows through the whole company."
Quality is a high priority because 99 percent of Azmark's work, Weston notes, is for aerospace clients, including both commercial aviation and defense work.
Pride in Innovation
Weston joined Azmark as one of its first employees in 2010. He had gained more than 20 years in business development experience in the areas of quality control, manufacturing, contracting, marketing, business and sales planning, management and business development with Fortune 500 firms and start-ups.
Weston says he appreciates Azmark's focus on innovation. For instance, before the merger, M-DOT built the world's smallest gas turbine engine, which earned an award from the Defense Advanced Research Projects Agency.
Azmark is developing the innovation as a gas turbine engine with an alternator. "We [also] have a mid-sized engine that produces between four and 10 kilowatts," Weston says.
Now, he says, Azmark is developing the innovation as a gas turbine engine with an alternator. "We [also] have a mid-sized engine that produces between four and 10 kilowatts," he says. "These small turbo-alternators are used to convert fuel to electric power mostly for unmanned serial vehicle applications."
Organized and Streamlined
Azmark keeps strong control over its inventory and work in process through an integrated ERP system, Weston says. While the firm is transitioning to a new ERP platform to handle planned future growth, the current system is capable of managing resources and process like inventory and production planning for current capacity.
Weston says, "We know where every part is from raw material at Azmark's dock to finished product at our customer's receiving dock. The ERP system also helps us schedule the machines so that we can maximize throughput and meet our customers' delivery dates."
Under Pressure
Recently, Azmark's customers have required their products and services to be delivered faster, Weston says. "They've asked the programs to be condensed in time," he describes.
"We're constantly trying to produce things quicker, faster and cheaper for our customers," he says, noting that the company has experienced longer lead times from its sub-vendors.
However, Weston predicts that the company will grow more efficient. "We just deliver a fantastic product and I know we're providing great value to our customers," he says.