New company, new concept
With an innovative cabinet system that allows the construction of carcass units in as little as 30 seconds, BA Clic Components is bringing real cost effective change to clients with a revolutionary new concept in cabinet construction
BA Clic Components is a young and exciting business that offers clients a new and innovative concept in kitchen cabinets that uses the patented 'Uniclic for furniture' technology. BA Clic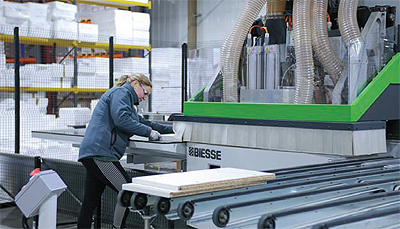 Components was established in August 2016, after successfully negotiated a licensing agreement with UNILIN to sell its Uniclic technology, while taking on the ongoing and future production of all Clic components and ClicBox units to existing UNILIN customers within the UK and Ireland. As a result of the agreement BA Clic Components is now responsible for the full sales, promotion and marketing activities of both Clic Components and ClicBox, while activity promoting the product range through existing and new distributors and stockists alike.
BA Clic Components operates out of a newly purchased 52,000 sq ft of factory space at Barbados Way at Hellaby in Rotherham, South Yorkshire, where a dedicated facility has been established. The site features the very latest production equipment where a driven workforce has been assembled to fully promote and progress the BA ClicBox brand. The establishment of the new site signals the beginning of a dynamic 'Join the Kitchen Cabinet Revolution' campaign, with the innovative BA ClicBox at its heart. That the company is confident this will appeal to many markets is without dispute as the revolutionary design of the ClicBox concept will appeal directly to a broad base of clients including merchant groups, kitchen fitters, dealers, builders and developers, truly proving to be a defining change within the kitchen manufacturing and construction industries.
When compared to traditional methods of kitchen furniture and cabinet construction, BA ClicBox offers several advantages in that it is:
Easy to assemble.
Is easy to transport, handle and deliver to sites.
Takes up to 69 per cent less van space.
Can be assembled on site up to five times faster than normal flat pack cabinets.
Requires no tools, glues or fittings.
No fittings mean none can get lost.
Is stronger than traditional cabinet designs.
There are also many additional benefits to using ClicBox carcassing including lower raw material use, a smaller ecological footprint and of course a much faster and easier way to assemble panels. To be precise, the technology assembles five times faster than traditional installation methods, which in turn means better productivity saving suppliers and fitters both time and money.
In terms of its physical properties, BA ClicBox technology features 18mm thick MFC panels, with 1mm ABS across its leading edges and 8mm solid back panelling. Constructed units feature 18mm adjustable shelves that are fully edged all round and can be positioned at one of three possible heights. Wall cabinets are 330mm deep, with a 18mm void and internal depth of 304mm, while base cabinets are 570mm deep with a 49mm void and an internal depth of 513mm. BA ClicBox cabinets also feature solid top and bottom panels, which are fully interchangeable without the need of cumbersome tools. The materials used in the making of the units are also Forest Stewardship Council approved, meaning that clients can purchase BA ClicBox units in the full knowledge that they will receive a high-quality product that is also responsibly sourced and manufactured.
The launch of BA Clic Components has proven to be highly positive, with the company making a significant impact at the 2016 W16 Elements Show. The respected trade exhibition was held at the NEC in Birmingham and saw BA Clic Components launch of ClicBox, which was subsequently hailed as a huge success. During the event, the BA Clic Components team worked tirelessly to demonstrate the ClicBox carcass to exhibition attendees, many of whom where keen to discover more about the product.
To prove that ClicBox is the fastest way to build a kitchen in the modern market, the BA Clic Components team ran a competition amongst stand visitors to see which of the stand's visitors could construct the carcass in the quickest time. The fact that ClicBox can be assembled without the need of tools makes it incredibly easy to build and in fact, the winner at the exhibition successfully completed the challenge in just 10.62 seconds! With entertaining demonstrations such as this highlighting the benefits of the product itself, the feedback in the stand was very positive, with the levels of interest being so high that the stand subsequently ran out of brochures and BA Clic had to print extras to see it through the show. "The response to the Clic technology was fantastic with most visitors showing real enthusiasm for the products. This exposure for the brand and the feedback we received means this product will become a serious contender for future developments and projects with national house builders, ECO developers and trade merchants," says National Sales Manager for ClicBox, Nicole Irvine. "Bespoke cabinet manufacturers have identified the opportunity to introduce an option for contract work realising quickly that ClicBox will compliment their existing business and not impact on production schedules."
With over 600 visitors to the stand and a constant stream of demonstration's and enquiries, the response to ClicBox was exciting and encouraging throughout the complete W16 event. The technology and simplicity of assembly had visitors thinking about introducing new 'Clic related' ideas for expanding their business, demonstrating a genuine level of excitement relating to ClicBox across the kitchen installation market. With a highly positive start and an innovative new technology, BA Clic Components is set to revolutionise the way that clients look at cabinets and kitchen furniture.
BA Clic Components
Services: Innovative new ClicBox technology