Blue sky thinking
As governments and countries reduce military spending the challenge is to improve the manufacturing process. BAE Systems' New Product and Process Development Centre in Samlesbury is looking at new ways to revolutionise this process
The term 'disruptive technologies' can refer to any form of innovation that could potentially revolutionise an industry while at the same time threatening the processes that preceded it. For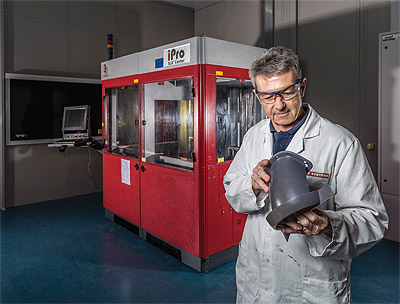 example, there was cynicism when sound was introduced to cinema. Aside from changing how people experienced films there was also the disruption for the people involved, with actors, directors and other professionals having to completely change how they worked with new technology.
Currently there is a potential for a massive paradigm shift with how BAE Systems constructs components, works with its engineers and trains apprentices. However, there is also additional risk, as in the case of BAE Systems there is additional pressure due to size, complexity and regulations of contracts. While the company is looking to innovate in terms of products and processes, this is an organisation that is working with the defence sectors of governments across the world. Anything that the organisation produces needs to be completed within set timescales and budgets, but more importantly comply to rigorous safety standards.
This is where John Dunstan comes in. John is the Head of the New Product and Process Development Centre (NPPDC) in Samlesbury, a centre that develops new manufacturing methods for components and provides support to aircraft programmes from the initial manufacturing through to the final 'passing the sunset' phase where aircraft parts may become obsolete. John's department is not only looking at disruptive technology but also at methods that could potentially revolutionise the way BAE Systems works.
New process
John is clear about the main purpose of the NPPDC: "The facility has been set up over the last two and a half years to bring new technology into the mainstream operational areas. One example of this is the ongoing development of additive manufacturing, how do you take those evolving processes into a production environment and ensure we have a full 'end-to-end' working process capability?" he asks.
The process of additive manufacturing will be familiar to anyone who uses a 3D printer, essentially creating shapes from layers of material using 3D modelling software. This additive process can be done using a variety of different materials such as metal powders. John is excited about the possibilities of this process and the potential applications for BAE Systems: "It's about what this can offer in terms of cost, quality and lead time. We've got parts on legacy aircraft, welding parts together, our additives allow us to unitise something that previously would have been fabricated from a number of components," he explains.
John also realises that there is a challenge when it comes to bringing in the new technologies that the NPPDC develops. Aside from additive manufacturing the NPPDC is also working on changing BAE Systems' use of developments such as virtual reality, augmented reality and 3D imaging. John is firm in his belief on the benefits these new technologies could bring: "We are looking at how we support some of the industrialisation of some of our clients, and this is part of how we introduce new technologies to these areas. With additive manufacturing, we can offer benefits in terms of cost, quality and schedule whereas usually you have to compromise in terms of one of the three," he enthuses.
While John is adamant that additive manufacturing could be massively beneficial, he also believes that the use of virtual reality could fundamentally improve the manufacturing process: "We can deliver existing products quicker and VR supports that in a number of areas. One example is, whilst designing facility layouts, manufacturing or otherwise, the old technique would involve looking at 2D squares on paper drawings. Now you can create an accurate representation of the facility by importing product and tooling data from our existing toolset and assess the ergonomics of the proposed layout. This gives us an idea of the workflow of a facility and we can identify where clashes could potentially occur," he theorises.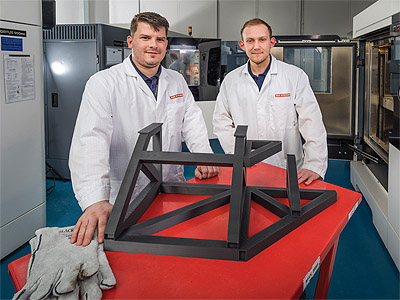 Another development that NPPDC is working on is 3D discrete event simulation, a simulation of how products could be built in a factory environment: "Historically our engineers have had to describe a process on paper, if we have to produce a new front fuse they have to explain which parts go into the jig, what processes are associated with that activity and so forth. We want to get to a point where we can create this in a virtual environment so that an operator and an engineer can be sat in the same room and see how this would operate. If we can use this facility effectively, we could train our operators so they enter the learning curve at a higher starting point, ultimately reducing the lead time and lowering the budget requirements at the front-end of the programme," he elaborates.
Innovation
The process of introducing new developments can take a long time, with a number of little wins and incremental steps. As John explains the process requires both investment and patience: "If you add a new material there is a six to eight-month qualification cycle before you can put it into a physical design. At the moment, our focus is on legacy products. We are hoping to eventually deploy this on a new product in the near future and that's got to come from maturing the process on a product that we have already designed. The challenge is you are working with something that has an existing standard of parts as well as costs and lead times associated with it," he speculates. John is under no doubt what the NPPDC has to Systemsdo: "You've got to be able to demonstrate cost effectiveness, lead time and quality in order to make the case for changing the design set and process of manufacturing," he details, outlining what needs to be done in order to change a system on such a grand scale.
In order to demonstrate this the NPPDC operates on a process known as SQCDP – Safety, Quality, Cost, Delivery and People. This approach works on a number of levels, from how apprentices are trained in the recently built Academy for Skills & Knowledge, up to pitching ideas with customers and governments: "We look at process control consistently across the business. Our academy offers a number of discrete courses in lean manufacturing techniques, typically over a two-week period, supported by project work and through this selected engineers will go from green to black belt status and this is embraced across the breadth of the company," he says, highlighting how the change in approach begins with how students are taught. When it comes to pitching to potential clients this lean approach is often used to show how BAE Systems can get results while minimising costs: "We recognise that a client has a budgetary constraint so we look at how to maximise revenue opportunities for BAE Systems while at the same time optim sing products for the client," he confirms.
The journey
The NPPDC is always looking at ways of improving the manufacturing process. While John believes that virtual reality and 3D printing can be useful tools, he is also looking for further opportunities and believes that the next step is a minimal tooling environment: "A lot of our clients have tight non-recurring budgets and tooling can be a big part of that cost. Therefore, we are looking at robotics as a way to mitigate some of those costs," he details before giving a specific illustration of how this could be achieved.
"Take a tooled environment that produces fuselages and another one that works on vertical tails. We are looking at a way to create something that's fixed that could work on different tasks and to help our engineers think outside the box, we want to give them the toolset to think of solutions and the more tools we can give them the more it encourages our engineers to innovate!" he exclaims.
John is excited about the prospects that these new developments could create but he is also aware of the fact that there is a lot of work to be done: "From an additive perspective we are at the foothills. We're starting to see limited component numbers introduced onto aircraft and over the next couple of years I can see us expanding into producing small, structural components. We're also working in conjunction with academic establishments such as Cranfield University to see how to develop larger structural components like titanium frames so we can reduce our dependency on forging," he predicts, illustrating the possibilities and the potential benefits that the NPPDC's research could create.
However, John believes that the legacy of this research goes beyond BAE Systems and even the aerospace industry in general: "A lot of this is about education, awareness and how you bring the organisation on that journey. I think this is a challenge not just for ourselves but in any area of industry that could potentially benefit from these disruptive technologies," he firmly insists. It is not hard to see where he is coming from as everything from how BAE Systems approaches developing products to the potential full automation of the production process is potentially revolutionary.
A look at inventions and developments over history would suggest John is right. Another aspect of disruptive technology is that sometimes the innovations in one industry can have a fundamentally massive impact in another – for example the invention of the microwave oven occurred as a result of a radar technician noticing that the magnetrons on his device melted a chocolate bar in his pocket.
One thing is for sure though – with the amount of investment, effort and dedication coming from the NPPDC, any benefit that BAE Systems gets from the facility will not be by accident!
BAE Systems
Products: Aircraft manufacturers for military and civil applications