BAE Systems Military Air & Information
Flight ready
Operating as part of BAE Systems Group, the company's Military Air & Information (MAI) division delivers cutting-edge military hardware and an array of associated training solutions, support and information services
Incorporated in 1999 by the £7.7 billion merger of the UK based Marconi Electronic Systems (MES) and British Aerospace (BAe), BAE Systems today provides some of the world's most advanced, technology-led defence, aerospace and security solutions. As a successor to some of the most iconic names to have appeared in the defence and aerospace markets, the legacy of these companies continues today through the leading edge and highly renowned technologies delivered by BAE Systems across the globe.
"BAE Systems Military Air & Information is the military aircraft division of BAE Systems and is a business that can trace its roots back to the earliest days of aviation. Throughout its history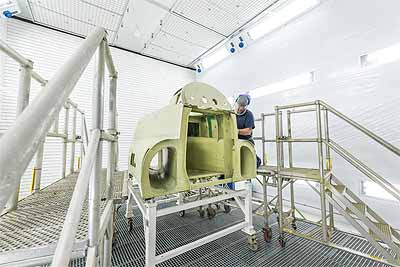 the company has grown through the acquisition of several dominating businesses including English Electric, Hawker Siddeley, Blackburn Aircraft and A.V. Roe," explains Manufacturing Operators Director – Military Air & Information, Dave Holmes. "As of 2016 we employ circa 13,000 people at 24 sites across the UK, predominantly in Lancashire although with significant populations based on RAF bases and in East Yorkshire. We have leading edge expertise in the design and manufacture of fixed-wing military aircraft and training aircraft, as well as provide training, full product life support and information services for the UK RAF and other customers worldwide."
Further to providing technically advanced and robust modern aerospace assets, BAE Systems Military Air & Information (MAI) also provides an array of defence information systems, networks and delivery platforms for a wide range of programmes that are predominantly in the military arena. BAE Systems is presently the UK's largest manufacturing employer and the country's most significant employer of professional engineers. The company has a proud history of implementing advanced manufacturing techniques to produce some of the world's most efficient military equipment and is today involved with a number of major military programmes. These include its position as a key partner in the consortiums that manufacture the Eurofighter Typhoon and F-35 Lightning II combat aircraft. MAI also engineers and manufactures Hawk, an advanced jet trainer that is presently used by 18 nations across the globe to train future jet pilots, while simultaneously taking a leading position in the development of unmanned aircraft.
"Throughout our history we have faced the challenges created by a changing manufacturing landscape and those we face today are no less real than those we have faced in the past. Our main challenges today are to ensure we provide our customers with the technology which meets their requirements within a competitive environment where cost is a major factor and bid discriminator," Dave observes. "On the F-35 Lightning II programme for example, we are preparing for a rapid increase in production rates on the world's biggest defence project to meet our commitments to the programme, led by US firm Lockheed Martin. F-35 Lightning II represents the UK's ability to continue with advanced manufacturing in the future and is at the heart of our manufacturing strategy. The ten per cent workshare we have on the F-35 Lightning II programme is important in helping the UK with its deficit reduction with around 95 per cent of the work exported, helping drive real GDP growth for the UK."
Throughout its business MAI is developing its manufacturing processes in response to the challenges generated by the production of low-volume, high technology products. The company's continued investment and research into areas such as additive manufacturing, augmented and virtual reality and the use of robotics are just a few of the ways that MAI is ensuring that it is ready to meet the challenges for a technically demanding industry. Furthermore, the increased presence of the business within international markets will see the requirement to extend its manufacturing footprint overseas and to facilitate the transfer of advanced production capabilities. This is exemplified by the on-going relationship between MAI and Hindustan Aeronautics Limited (HAL) in India, which licenses the manufacture of Hawk training aircraft for the Indian armed forces.
As part of its on-going programme to increase the efficiency of its manufacturing and design processes, MAI has recently opened its new Product and Process Development Centre. The centre is designed to embrace new technologies, revolutionary materials and processes to enable BAE Systems to become one of the earliest adopters of leading edge technologies. "The New Product and Process Development Centre (NPPDC) was set up at our site in Samlesbury, Lancashire during 2015 to bring a range of capabilities from across our Military Air & Information business under one roof," Dave elaborates. "It is a facility that covers all manufacturing activities through to assembly, including carbon fibre, and has been created to pull through new technologies and get them delivering improvements on our aircraft. Additive layer manufacturing, or 3D printing, forms the centrepiece of this facility with a number of machines able to produce parts using a variety of different manufacturing techniques, which have gone on to inform and develop the way we work to ensure we are as efficient and effective as possible."
While advanced technology is naturally a vital component in the development of the very latest military-grade hardware and communication technology, BAE-MAI is keenly aware that it is the company's people and engineering competence that enables it to maintain a leading market position and that will allow it to continue to do so well into the future. As such, the company has invested £15 million into the development of a new BAE training facility.
"The new Academy is scheduled to open in September 2016, to coincide with the arrival of the latest cohort of apprentices and early careers employees, and is presently under construction," Dave outlines. "It will provide a flexible, modern environment allowing for better engagement with schools, as well as greater capacity for overtraining to ensure other companies in the supply chain and sector have the skills they need for the long term. From a manufacturing perspective, the academy will have the latest equipment, including 3D printing, robotics and machining tools, which will allow our craft and technical apprentices the opportunity to develop skills using the equipment making them 'factory-ready' to join the workforce."
Throughout 2016 and beyond, BAE Systems and its Military Air & Information division will continue to develop its manufacturing practices, while engaging with several high profile and demanding projects. The F-35 Lightning II for example, represents the world's largest defence programme and has seen BAE Systems set new standards for precision manufacturing, assembly precision and the ability to deliver on its commitments to the programme. "The manufacturing and assembly expertise which we are developing on the F-35 Lightning II programme is an evolution of techniques employed on our Eurofighter Typhoon programme," Dave concludes. "BAE Systems is a business with a strong order book which includes some of the world's most advanced manufacturing programmes, employing thousands of highly-skilled workers. The recent Strategic Defence and Security Review (SDSR) by the UK Government included a commitment to working to develop the next generation of unmanned combat aircraft, which led to the announcement by the UK and
French government of a project to build an unmanned combat air system demonstrator.
"This contract will secure high-end engineering jobs both now and in the future."
BAE Systems Military Air & Information
Services: Military Air & Information: advanced, technology-led defence, aerospace and security solutions