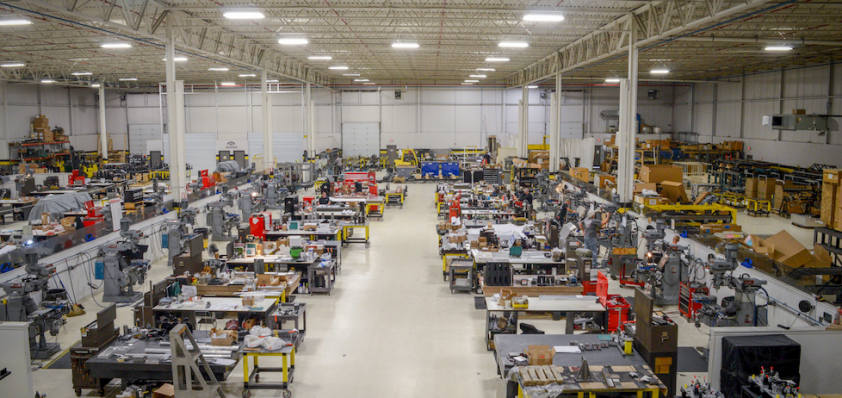 Baker Industries has positioned itself as a leading tooling supplier to the automotive and aerospace and defense industries for 25 years by staying innovative and offering tool quality that is second to none. "In these last few years, OEMs are looking to us to be a strategic partner and technology innovator for them, which isn't traditionally thought of with tooling," CFO Brian Baker says. "Five-axis machining, 3-D printing and design support we see as normal, everyday stuff because we are a turnkey operation."
Brothers Scott and Kevin Baker co-founded the Macomb, Mich.-based company as Baker Duplicating in 1992. The company started as a three-man shop operating out of 2,100 square feet before transitioning to Baker Machining & Mold Technologies after it added equipment and capabilities to serve the automotive industry. Baker's growth trajectory shot upward from 2008-2011 as it expanded into large-scale machining and fabricating to serve the demands of aerospace customers, which resulted in the addition of Baker Aerospace Tooling & Machining.
The new division led to more investment in equipment, square footage, technology and services, including design, engineering, 3-D plastic and metal printing. The company transformed again in 2016 to join all three divisions as Baker Industries. "The Baker Industries name is meant to inform our aerospace and automotive customers, as well as prospective customers in other markets, that we bring our integral approach to meet their needs and solve their challenges," the company says. "This approach brings together our best people with the best technology, best equipment and best practices to deliver excellence and innovation in every project."
Today, Baker Industries operates four facilities in Macomb that encompass 220,000 square feet. The company has 39 CNC machines, seven 3-D printers, a facility dedicated to fabrication, one for automotive design and build and another to house its aerospace business. Its capabilities include design, engineering, fabrication, welding, machining, assembly and build, 3-D printing, inspection and validation.
"We can produce everything from layup tools, assembly and bond tools, automotive fixtures, jigs, gauges, hydraulic moving tools, autoclave tools, verifications models," Vice President Scott Baker says. "And now 3-D printing [additive manufacturing] has opened us up to a world of new possibilities like actual parts and/or complex shapes and internal geometries that we would not have been able to manufacture traditionally in the past."
Turnkey Operation
Baker Industries designates a project manager as the single point of contact to guide each customer through the manufacturing steps. The company performs both build-to-print and design/build projects. A typical project might be 12 weeks starting with the design and engineering phase. Projects then move forward through its vertically integrated manufacturing process from fabrication to machining to build and assembly, and then final inspection, quality assurance and shipment.
Baker Industries specializes in custom-ordered tools with quantities ranging from one to 20 that change weekly. "Our processes and technology to complete these projects change as well," Brian Baker says. "For example, [with] the evolution of our machining department from duplicating a hand-carved model to CNC 3-axis equipment then 5-axis equipment and now 3-D printing, we've been at the forefront of each leap in technology and see it as our strength to adapt and embrace the change."
In 2017, Baker Industries invested $8.5 million in facilities and equipment and added about 40 employees. The company's most recent equipment acquisition was the Emco Mecof PowerMill, a 5-axis machining center that was the first of its kind to enter the United States and is one of the largest and most versatile milling centers in the Midwest.
The PowerMill has drawn the attention of the aerospace industry, Scott Baker says. "With 38 versatile CNC machines on the roster already, the PowerMill was primarily purchased for the machining of large-scale assembly tools, bond tools and other colossal components," he adds.
The open structure of the machine's moving gantry allows for more convenient loading and handling of these very large tools. The spacious 52-by-20-by-10-foot envelope is large enough to fit seven full-size SUVs or two semi-truck trailers on its platform. It can process parts up to a maximum weight of 2.6 million pounds on the stationary table.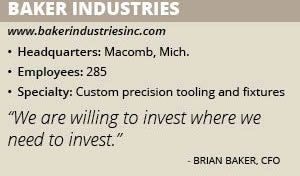 "What's unique is that we don't have to move the part from machine to machine. The PowerMill is capable of taking each job, from rough to finish, all on one machine," Baker says. "Aside from the flexibility, capacity and high-speed functionality, the new PowerMill delivers an unprecedented level of rigidity and machining performance, which is ideal for the heavy-duty cutting of Invar, steel, aluminum, cast iron, composites and other alloys that are generally difficult to machine on a large scale."
Designing Solutions
Baker Industries prides itself on its willingness to do whatever it takes to meet its customers' needs. "We are willing to invest where we need to invest," Brian Baker says. "Scott and Kevin make decisions quickly and if we need more equipment we can have that ordered and installed in a few weeks versus months or years like some of our competitors."
Baker Industries began 3-D printing in 2014, which has allowed the company to think outside the box more often. "A lot of the OEMs and Tier I manufacturers are dipping their foot in the pool and I think it gives us that edge to be able to walk them through additive manufacturing to optimize tooling and look at every project to decide if it's a good candidate for additive manufacturing," Scott Baker explains. "We introduce it to them and show them real-life applications which has changed the way they think they about building tools."
For example, one of Baker Industries' customers needed a solution to a balance concern about a go-by tool designed to apply pressure and aid in a room-temperature cure of multi-skins. The correct balance of this tool was critical for employee safety. Baker Industries recommended 3-D printing ABS in place of the aluminum pusher details of this piece to reduce the weight and counter-balance of the tool.
The team attached a natural gum rubber to the 3-D parts that contacted the engineering. The newly designed hybrid tool stood up to the tight aerospace tolerances, and as an added benefit reduced overall cost and timing.
Weight-reduction of aerospace tools and parts remains a critical issue for many of Baker Industries' customers. In a different scenario, one of Baker's OEM customers required its tools weigh 35 pounds and under if being handled by one employee, 36 to 48 pounds if handled by two employees and all tools over 48 pounds must be lifted by crane.
The weight of the traditionally manufactured carbon fiber bar with aluminum ends would have required a mechanical lift provision, such as hoist rings. By FDM thermoplastic printing the ends and handles, Baker Industries reduced the tool's weight to only 23 pounds, enabling a single employee to handle the tool safely and with ease.
Baker Industries printed the ends using ULTEM 9085, which is a popular material in the aerospace industry because of its ability to withstand high temperatures required for certain applications. By 3-D printing the ends, Baker Industries was able to reduce the cost by 30 to 40 percent than if the components were machined out of aluminum.
Another OEM customer required a timely and low-cost alternative to a carbon fiber insert. Baker Industries used fused deposition modeling to print this piece using ULTEM 1010. In comparison to the carbon fiber tooling, the ULTEM material provided almost identical coefficient of thermal expansion properties at the temperature range required for this application.
"This was a critical aspect of the project because the application required a material that is able to withstand temperatures of 375 F and expand at the same rate as other engineered parts that are also laid against the main tool," the company explains. "Not only did the ULTEM alternative provide significant weight reduction, but it also enabled substantial time savings in production, as well."
Baker Industries printed with sparse-filled details, which allowed the company to reduce more than three-fourths of the original weight of the carbon fiber tooling. The company also reduced lead time by more than six weeks because the process eliminated the need for designing carbon fiber details, machine time and post-processing to create the molds needed to lay-up the conventionally manufactured carbon fiber tool at the tolerances required by the customer.
"Additive manufacturing integration has been tremendously beneficial to us and our customers," Scott Baker says. "It gives us the ability to keep our customers' best interest in mind at all times with regards to design, cost, weight and timing. And although there are a number of dedicated 3-D print shops out there, they don't have 25 years of industry intelligence to meet the stringent standards required in automotive and aerospace."
Industry Innovators
Baker Industries will continue to evaluate its assets and exchange out older technology and equipment for the latest and greatest. "The market is always moving forward; if we're not offering new and better services to our customers we would be left behind," Brian Baker observes. "The market understands 3-D printing's place in prototype and production parts, but still has yet to fully understand and adopt integrating additive manufacturing for tooling applications – that is where we look to educate and provide optimal solutions for our customers."
Baker Industries has been growing at an annual average of 25 percent over the past five years and sees opportunities for continued growth in its future. "Change is what drives us," Scott Baker says. "We celebrated our 25th anniversary last year and now we look forward to the future and the next 25 years. It's amazing to see how far we have come and it's nice to reflect, but there are always opportunities and industries out there that we want to pursue."
The company plans to maintain its positive growth trajectory by continuing to invest in new equipment and technology, attracting new customers and deepening its roots in the industry. "Although the aerospace and automotive industries are generally cyclical, the continued focus of quality at the OEM level drives continuous demand for our products, and the advancement of technology and design in automotive will keep us busy for the foreseeable future," Brian Baker says. "Twenty-five years of industry experience is what built our reputation, but it's our evolution and continued investment in technology and equipment that keeps us growing. We know that once they tour Baker Industries, they will become a customer."