Tricks of the label trade
Having celebrated a record month in terms of turnover at the tail end of 2018, Baker Labels is enjoying an extended period of growth, supported by targeted investment in equipment and its people
October 2018 was a massively significant month for Baker Labels. It was then that the UK's leading trade label manufacturer celebrated the major milestone of reaching a company record monthly turnover of £1 million. A fantastic achievement by all accounts, it was one of the standout moments for what Managing Director Steve Baker correctly describes as another 12 months of growth, investment and expansion. "In the last year, the process of moving our Materials department into the new adjacent unit was completed, leaving room for our next phase of project and equipment investment," he details.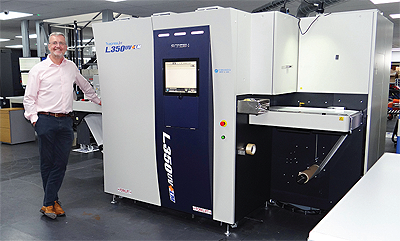 "At the same time," Steve continues, "staff numbers have increased, with – on average – a new employee starting each month, and for the first time in ten years we have added to our team at senior management level, in recognition of the scale of our growth and our future plans. All of our people have also been able to benefit from the expansion of our 'Wellbeing at Work' programme. Through this, we have seen the creation of things like walking and football training groups, an increase in charity involvement, and have been able to offer greater support to staff facing personal or work-related issues. These initiatives have helped to maintain our strong family ethos, and encouraged our staff to feel connected and invested in the company."
When it comes to the strong, continued demand for Baker Labels' services, Steve credits the company's reliability when it comes to getting jobs done as and when they are needed. "As a trade printer, our customers' demands for quality are exceptionally high, as is the need for a quick turnaround," he explains. "This is something that we have prepared for through dedicated Labelsinvestment in the best equipment, alongside well-trained and well-organised staff right through the production chain. Trialling, testing and implementing new ideas and techniques to find solutions for trickier designs has proved invaluable, and something that other printers are often unwilling to take the time over. Furthermore, there is no doubt that our integrity towards trade ethics, providing a confidential service, is invaluable to our customers."
The above-mentioned investment in equipment and machinery has added considerably to Baker Labels' manufacturing capabilities, with examples of its more recent acquisitions being a new Truepress Jet L350UV+LM and two ABG Digicon Series 3 presses. "The L350UV+LM offers an increased colour gamut, including orange ink along with the C, M, Y, K set and white ink," Steve adds. "Orange ink enables richer reproduction of vivid colours, adding to the visual appeal of fruits and other foods. The new press also offers low migration inks, improving safety for food package labels, plus it benefits from a chill roller that increases stability for thin materials and unsupported films. This will allow us to offer a significant increase in the range of packaging and label applications that can be printed.
"The two ABG Digicon Series 3 presses, on the other hand, have increased the level of quality embellishments that we are able to produce. One of the presses comes complete with two flexo heads, a 'Big Foot' (50 tonne) hot foil/embossing unit, two laminating stations, flatbed silk screen, foil doming unit, die cutting and auto slit knives. It is proving to be a fantastic asset that suits the increased demand from customers and end users that want to add finished quality to their labels. The challenge for us is letting more people know what is possible from these machines so that they can make the most of what we have to offer!"
As a reel-to-reel trade label printer, Baker Labels' recent investments have also focused on increased digital capabilities and advanced quality finishing. However, customer requests come in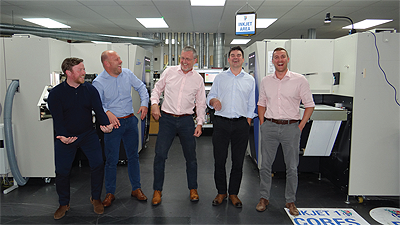 all shapes, sizes and quantities, and the company's sales team pride themselves on being in a position to provide competitive quotes at all times. With this in mind, it has also spent approximately £70,000 in adding a Ricoh Pro 7200x digital sheet fed colour press this past Spring. Its addition provides Baker Labels with the option to offer ultra-short run labels work, as well as a variety of further tricks and optional extras to customer projects.
Turning the topic of discussion to the company's future, one of Steve's immediate goals involves the continuous improvement of its internal standards and compliances. "We already run very high health and safety procedures, and maintain high standards around our factory, but are now in the process of regulating this level to BRC standards," he reveals. "This will ensure that we are a verified supplier within the supply chain providing safe, compliant, effective food packaging. This will have several implications for our staff, our site and our processes that we aim to address over the course of 2019."
Baker Labels
Services: Label printing