Printing progress
With trade ethics that are second to none within its field and a philosophy of being as versatile as possible, Baker Labels has fulfilled the ever-increasing labelling needs of its customers for 45 years and counting
When Roy and Marian Baker first established Baker Labels in a factory at Vale Royle in Kings Cross back in April 1973, their office was originally situated within a caravan on-site.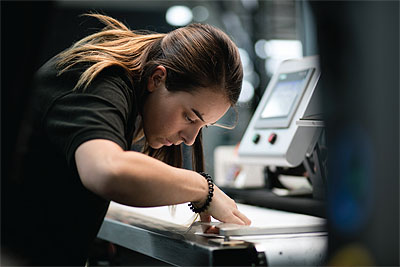 Production commenced with flat screen, litho and hotfoil printing, and a small slitter, and within a matter of weeks, accounts with now familiar household names such as Gillette and Max Factor had been set up, allowing the business to expand.
The first of three factory moves for the rapidly growing company occurred in 1979, and in the years that followed Baker Labels invested in a range of exciting new innovations and technologies, from its first Nilpeter in January 1980, the launching of its patented Die Cutting Frame in 1991 and the introduction of the UK's first Flexo F2400 in August 1992. By March 2006, the company had moved into digital printing by investing in its first HP WS4050 Indigo press, and three years later it became the first UK printer to install a HP WS6000. Then, in February 2017, the company initiated its biggest investment to date by completing a major upgrade of its digital capacity by buying and installing a pair of HP Indigo 6800 presses, adding to the one it already owned.
Continuous investment in the latest technology and equipment has kept Baker Labels at the forefront of the label printing industry, and has contributed to growth of more than 20 per cent in the past year alone. "Our growth last year was outstanding, but not totally unexpected," explains Managing Director, Steve Baker. "We have consistently invested heavily in the business and this has enabled us to be ready to react to the emergence of any potential new markets. This was the case in 2017, and it helped us to win several important orders. The good news is that the business has seen growth in all areas, and that the industry as a whole is currently very buoyant, which is great, but we understand that the ability to deliver as promised will always be paramount."
Examples of recent additions to the company's enviable collection of machines include the purchase of two new ABG Digicon finishing machines, a new turret rewinder and an AVT inspection unit. "The two new ABG Digicons are both Series 3 presses, but they have been purchased for different reasons," Steve continues. "The spec of the first is fairly basic, with flexo, overlam/cold foil, die cutting and auto slit knives, but with the addition of an in-line turret rewinder. This gives us the benefit of better run speeds and less change over downtime, making it better suited to medium/longer run work. In the case of the second press, it is aimed at high quality embellishing labels. It has two flexo heads, a Big Foot (50 tonne) hot foil/embossing unit, two laminating stations, flatbed silkscreen, die cutting and auto slit knives. We are seeing an increased demand for this type of work, so we see this as a fantastic asset.
"The quality of the latest turret rewinder, meanwhile, is excellent and has enabled us to finish work directly from the Flexo without any compromise to quality. This has helped to increase press speed, reduce wastage and reduce rewinding. Lastly, the addition of the AVT inspection unit has ensured that the labels finished on the turret are fully inspected, and has also helped reduce waste on the rewind section by alerting the operator immediately if a fault occurs."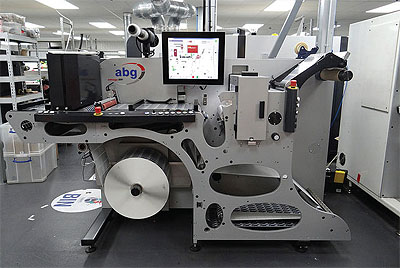 To house all of the above-mentioned machinery, the company has taken strides to increase its factory size by approximately 50 per cent by taking on a neighbouring unit. With this development, Baker Labels now possesses in excess of 30,000 square feet of manufacturing space with which it can continue forward with its expansion plans. Within the walls of its factory, the company is also applying fresh emphasis on the development of its employees, introducing a more formal structure to staff training, mentoring, and health and wellbeing.
As Steve goes on to state, these staff-based initiatives have been introduced with good reason. "Easily the biggest strength of our business is our people. We have great skills and a lot of experience within our 80-strong crew, a number of whom have been with us for over 20 years and have a clear understanding of what our customers require. Our team always aim to achieve the best results with every job they complete and the 'can do' attitude that we have worked hard to promote has proved invaluable in making Baker Labels a preferred partner of its customers."
Exactly 45 years on from when the Baker Labels story began, the company continues to go from strength-to-strength, with the family's ethos of looking after its customers and employees, and reinvesting in the best available equipment remaining as relevant as ever. Perhaps it is all the more appropriate then that, in April of this year, it was announced that Harry Baker, Steve and Mandy's eldest son had decided to join the company, no doubt with the goal of one day spearheading the next generation of Baker Labels.
Looking at what the future holds for the business, and the industry as a whole, Steve is very clear about what he sees on the horizon. "The label industry is still strong and profit can still be made, but as more companies invest in digital there will be inevitable price pressure on standard products. Our challenge will be to identify the correct market areas in order to ensure that we remain the strong company we are today in the future. To achieve this there will need to be greater diversity into other areas, such as flexible packaging, shrink sleeves and pouches. Who knows, maybe personalised wallpaper will be the thing," he concludes with a smile, and with the success that Baker Labels has had over the years, who could blame him for being happy!
Baker Labels
Services: Label printing