Personal protection
With a manufacturing heritage dating back to the 1980s, Ballyclare is a leading British designer, manufacturer and distributor of high quality, functional workwear, protective clothing and specialist personal protective equipment (PPE)
From its smart new headquarters in Hercules Business Park, Stockport, Ballyclare operates as a trusted supplier of specialist firefighting kit and protective clothing for the emergency
services and armed forces as well as supplying managed services encompassing garment supply, leasing, repair and laundering.
The company combines a strong base of knowledge and experience gathered across several industry sectors to provide the best protective workwear available, whether for a single worker or to meet the needs of an entire workforce.
Since its foundation, Ballyclare has developed a strong manufacturing heritage that reflects both the earliest origins of the business and its development into new areas of high-quality workwear. "The name Ballyclare dates back to when we had a factory in Ballyclare, Northern Ireland. Whilst we no longer own that facility it remains part of the company's heritage because it was used to manufacture firefighting suits that are still part of the Ballyclare range today as well as workwear, protective clothing and Gore-Tex waterproof garments," reveals Managing Director, Carlton Greener.
"The company's knowledge and know-how within the firefighting and utilities industries was developed back in the early days of the business and we have continued to establish the brand around the Ballyclare name," he continues. "Ballyclare also has a second strand of heritage that dates back to when the company operated as part of Cosalt, which had its history in delivering workwear and Gore-Tex waterproof clothing for the rail industry. Cosalt acquired Ballyclare in 2001 and merged its workwear range with our technical fire and defence products to form the core of what Ballyclare ultimately offers today."
Ballyclare continued to operate as part of Cosalt until taken into private hands through acquisition by one of its principle shareholders, David Ross in 2013. Since becoming a stand-alone business, Ballyclare has enjoyed the freedom to continue to grow its product portfolio and expand into new areas.
During 2016 Ballyclare acquired its main distribution centre in Barnsley and also owns its new headquarters offices in Stockport. Further to these significant investments, Ballyclare also recently made a bold move to open new offices in Germany to allow greater trade with the European market. "The markets between the UK and the continent are quite different and while the Ballyclare brand in the fire sector has been very well known in the UK for many years, it is not so well known in continental Europe. However, we have a strong range of products and related services that we believe a number of European markets will be highly receptive to," Carlton says. "We have taken on a team of people who have been selling into the German market for several years and are very knowledgeable. We also have a group company based in Holland that undertakes distribution and holding stock for our clients in Europe and this is obviously vital to our success."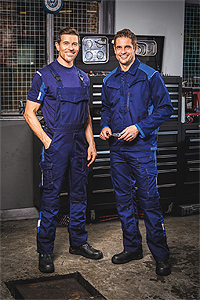 Further to its comprehensive range of industrial PPE products, Ballyclare is also able to offer high-quality office wear through the Simon Jersey brand. David Ross acquired Simon Jersey in 2014 and has since grown the brand and incorporated it within the range of products available from Ballyclare within the UK and Europe. "While it is quite early days for us in Europe, we have already enjoyed success on the corporate side through Eurowings, a client in the air travel business which has already entered into a contract with our company in Germany," added Carlton.
Within the UK, Ballyclare has also recently won a significant contract to supply Network Rail with hi-vis, wet weather and flame retardant garments. This will provide a significant boost to the company's presence in the rail industry and a platform with which to increase its standing in the rail and highways industries as the market increasingly looks to enhance worker protection. "There are huge opportunities within the rail market, where we supply around 20 per cent of the sector leaving plenty of room to grow. The credibility of supplying Network Rail and the quality of the products that we have are factors in improving our market share in both rail and highways, where traditionally these markets tend to buy cheaper products," Carlton concludes. "Within the firefighting sector we have around 50 per cent of the UK market and I believe we have a leading offer in the sector that we can increase over the next 12 months. The production quality of our products is also critical for everything that we offer and we only use factories with which we have very long-standing relationships. The focus on quality is a key proposition for us and something that we do not compromise on."
Ballyclare Limited
Products: Designer, manufacturer and distributor of high quality, functional workwear, protective clothing and specialist PPE