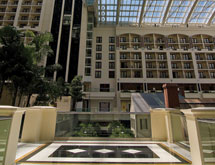 Providing structural steel for prominent projects such as the Washington Nationals Baseball Park in Washington, D.C., Banker Steel Co. has not let success go to its head. Instead, Marketing Director Erick Petersen says, the contractor stays focused on doing the right thing for its clients.
"It is our commitment to serving our customers with a quality project [that makes us successful]," he states. "[We meet] the schedule, no matter what it takes."
Lynchburg, Va.-based Banker Steel specializes in structural steel fabrication for general contractors on the East Coast. CEO Don Banker founded the company in 1997, and it has grown to employ a staff of 250 and provided steel for The Barclays Center in Brooklyn, N.Y.; The World Trade Center Tower 1 in New York City; and The Dr. Phillips Center for the Performing Arts in Orlando, Fla.
Fifty percent of Banker Steel's work is for repeat clients, Petersen says. "Once they have gone through the process [of] a project with us, [they come back]," he says. "We really value the relationships that we develop with our customers."
Great Growth
Petersen joined Banker Steel in 2005. "We've experienced phenomenal growth," he says, noting that the firm recently acquired Foote Steel Co., a steel fabricator in Orlando.
This followed Banker Steel's win of several projects in Florida and Georgia, and will expand its presence in the Southeast. "We're going to be able to move some of the work we're doing [to the former Foote Steel headquarters]," he says, noting that it covers 50,000 square feet.
A Welcome Change
Banker Steel is seeing many trends in its market, but one it welcomes is an increase of design/build projects, Petersen says. These projects, he says, allow the firm to have more input.
Instead of developing the project strictly based on the original design, subcontractors such as Banker Steel are brought in early to contribute. "[We are] able to advise on connection design from our point of view in the fabrication process," Petersen says. "That has been an ongoing change that we welcome."
Keeping Track
Banker Steel maintains manufacturing quality through several initiatives. The company ensures that its quality control system is in accordance with the American Institute of Steel Construction guidelines for complex steel building structures and major steel bridges.
Additionally, its digital tracking system helps Banker Steel manage inventory. When every piece of material arrives, it is placed in the company's bar code system. "We know what we have even before the first cut is made," Petersen says. "We know exactly what we have purchased in real time."
The firm also strives to stay safe in its manufacturing operations. "We have a safety department and a safety director who oversees that," he says. "We make sure we have designated people who are trained to handle any kind of emergency trauma in the short term.
"We provide everybody with the resources they need," he continues, adding that the company rewards its employees for being safe. "We're committed to being the injury-free workplace."
Staying Strong
Petersen predicts continued success for Banker Steel. "Most of our market has been in the Washington, D.C., New York and Maryland areas," he says. "I think you're going to see us remain strong in those areas."
However, Petersen also predicts the company will continue to get stronger in the Southeast with its new location in Orlando. He says Banker Steel's reputation will endure.
"[We will continue delivering] a quality project on time and on budget for our customers," Petersen says. mt