Galvanising the market
The combination of overall industry growth and its own efforts to expand its capacity and adapt to market changes has enabled Bankside Patterson to double in size in the past five years
Bankside Patterson has been the UK's market leader in the manufacturing of caravan chassis for the holiday and park home industry for nearly ten years, and in the last five, the business has almost doubled in size. "The whole industry is growing, because more and more people are doing staycations these days, so we have definitely been able to increase our share thanks to this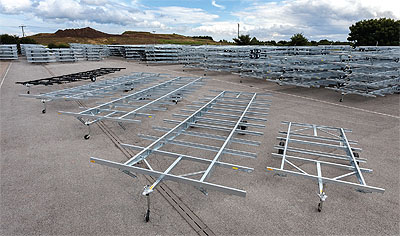 trend," Shaun Gadsby, Senior Sales & Commercial Manager of Bankside, claims.
Favourable business climate aside, the company, whose history stretches back to 1959, has taken decisive steps internally to improve its capacity and efficiencies, in order to prepare itself for the leap it has made. "The first catalyst was when we moved to our current site in Driffield, East Yorkshire, about 12 years ago. Up to this point, we were very restricted in space to what we could supply, so the relocation allowed us to use larger facilities and take on some extra work," Shaun explains. He has now been part of the business for five years and during this period, Bankside has made significant investments in both staff and machinery. "We have strengthened our senior management team, credit to our Managing Director, Neil Taylor, who assembled the right people and instilled the right ethos across the company. On top of that, we have spent around £3.5 million on new equipment to streamline our operations considerably."
Replacing some of its outdated machinery with a more reliable technology has given Bankside the opportunity to not just create new products, but also ease the pressure on its workforce. Shaun clarifies: "We used to be very heavily dependent on working overtime. Some of our people had to work in the weekend, which is not sustainable for a business in any way. By growing our manufacturing capabilities, we have got close to not having to work overtime at all, which allows us to be more competitive in the marketplace and in better control of our business. Moreover, it has given us the confidence that we can flex accordingly to cope with the market fluctuations, which often occur within our industry."
Bankside has frequently been at the forefront of developing innovative products that would change the entire marketplace for the better. One such example is the fully galvanised ProTech chassis that became a market leader in less than a year since its launch. "It is basically zero maintenance and has a longer warranty period, so it is an ideal solution for the consumer. This year, we released a new model – the ProTech 900, which has been designed to take on more weight. It fills a very specific gap in the market, because, normally, when a certain weight limit is exceeded, the price of the chassis increases, and we wanted to provide our customers with a tailored offer that provided sufficient performance at the correct price point," Shaun reasons.
"The development of the ProTech 900 would have been impossible, had we not bought one specific piece of machinery that cost us nearly £1 million, but this justifies the need to equip ourselves with the latest cutting edge technology. In order to supply the product to the market, we had to develop a new connection to join the various pieces together, and the machine in question possessed that one feature, which helped us to create the necessary mechanism," he adds.
Whilst not supplying the end user directly, Bankside delivers its products to the three biggest holiday home manufacturers in the UK, having grown together with the entire industry. Shaun continues: "These manufacturers then supply the holiday home parks and the positive 'staycation' trend is that these have expanded and people are being encouraged to buy such holiday homes, which spells a continued growth for the market."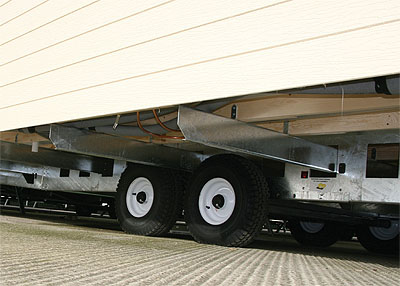 Along with the holiday homes market, Shaun has noticed the rapid increase in demand for park homes. "Those in the age range of 55 years and older, in particular, are looking to make this type of home their permanent residence and we can definitely see their inclination to sell their houses and move to one of these park homes. To serve this market, we need to meet some very different requirements from those we encounter in holiday homes, mainly because a park home unit is much heavier and requires a chassis that can accommodate a load of up to 15 tonnes. We have already worked with a customer on a tailored product that still needs some more tweaking, but the park home industry is certainly shaping up as the next major growth area for us, at least in the short to medium-term."
Earlier, Shaun mentioned that a strong company ethos has been built at Bankside, attributing the business' recent success partly to the refined approach it has adopted in its activities. One of the manifestations of this ethos is the extraordinary care the company takes of its customers, providing robust solutions to their individual, varied and often changing requirements. "It is very important to make our clients feel that they are valued. We have to be flexible and adaptable, in order to be able to react to them changing orders in the last minute and continue to support them with just-in-time manufacturing," Shaun maintains.
Bankside's endeavours were recognised externally, when the company was chosen as one of the '1000 Companies to Inspire Britain' by the London Stock Exchange Group in 2018, courtesy of the exceptional growth it has achieved over the last three years. "We were delighted to be listed 47in such a prestigious table, as it is a testament to the fact that everyone at the company is pulling in the same direction. We look after our staff and inform them of our specific goals. This gives them clear visibility of the direction of the business and ultimately means that our customers achieve the maximum benefit.
"Looking ahead, I would like us to maintain and grow our share in the holiday home business and take a bigger share in the park home sector. We would also like to see that the market offers more fully galvanised products, because this is what will serve the owner best. The problem is actually providing the end user with the appropriate information to make an informed choice, because, at the moment the supply chain is quite long and often the message gets lost in translation, so we are looking at ways to directly access the consumers, and this appears to be another focus area for us in the coming months," Shaun concludes, outlining Bankside's future aspirations.
Bankside Patterson
Services: Caravan chassis and modular building frames