Pushing the boundaries
For over four decades, Barkers Fencing has been designing, manufacturing and delivering strong and reliable fencing and metal finishing services
For any customer looking for the three 'Fs' – finishing, fasteners and fencing – Barkers Fencing is a one-stop-shop resource with a widely-held reputation for both expertise and quality. As managing director Andrew Rowe begins by explaining, this standing in the market is what has made Barkers the go-to company for perimeter security solutions, metal treatments and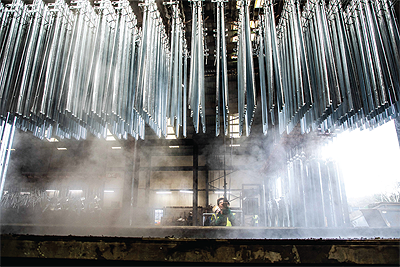 fasteners supply. "As part of our pedigree, we have a lot of long-service employees, which means we are able to draw on a great deal of experience," he said. "People approach us knowing that our product knowledge can help address their problems."
This valuable resource works in combination with Barkers' extensive product range, which as Andrew acknowledged, means that the company can provide almost every type of perimeter fencing required. "We can also offer bespoke solutions, creating what our customers actually want, rather than just selling them what we make," he added.
When considering the market for fencing, it is easy to regard the products as somewhat homogenous, and so Barkers' ability to address its clients' precise requirements helps to differentiate it from the competition. An excellent example of this is a project it undertook with Border Force, at the Port of Calais. Andrew takes up the story: "We were approached by Border Force at a time when migrants in Calais were trying to get onto the tracks of the Channel Tunnel. This was not only extremely dangerous, but was causing major problems with the trains. Border Force wanted a perimeter security solution that would keep the migrants off the tracks, and alongside one of our fencing contractors, we went to Calais, discussed the issue locally, and looked at the site conditions. Between ourselves and the fencing contractor, we were able to offer Border Force a 358-mesh solution, which was installed just a few weeks after the initial meeting."
This case study demonstrates Barkers' ability to assess the issue and achieve a successful outcome in a short period of time. Network Rail have also discovered the value of this approach, and is now installing Barkers' StronGuardRCS (PAS68 accredited) Class 1a palisade, in order to prevent vehicles ending up on its tracks. "Even if there is no collision between the car and the train, having a vehicle on the line causes immense difficulty for Network Rail," Andrew noted. "StronGuardRCS has crash protection properties to keep vehicles out and we developed that in conjunction with Network Rail, in order to ensure it met their needs."
Being able to create these made-to-measure solutions requires a range of modern manufacturing technology, and Barkers has made extensive investments into its Staffordshire plant, particularly on the galvanising and powder coating side. "As far as fencing goes, the manufacturing process is one of cutting, drilling and welding," stated Andrew. "In recent years, we have invested in robot welders, a laser cutter and new presses in order to improve our capabilities, and three years ago we purchased a new roll forming mill for our palisade production.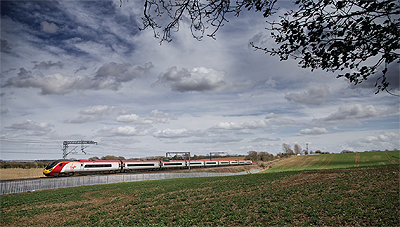 "In terms of the galvanising (galv) and coating plant, the galv plant was added to our business back in 1992 and the coating plant was added in 2001. That means that when raw materials arrive here, the work stays on site until it is completely finished, galved and coated and sent to customer. We don't have to send any parts away from site to be galved or coated elsewhere, which reduces transport costs and our carbon footprint.
"In terms of investments, we have spent in excess of £250,000 on the galv plant this year; we have just built two new chemical tanks for it, which were showing signs of wear and tear, and also we are replacing the galv kettle.
"Interestingly, we manufactured the tanks in-house, and they were actually made by the same member of staff who created the originals 27 years ago. He will have close to 50 years' service with Barkers by the time he gets to his retirement next year! As I mentioned previously, a lot of our staff have many years' service here, and I think that not only benefits us in terms of having a stable and knowledgeable workforce, but also shows our customers that we have a history of continuity and stability in the business."
This is particularly important at the moment, given the uncertainty that Brexit is causing for UK businesses. Also supporting Barkers' efforts is the backing of parent company Hill & Smith Group, which as Andrew highlighted, has PLC status, offering comfort to customers and suppliers. "It shows we have strong financial standing, and reassures customers they are dealing with a solid and reliable business."
Hill & Smith's PLC status also gives Barkers an edge in export markets, and going forward Andrew believes that new prospects around the globe will be a big part of the business. "We are already looking further afield to find new markets, and we think there are going to be opportunities in the Middle East, for example. Breaking into markets is not easy and it does take time, but I would like to think that within the next five years Barkers will have a much stronger export presence than it currently does."
Additionally, Barkers also works with some of its sister companies within Hill & Smith. "Being part of a group that specialises in roads and infrastructure products means that we get to find out about projects from other group companies, that we may not have been aware of previously, and that could be relevant to our expertise," Andrew added, before concluding: "We have also found that on some of the larger projects that feature Hill & Smith products such as Bristorm, or ATG's bollards and blockers, their solutions work alongside our perimeter fencing, both at home and abroad. I would like to think that going forward we would be able to utilise the expertise that we have within the Group, so that all of the group companies in the high security sector can succeed."
Barkers Fencing
Products/Services: UK leaders in perimeter security