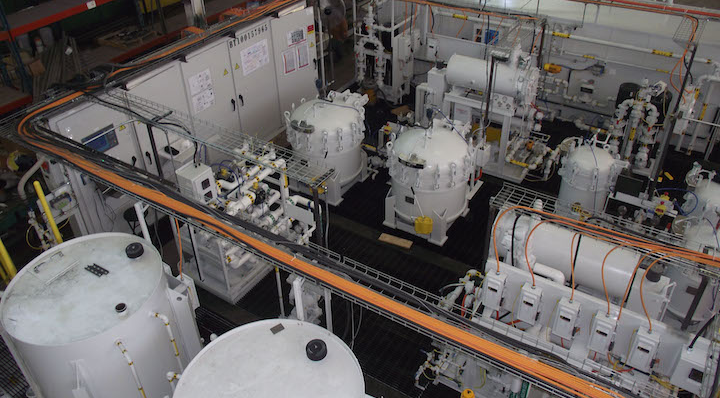 When examining what makes Barnes International a leader in coolant filtration products, two things jump out immediately. One is the company's customer base, which includes the largest automakers in the world such as GM, Ford, Toyota, Honda, Chrysler and Nissan. The other is that the company has been in business since 1907. Both of these facts speak to the high degree of quality, customer satisfaction and innovation the company has brought to the marketplace over the years, and President William Kirchner says the company is always hard at work ensuring that those elements remain at the core of its operations.
The Rockford, Ill.-based company was founded by Benjamin F. Barnes, and its original focus was on building drills to serve the fledgling automotive industry. Over time, the industry's tolerances for engine cylinder bores became so precise that more advanced honing equipment was required, and Barnes International followed this trend by moving away from drills into honing equipment. However, the fine particulates left behind by the honing process were getting into coolant systems, leaving the company with a problem to solve.
Barnes International solved this issue with the development of a magnetic separator that filtered those particulates out of coolant, and soon the company became known as a leading provider of coolant filtration products for machine tools. Today, Barnes International has sold off its honing division to focus exclusively on filtration systems, and the company has a strong leadership position in that sector.
"In North America for the large filters for machine tools, we are the largest in our target market," Kirchner says.
As a global provider of filtration products, Barnes International faces some strong competition. Fortunately for the company, however, Barnes International stands apart due to its strong knowledge base and ability to react quickly to customers' needs. Kirchner says Barnes International never stops looking for the best solution to its customers' filtration needs, and that dedication is expected to provide the company with everything it needs to continue its track record of success.
Strong Knowledge
Barnes International is recognized worldwide as a leader in not only magnetic separation for ferrous-metal grinding operations, they also are recognized for being the leader in filtration packages from standalone units to large central systems.  In addition to the magnetic separators, Barnes International supplies permanent media filters, fabric filters, vacuum/pressure filters and conveyor products in the automotive, diesel, aerospace, agricultural, off-road and multiple other segments. In every aspect of what the company produces, Barnes International counts on having the highest level of technical acumen in the industry. The company has more than 40,000 units in use today.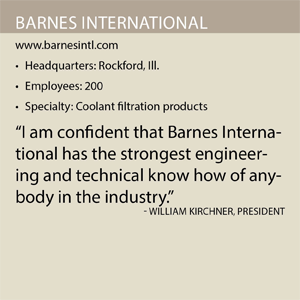 "We have the strongest engineering application base of anybody in the industry, I'm confident of that," Kirchner says. "We understand that the success of our product is based on the strength of our technical team and the satisfaction of our customers."
Barnes International can't afford to offer its customers anything less, especially in the automotive sector. Kirchner says automotive manufacturers have the most stringent uptime requirements in the entire manufacturing world, and Barnes International needs to provide them with high-quality equipment as well as the fastest response time and best customer service. "We pride ourselves on these points," Kirchner says.
High quality is important, but that quality won't mean anything to customers if the equipment arrives behind schedule and delays their production. That's why Barnes International takes pride in being extremely responsive to its customers no matter what their needs are. "Because we build so many specials to OEM specs, we need to have a manufacturing company that can, in very short lead times, go from design to manufacture to build," Kirchner says, adding that the company's strong fabrication department is a critical element of its success.
Always Improving
The strong technical team that drives Barnes International's success also is crucial in helping the company mitigate the challenges inherent in the filtration market, Kirchner explains. The demand for capital equipment tends to fluctuate, meaning Barnes International has to concentrate on finding ways to improve its manufacturing processes to drive down production costs while also improving on the quality of its equipment.
Kirchner adds that Barnes International never takes its leadership position in the industry for granted and consistently reexamines its equipment to ensure it is at the cutting-edge of technology. "We're constantly benchmarking our units against our competitors' and making sure they are the best they can be," he says. "You have to stay ahead of your competition." Currently the company is in development of several new products including one targeted for the grinding and honing industry. Looking at existing systems, Barnes' engineering staff is redesigning an improved unit that eliminates many of the current issues.
The new DTVF Dryer Track Vacuum Filter is the perfect example of this. This unit has a permanent media vacuum unit that has a positive traction belt, swarf dryer, self-cleaning tanks and the ability to run disposable media for coolant clean up cycles. No one else builds a gear-grinding filter with these features to assure round the clock trouble-free operation.
Barnes International's technical strengths, responsiveness and dedication to customer service are expected to continue to serve the company well as it looks to the future, according to Kirchner. As the automotive industry and other areas of manufacturing that require machine tools become more sophisticated, the work that Barnes International does will only become more important to them.
"We believe the automotive market will remain strong in the foreseeable future and we also see the grinding technology is needing cleaner fluids for part quality and requiring a greater level of filtration and reliability. Barnes will be there with a commitment to excellence and meeting the stringent demands of the market," Kirchner says.