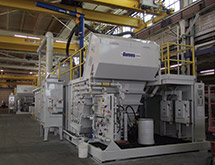 The importance of clean coolant within machine tooling operations cannot be overstated. Tens of thousands of gallons of coolant are typically used during manufacturing operations daily, making it one of the most common and vital parts of the production process in multiple industries.
Keeping coolant clean is a high priority for manufacturers because unfiltered coolant can build up bacteria and otherwise negatively affect product quality, as well as substantially reduce coolant life. For the past several decades, Barnes International has helped companies ensure that the coolant they consume remains properly filtered while allowing recycling of metal waste.
The Rockford, Ill.-headquartered company is the largest manufacturer of machine tool filter systems in North America. The company's products include deep bed gravity filters, vacuum media filters, pressure filters, rotary drum filter conveyors, bag filters, high-pressure skids and magnetic coolant separators used in conjunction with grinding, honing, machining, turning and other operations in a variety of industries including automotive and aerospace manufacturing. "These companies produce machined parts such as engine blocks and often run around the clock, so they're constantly pushing their equipment to the maximum," CEO President William Kirchner says. "Our systems are the heart of the whole machine bay; without proper filtering and cooling, you can lose the whole bay."
Experience Counts
Many of Barnes International's systems filter the coolant used in multiple tooling machine bays. The company is an expert at building systems that can filter coolant for up to 100 machines on a single system. These machines can range between 10 gallons to more than 10,000 gallons of coolant required per minute.
"We're one of only a few companies that's equally good at building large systems used on multiple tools as we are making smaller systems for one machine tool," Kirchner adds. "We've learned over the years that the way you become No. 1 in the industry is through valuing the customer and providing the best product and support in the industry, and we believe that is our strong suit."
The company's team of technicians possesses more than 1,000 years of filtration experience combined. "Our people are the heart of our business and the key to our success," Kirchner says.
The staff's experience is often called upon by large manufacturers including General Motors, for whom Barnes International helped develop large, regional above-ground filtration systems. These systems, which can be moved around facilities if needed, replaced large centralized systems that included troughs in the ground to carry coolant to and from machines.
"We worked closely with GM to develop the technical specifications for these systems, which have reinvented the way the automotive industry approached coolant systems," he adds. The movable systems also give GM greater flexibility in its operations, and have reduced the company's coolant consumption and scrap while also reducing installation and start-up time.
Manufacturing Capabilities
Barnes International operates manufacturing plants in Rockford and Bowling Green, Ohio; and maintains service and engineering centers serving the North American market in New Albany, Ind.; and Brighton, Mich. The company's manufacturing capabilities include fabrication and assembly of full systems as well as assembly of the plumbing and electrical components used in those systems.
The Rockford facility includes 140,000 square feet of fabrication and assembly space, and includes 12 high-bay assembly bays. The 80,000-square-foot Bowling Green site includes 36 high-bay cranes.
"One of the keys to our success is our ability to rapidly customize filtration designs to fit any machine tool produced worldwide and deliver in a little as 4 to 6 weeks in small or large quantities at a competitive price," Kirchner explains. "We manufacture all critical components, and work with a strong vendor base that understands our needs and turns around parts for us rapidly."
Barnes International closely measures the number of rejected parts as well as scrap and other quality metrics. "Our quality system is based on individual teams and processes," he adds. "We have our whole organization focused on quality and building the best possible product."
Manufacturing employees are regularly trained and coached to improve their output quality, and all of the company's products undergo various levels of testing. This testing process includes pressure testing for leaks, running conveyors multiple times, component testing, pre-shipping reviews and testing during installation.
Decades of Growth
In addition to its North American operations, Barnes International lives up to its name by maintaining support and service centers in Spain, Mexico, China, India and Brazil. The organization in Italy, Barnes Europe, opened in late 2014. Barnes Europe is a full filtration equipment builder with engineering, manufacturing and full service capabilities.
The opening of Barnes Europe closely followed the 2014 acquisition of the Henry filtration product line from a German company. The expansions are the latest major changes in the company's long history, which extends back to 1907, when it was founded as Barnes Drill Company, a drill and tapping company serving the automotive industry.
In the late 1950s, Barnes became the first machine tool builder to apply numerical controls to metalworking drills and boring machines.
The company eventually abandoned the drills, and in the 1980s became involved in a super-abrasive honing process in which bores could be machined to a very precise tolerance and surface finish requiring even tighter filtration requirements. This process created finite metal particles that ended up in the coolant, necessitating the need for cleaner coolant during the machining process.
The company introduced magnetic separators to remove this metallic sludge, which brought it into the filtration world. Later Barnes added gravity, pressure and vacuum filters to meet all honing and grinding requirements. In 1990, Barnes entered into an agreement with Japanese manufacturer Mosnic to license a filtration technology. This agreement made the company a worldwide entity, leading to the change to its current name.
Barnes made the decision to focus entirely on filtration eight years ago, when it sold its honing division. "Honing was becoming a smaller market, but on the machine tool filtration side there is a very large market for growth," Kirchner adds.
The company continues to seek opportunities to grow. "Our long-term strategy is to continue to build our sales base within the industry while looking for additional companies that would add technology or products to our base," Kirchner says.
"We're looking for other companies to purchase and continue to develop the best filtration for the vast majority of applications in the industry," he adds.