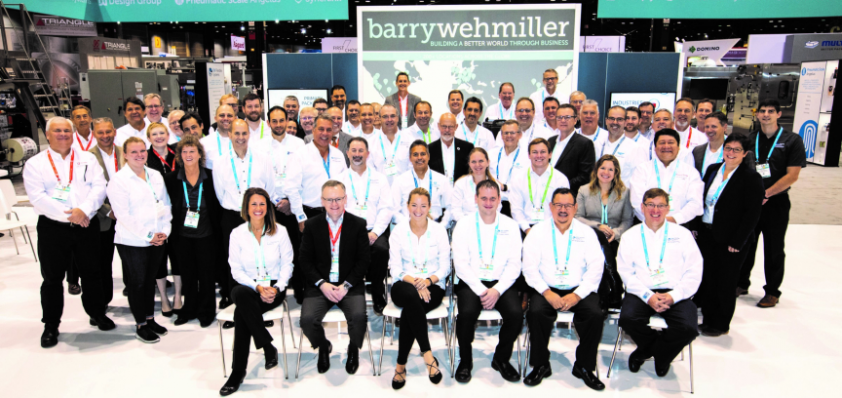 Barry-Wehmiller Packaging Systems
The signage in the Barry-Wehmiller Packaging Systems booth at Pack Expo 2018 in Chicago couldn't have been clearer.
Looming large over the entry way, two large lightboxes proclaimed: "Expect more from your packaging systems provider."
"We're challenging our customers to have great expectations when it comes to choosing the company from which they purchase their packaging equipment," says Carol O'Neill, Barry-Wehmiller's Group President, Packaging. "They should receive the quality of equipment they deserve. They should get the service they need and deserve.
"But it's also a challenge to ourselves, because we want to meet those great expectations and deliver an exceptional customer experience. We accept the challenge and we strive to deliver more."
Meet BW Packaging Systems
Barry-Wehmiller (BW) Packaging Systems represents the collective packaging equipment capabilities of five Barry-Wehmiller packaging companies: Accraply, BW Flexible Systems (formerly Hayssen Flexible Systems and Thiele Technologies), BW Integrated Systems (formerly BW Container Systems and Thiele Technologies), Pneumatic Scale Angelus, and Synerlink.
It's a relatively new way for the packaging might of the 130-year old, $3.5 billion Barry-Wehmiller company to enter the marketplace.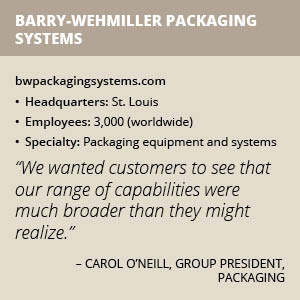 "A couple of years ago, we realized that we needed to do a better job of showing our customers the entire scope of our packaging offerings, so we created a packaging platform within the company," O'Neill says. "With the BW Packaging Systems companies, you can buy a single machine or a complete line, but we also have the ability to completely integrate your packaging system, we have process and inspection solutions, we have intuitive and intelligent OEE systems, and a global support team that can help take care of all your needs around the world. Beyond that, we have a dedicated culture of service within our company of people who care. We wanted customers to see that our range of capabilities were much broader than they might realize."
Today, the combination of the five BW Packaging Systems companies is a $700+ million business with more than 3,000 team members in nine countries and 37 locations around the world.
"Within our team, we have expertise meeting the needs of customers across the world in many industries. Our product range supports both flexible and rigid packaging – whether glass, plastic or metal – as well as labeling and end-of-line solutions," O'Neill says.
Each BW Packaging Systems business – and its corresponding brands – has a long, rich legacy in the respective spaces with global sales and service. Through this combined reach, BW Packaging Systems is able to provide services to a wide range of industries, including food and beverage, personal care, container manufacturing, pharmaceutical and medical devices, household products, paper products and textiles, industrial and automotive, and converting, printing and publishing.
"We can provide integrated packaging solutions for our customers worldwide," O'Neill says. "We have the unique advantage of being a global single-source provider of packaging equipment as well as packaging line integration. The companies who are represented in BW Packaging Systems can provide more value-added solutions to our customers through innovation, leadership, reliability, performance and superior aftermarket support for many years to come."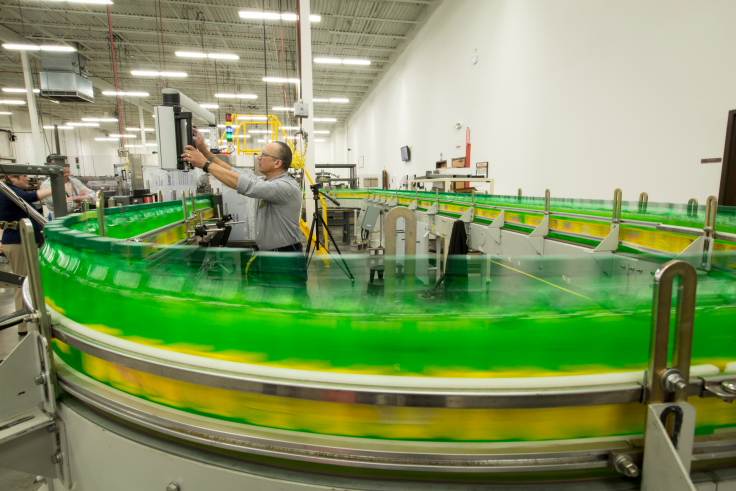 A Legacy of Trusted Brands
Barry-Wehmiller is known for its acquisition strategy, which has brought many of the world's trusted brands under its companies' umbrellas. The way those brands have been organized has grown and changed over the years to better meet customer needs and expectations.
At the beginning of 2018, BW Packaging Systems took a couple steps to help define its capabilities for customers and highlight its trusted marquee product brands.
The first was to merge the BW Container Systems' end-of-line business with the end-of-line teams from Thiele Technologies to become BW Integrated Systems. This new business offers a full range of secondary/ end-of-line packaging equipment, including case packing, cartoning, palletizing, de-palletizing, robotics, conveyance and controls.
BW Integrated Systems also acts as the integration partner when clients are looking for complete integrated lines from throughout BW Packaging Systems.
Some of the legacy product brands that come from BW Integrated Systems include Ambec, CBI, Fleetwood, Goldco, Nigrelli, SWF, Streamfeeder, Thiele and Tisma.
Separately, the flexible packaging experts from Hayssen Flexible Systems and the bag-converting and bag-filling divisions of Thiele Technologies came together to form a single flexible packaging business called BW Flexible Systems.
"When it comes to the development, manufacture and sales of flexible packaging equipment – including horizontal and vertical form-fill-seal solutions, bag converting and filling-sealing and palletizing of pre-made bags – that's BW Flexible Systems' role in the BW Packaging Systems family," says Doug McGraw, President of BW Flexible Systems.
BW Flexible Systems is the point of contact for many recognizable brand names in flexible packaging, including Hayssen, Hudson-Sharp, Rose Foregrove, Sandiacre, Schib, Simionato, Symach and Thiele.
BW Packaging Systems' primary packaging companies also include Pneumatic Scale Angelus, a provider of filling, seaming and capping solutions, and Synerlink, a provider of fill-seal and form-fill-seal solutions in rigid containers.
Pneumatic Scale Angelus' brands include Angelus, Consolidated, Hema, Mateer Burt and Continental/ Closetech. Synerlink brands include Dosil, Arcil, Dinieper and Ermi.
Accraply is the BW Packaging Systems provider of labeling, sleeving and converting solutions. Its labeling brands include Stanford, Harland, Graham, Sleevit and Trine.
A Culture of Service
When buying from Barry-Wehmiller, or BW Packaging Systems companies, O'Neill says there has always been a common denominator: a culture of service.
"We have a deep commitment to customers," O'Neill says. "Our businesses universally support their equipment – almost forever. We're deeply committed to providing customers with parts and qualified service technicians who will get even a really old piece of equipment up and running within an extremely short amount of time."
Barry-Wehmiller companies also share a culture of caring, not only for team members, but for all stakeholders in their business, including and especially the customer. This cultural journey was detailed in Barry-Wehmiller CEO Bob Chapman's 2015 book, "Everybody Matters: The Extraordinary Power of Caring For Your People Like Family."
"Our customers need our equipment to serve their customers," O'Neill says. "We create an environment in which our people are respected and valued and cared for and given the ability to do their jobs. As a result, our team members are more responsive to the customer's needs because they, in turn, care and are trusted to do what is best."
Though a high level of customer care has always been a hallmark of the individual businesses, Seamus Lafferty, President of Accraply, says that the BW Packaging Systems initiative has brought the companies closer together as part of the larger Barry-Wehmiller family. Another plus when it comes to fully-integrated solutions for the customer.
"BW Packaging Systems is deepening our individual awareness of each other's technologies and capabilities," Lafferty says. "It has helped Accraply realize how well-positioned we are as a manufacturer of labeling equipment – unlike many of our competitors – given the broad reach of BW Packaging Systems and the knowledge to which we have access. Therefore, our customers are uniquely served. Our customers benefit from the collaborative spirit across the platform, from an extensive experience pool, and from the ever-increasing ability we have to present integrated solutions."
Pete Carlson, President of BW Integrated Systems, says that at the core of BW Packaging Systems is a more connected organization, sharing best practices and combining individual competencies in a seamless manner to clients. In other words, the whole is made greater by the sum of its parts.
"BW Packaging Systems represents a deeper collective connection while still maintaining our individual identities," Carlson says. "Fostering an entrepreneurial spirit as well as maintaining a product focus specific to our divisions. The result is a deeper understanding of client needs, market-driven innovation and a continued strengthening of the trust that our clients place in us."