Handling the pressure
British business Bartec Auto ID Limited is responsible for the creation of highly technical and robust tyre pressure monitoring systems (TPMS) to the benefit of customers found all over the world
Beginning life in 1992 as a British owned developer of automatic identification products and systems, Bartec Auto ID Limited (Bartec) was subsequently responsible for the creation of a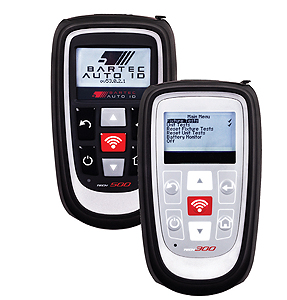 diverse range of products, including access control readers, hospital baby alarms, and in-cab computers to track beer kegs and gas cylinders using barcodes, and radio-frequency identification (RFID) tags.
"In 1998, our RFID technology was spotted by Schrader Electronics, who asked us to make a production line reader system for its tyre pressure monitoring systems (TPMS)," begins Bartec Managing Director, Colin Webb. "Over a 12-month period we successfully developed the first antenna system to tackle the issues of interference at low and high frequencies from reflections and crosstalk, something that even Renault had previously been unable to overcome, as well as enable the sensors to be read from within the car wheels on the final assembly line, before finally programming the car engine management unit. Following this success, we went on to supply our solutions for the likes of Daimler Chrysler, Ford and General Motors."
In 2005, it was legislated in the United States that TPMS would become mandatory on all vehicles supplied as new after November 2008. This resulted in the formation of Bartec USA LLC and installation of these systems in manufacturing plants across the country. "The TPMS production line antennas have, to date, been fitted in 186 car assembly plants around the world, and are also fitted to many wheel and tyre lines to check the integrity and function of the TPM sensor after fitment to the wheel," Colin explains. "The company has also developed a range of handheld TPMS tools that can check the sensors' functionality and support the repair of the car when broken. Over 120,000 of these tools have been supplied to North American and European tyre and repair shops, and to OE dealerships, making Bartec the world leader when it comes to TPMS tools and systems."
At the heart of Bartec's manufacturing operation is its ISO9001 accredited integrated management system, which combines all of its systems and processes into one complete framework. This enables it to work as a single unit with unified objectives. The seven common elements needed to attain the aforementioned accreditation – structure and responsibility, training, awareness and competence, document control, records, corrective and preventative action, and internal audits – provide the backbone to delivering quality products. Meanwhile, the company's manufacturing resource planning system allows it to monitor and maintain the entire manufacturing process, and its recent implementation of ISO27001 provides its customers and suppliers with the reassurance that information security is taken extremely seriously.
Recently, the company has launched a range of innovative tools for the automotive aftermarket, including electronic tread depth readers, and tools for electronic park brakes, DPF regeneration, oil warning light resets, smart battery management, key cloning, tow bar electronics and emissions testing. A number of these tools were on display at this year's Automechanika exhibition in Birmingham. "The majority of our business remains exports and being relatively unknown in the UK we used this exhibition to raise our profile," Colin explains. "While this was the first major UK automotive aftermarket exhibition we have shown at, we do attend lots of overseas events each year where we are consistently reminded of the importance of listening to our customers, taking heed of their needs and advice."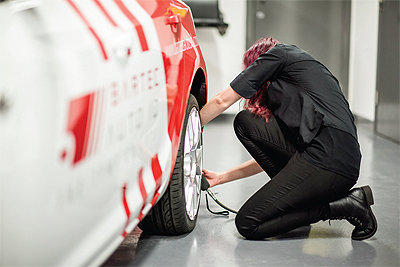 This attention to its customers' requirements has this year resulted in Bartec being named within the London Stock Exchange's '1000 Companies to Inspire Britain 2017' report. "I was personally delighted to see the company receive this accolade as it reflects and recognises the inspirational people we employ," Colin proudly declares. "Our people inspire each other, myself and our customers on a daily basis. We truly value our employees and they have responded to this by committing fully to our customer service values. I think it says a lot when you consider that we now employ 118 staff across our business, while the number who have left us over the past ten years can be counted on a single hand."
A world leading technology business, Bartec continues to grow at a fast pace, expanding its range of products through a combination of its own development and acquisitions, with two smaller complementary businesses having been purchased in the last 18 months alone as the company accelerates its progress. "Bartec is that rare breed of British owned business, financially strong, highly innovative, operating in markets with a high barrier to entry and driven by legislation," Colin continues. "We are already exporting to 29 countries and our experienced management team have a strong plan to extend our business into new markets with new products.
"Our aim is to achieve £20 million in sales by 2020. With more than 100,000 tyre shops and many OEs worldwide that are satisfied customers and rely upon us to bring them further products to support their growth. Fortunately for all concerned, we have a number of new innovative and unique products under development for launch in early 2018, which we believe will repeat the success we have had with TPMS."
Bartec Auto ID Limited
Products: Tyre pressure monitoring systems and tools