The best medicine
With flexible, tailored services, and game-changing innovation and development at the heart of its operations, Bath ASU makes thousands of products each week that improve the lives of patients nationwide
Each and every day, Bath ASU's team of specialists is responsible for the production of life-changing medicines at its Corsham, Wiltshire manufacturing facility, which are administered to patients in hospitals or at home throughout the UK. This has been the case ever since a management buy-out/buy-in from the University of Bath (where the business was first founded as an education, training and R&D resource in 2000) transformed it into a commercial operation in 2006, and Bath ASU's ongoing dedication to this vital cause has seen it receive multiple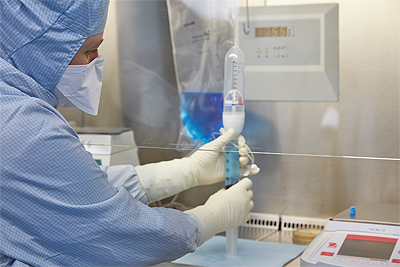 accolades and commendations over the years from various respected bodies.
One of the more recent examples of such recognition being bestowed on Bath ASU was the listing of its parent company, Qualasept Pharmaxo Holdings Limited in the fourteenth annual Sunday Times Top Track 250 of the largest privately-owned businesses in the UK. "Achievements such as this, together with our listing in the annual Sunday Times Hiscox Tech Track 100, and our topping of the South West Business Insider Growth 100 list and the Alantra Pharma Fast 50 list, help to establish a truly solid foundation upon which we can build an even better business than the one we have today, which also means our people can continue to build great careers for themselves," explains Bath ASU's Chief Executive Officer, Chris Watt.
Today, Bath ASU can be found providing a complete range of aseptic manufacturing services, including patient-specific chemotherapy, dose banded batch chemotherapy, central intravenous additive services and patient-controlled analgesia products. Constantly looking to introduce new and innovative methods to improve its service, Bath ASU's R&D team explores ways to make its products safer, longer-lasting and ever more dependable.
"We have introduced a total of eight new medicines this year, the most technically difficult of which is an antibody-drug conjugate that we worked on for more than two years. The successful development of this product means that we can now work on all medicines in this particularly important class," Chris details, before going on to review some of the major recent industry developments that are helping to contribute to Bath ASU's growth.
"New injectable medicines become available to UK patients every year. By utilising our R&D team, we work on continually adding those types of medicine to our range with extended shelf lives, making us more and more useful to our hospital customers," he continues. "In the last year, the industry has also seen Pharmaxo (Bath ASU's sister homecare company), for the first time in its history, begin to deliver nursing services using its own directly employed nurses. While the commitment to working with nursing partners remains, this new undertaking is giving us greater flexibility and control where we need it most.
"Meanwhile, when it comes to future developments, new biosimilar medicines competing with novel biological products has been a focus area for the NHS this year in its bid to reduce costs.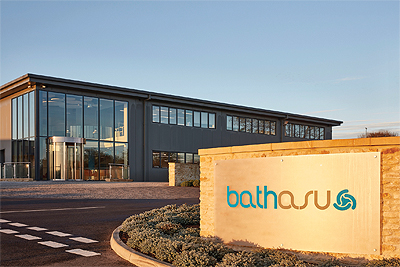 Such is the rapidly evolving nature of the sector that there can be three or four new products on the market within a matter of weeks that our hospital customers want to buy, so we need to ensure that we can deliver these medicines to support the NHS."
In addition to the above, Bath ASU has also begun a four-year research collaboration with its local hospice, Dorothy House, and the University of Bath to develop greater levels of knowledge and understanding of the stability of commonly co-administered drugs in palliative care. "This forms part of our wider social commitment, developing care practices for a group of patients that is generally overlooked by the pharmaceutical industry," Chris states.
From an internal perspective, significant areas of focus for investment during 2018 have included enhancing the capability and capacity of the company's Quality Assurance team, and the integration of its Account Management teams across both Bath ASU and Pharmaxo in order to provide hospitals with a single point of contact to access its products, whether the patient receives treatment in hospital or at home. At the same time, its team has been working on extending the company's workflow systems to remove paper and transcription from its processes. In early 2019, Bath ASU plans to begin validating semi-automated sub processes, which it believes will improve accuracy and productivity.
The past year has also resulted in the company making further impressive strides when it comes to its Corporate Social Responsibility (CSR) policy, as Chris details. "Our policy is to trade on the smallest possible environmental footprint, while building the largest possible social footprint, and we work with a number of like-minded parties and companies to make this happen. For instance, we started working with Waste Handling Solutions, one of the UK's leading suppliers in the field of waste handling equipment, approximately one year ago, and in that time, they have helped us to implement new recycling equipment and processes.
"This year alone, we have reduced our volume and cost going into general waste by 40 per cent. With bigger balers and a dewatering screw, our waste needs less downstream processing, and therefore is worth more. Equally important is that we have removed nearly a full-time equivalent role in production from processing waste, which, to be frank, is probably the worst job there was to have in that team! Particularly important, as part of our GDPR compliance, we can now shred all media holding personal data onsite removing the risk of data breaches downstream."
Taking one final moment to reflect on the past 12 months, before turning his attention to what 2019 will hold for Bath ASU, Chris makes sure to mention the development of the company's successful apprenticeship programme. "Our apprentices are mentored throughout the year and have been progressing very well, with one of our first actually now mentoring the new intake. Such is the manufacturing capability and confidence of this individual, that they even recently applied for a supervisor position within the company, which is exactly the sort of personal development that we are looking to deliver through our apprentice scheme.
"When it comes to our own future, in 2019, Bath ASU will continue to focus on extending its product portfolio, bringing in new medicines in order to support the NHS. Our efforts to achieve this will also help to form the backbone of our long-term goal, which is to be recognised as the aseptic compounding business of choice for all hospitals and pharmaceutical companies."
Bath ASU
Products: Pharmaceutical specials