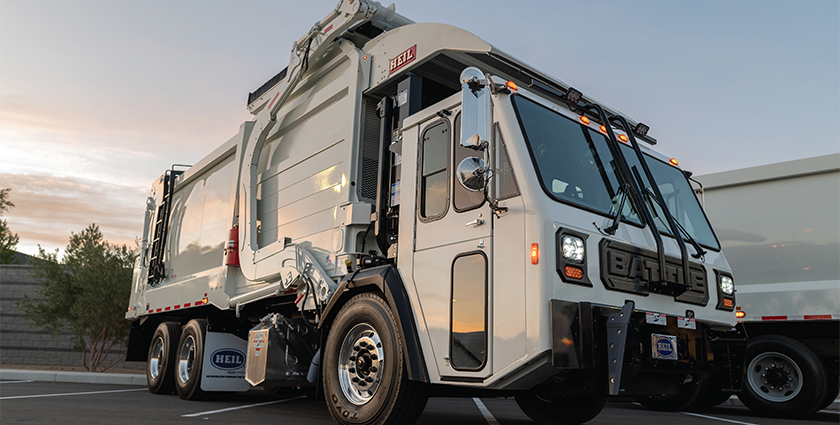 Going the distance
Battle Motors has continually pushed itself to be a pioneer in the field of electric vehicles. Its expansive operation has resulted in innovative developments in both the safety and sustainability sectors of manufacturing
As a leader in the vocational truck industry, Battle Motors provides custom, severe-service chassis and purpose-built vehicles for the refuse and recycling, infrastructure maintenance, ground support, agriculture, and oil and gas industries. This year, the business celebrates its 75th anniversary, and we have the opportunity to speak with Kelleigh Ash, the company's Chief Technology Officer, and Paul Marsolan, the Chief Software Officer, about how the business has utilized innovation to achieve its 75 years of success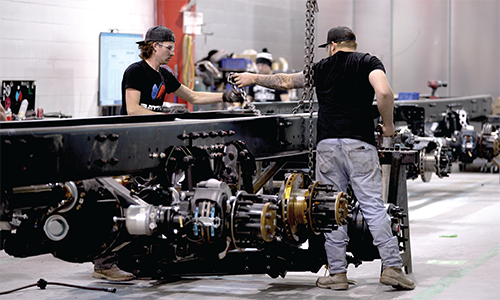 "When we started Battle Motors, we wanted to create a heavy-duty vehicle that would be environmentally friendly. When we looked around the marketplace, we found an existing business CCC that had been around for a number of years making these vocational trucks, and we felt very strongly about taking that particular project on. We've since quadrupled our production volume, and created an electric vehicle (EV) line by capitalizing on the sort of chassis frame expertise that has been around for ages," begins Paul.
For him, the business's success is rooted in a wealth of industry knowledge and dedicated experience, which is enforced by an eagerness to learn from other EV vendors in the sector. "We brought in talented individuals to help us power up our operations quickly and accurately. We also challenged our partners to take on the integration of extremely high voltage systems that have never been made before. We had prototype motors run off the line in order to get some of our first products done, and they gave some very encouraging feedback on those, which we appreciated. Ever since, they have remained excellent partners that have been happy to move forward with us. I believe the combination of these efforts is what has allowed us to make the progress we have over the last 75 years," Paul says.
Today, Battle Motors is honing in on its effort to grow within the industry, and subsequently, the company is pushing itself to take on new challenges. "We are focused on the legacy of crane carrier building trucks, and infusing new technologies with innovation into our products. This could include software, hardware, or the chassis itself. This work will require significant moves to invest in the CNG and diesel products as well," shares Paul.
On the subject of investments, our conversation then explores the recent developments the company is undergoing to expand its capabilities. At the start of 2022, it acquired Crane Carrier Company, a manufacturer that specializes in construction and refuse truck chassis. Battle Motors will also be including a 'smart cab', with improved advanced driver-assistance systems (ADAS), and state-of-the-art digital instrument cluster to provide additive services and safety features for customers. Ventures like this are made possible because of the company's drive for innovation and safety, as we learn from Paul. "Part of the reason Battle Motors was founded was to a create clean, safe, heavy-duty vehicle, but we wanted to bring safety to the product in an innovative way. We had to work with different vendors, including radar and vision systems, to make this possible. You have to remember that these trucks are 80,000 pounds. So, it is incredibly important that safety features are at the top of our priority list to ensure that these vehicles, regardless of what they carry, do not put anyone in harm's way; that is always our main goal," Paul shares.
Another notable partnership includes its recent venture with T-Mobile. Battle Motors has selected the company to be its provider of IoT connectivity and management for thousands of new Battle Motors battery electric trucks rolling off its Ohio-based production line to assist with speed and accuracy of truck trips. "We chose T-Mobile because we want every single electric vehicle that goes off our line to have a system for safety, identification of lane departures, speed, pedestrian protection and Vehicle 4 inclusion warnings.
"We are now able to generate about 2000 CAN messages a second, which brings in a tremendous amount of data per truck. Every time one of these trucks is offline, it costs money, so if we can use that data to execute preventative maintenance, we are helping customers save up hugely. If we notice something will eventually fall apart, we can warn the fleet managers and drivers prior to them getting on the road," Paul says.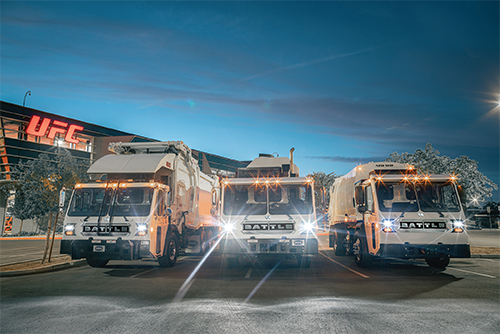 Kelleigh then adds that the importance of the partnership with T-Mobile means that Battle Motors is able to push live updates immediately, owing to T-Mobile's network, which will be incremental to connecting thousands of the company's new EV trucks to its software systems.
She also highlights that these investments are part of the strategy to platform efficiency, while steering towards a greener future. "The reason as to why we are investing so heavily in automation and updated technology is partly in response to market changes, but above that, as our operation gets bigger, we need to ensure that our team is safe, and that we are reducing our carbon footprint.
"Employee safety is paramount for us and even having antiquated processes and manual equipment that the team has to share is not sustainable for a safe operation. So, we are investing in automated lifters to lift heavier products on the line, rather than relying on antiquated machinery. Although it is in part due to the labor market, that is a very small motivation for us. We are more focused on the ways that we can improve our efficiency, and decrease our carbon footprint. The market is very tough right now to fit into all these positions, but we have an incredible team with us, and I'm certain that regardless of the challenges that come up, we will be able to adapt accordingly," Kelleigh explains.
In bringing our conversation to a close, both leaders share details of the areas they are choosing to prioritise for the coming years, with sustainability remaining at the forefront. "Our really big push is our EV chassis and getting that production across the finish line. We actually have some units in production, which is exciting. We are also investing in engineering, R&D and NPI initiatives.
"Our government, at both federal and the local level, is offering some amazing subsidies to municipalities and dealers to support the shift to EV, and we are happy to partner with those customers to support that. As we've mentioned, we are also making significant investments in our automation and manufacturing lines, which will be able to push the company's name that much further," says Kelleigh.
Above that, Battle Motors is tripling its manufacturing capacity, as well as investing in Just-In-Time automation to support its growth initiative. Considering the future of the business, Kelleigh expresses that the industry is consistently changing, but Battle Motors is set to keep in tune with emerging trends and technologies, whether that is through manufacturing, product design, even tools, in order to support its customers.
She believes that over the next three years, Battle Motors will be a completely different organization, and accordingly, the company is taking the necessary steps to support that evolution. "We are not only reacting to the immediate needs of the market, we are also reacting to the potential future state, which includes infusing new technologies in our products. We are going after new markets that the company has never been able to support, like the beverage delivery sector and such as last-mile delivery markets. Even our custom engineered chassis line allows us to build a truck for any application. We can design and manufacture trucks for uses such as airline refuelers to haybales; anything our clients require, we will custom design it. It's really exciting to be able to offer a complete package solution for our customers. Regardless of whether its EV, or diesel, we are happy to take on whatever our clients' need, and that is something that I am proud to be a part of," she says.
On a shorter timescale, customers can expect even greater developments from the business in the coming years, and, as Kelleigh reflects on the brilliant efforts of her team, she highlights that the future for the business looks promising. "You can expect some really wonderful new product initiatives rolling out across the market soon. Our team is fantasticly dynamic and laser focused on innovations – from an engineering and innovation standpoint – and we are running about a million miles a minute to get these products out.
"Our focus is on new technology, which is why our EV chassis is going to be extremely exciting. We have partnered with some really great national dealer groups that have provided us with some truly helpful feedback throughout this process, which has also allowed us to improve the product. Over the next few months, you can definitely expect to see leading technologies coming out from Battle Motors," Kelleigh concludes.
Battle Motors
www.battlemotors.com
Services: Truck manufacturer