A job well done
With a wealth of industry experience, Baylis Automotive delivers optimum quality components that meet customer requirements
Originally operating as part of Wagon Plc, Baylis Automotive was purchased by its current owners in a buyout in 2005. Today specialising in metal pressings and welded assemblies for automotive and non-automotive sectors, Baylis Automotive operates from a site than spans more than eight units that total 70,000 square feet and offers further scope for expansion. The
plant is SGS accredited to ISO 9001, TS 16949 and ISO 14001 and located in close proximity to Junction one on the M5 in Smethwick, West Midlands; it is here that some 65 skilled and committed personnel produce high quality solutions to a diverse and extensive customer base that includes OEMs and tier one companies across the globe. In fact, while products are primarily delivered to automotive and commercial truck/off road vehicle sectors, the company maintains key accounts with firms in the building, leisure, electrical and safety industries.
Within its plant, the company's manufacturing equipment ranges from ten tonne presses up to 400 tonne presses, with 300 tonne progression capability. Other equipment includes robotic MIG welding, TIG welding, spot welding up to 150 kVa, 2-axis laser cutting, press brake bending facilities and tube manipulation. When it comes to progression presswork, Baylis Automotive's press feed system pushes a strip of metal as it unrolls from a coil through all stations of a progressive stamping tool. Each station performs one or more operations, such as folding, cutting, bending or piercing, until a finished part is manufactured; the final station is then a cut-off operation that separates the finished part from the carrying web. To ensure optimum precision,the metal strip has to be fed carefully, usually through the utilisation of CNC controls, so all the die sections are perfectly aligned; this process is continuous and can produce finished parts within seconds.
Secondary presswork, meanwhile, includes shearing, bending and drawing through the utilisation of a series of dies; this often involves manual movement of parts from one stage to the next, however, these can be linked or transferred. Baylis Automotive has a range of more than 30 secondary presswork processes, which includes ten to 25 tonne mechanical presses for very small operations, 40 to 63 tonne mechanical presses for small operations; 75 to 150 tonne mechanical presses for medium/semi-large operations and 150 to 400 tonne mechanical presses for large operations. This range is extensive and capable of folding, bending and punching up to eight millimeters of gauge material.
For those seeking welding and laser services, the company offers resistance welding, whichinvolved placing two metal pieces together under an electrode and thus applies pressure that allows the current to flow. Due to the level of resistance, the components are heated almost to melting point; the current is stopped and pressure applied, which forges the materials together to form a weld. Baylis Automotive has 15 projection/spot welders that can fuse two materials together or apply different types of weld nuts or weld bolts, for example; this range of welders includes British Federal 25 KVA project/spot welders and British Federal 150 KVA projection/spot welders. All are fitted with WeldServ monitoring devices to continually measure current, voltage and resistance to ensure a quality weld each and every time. Typically, Baylis Automotive applies more than 14 million weld nuts from M4 up to M10 per annum.
Other welding and laser services includes MIG (metal inert gas)/TIG welding, which is a semi-automatic or automatic arc weldingprocess in which a continuous and consumable wire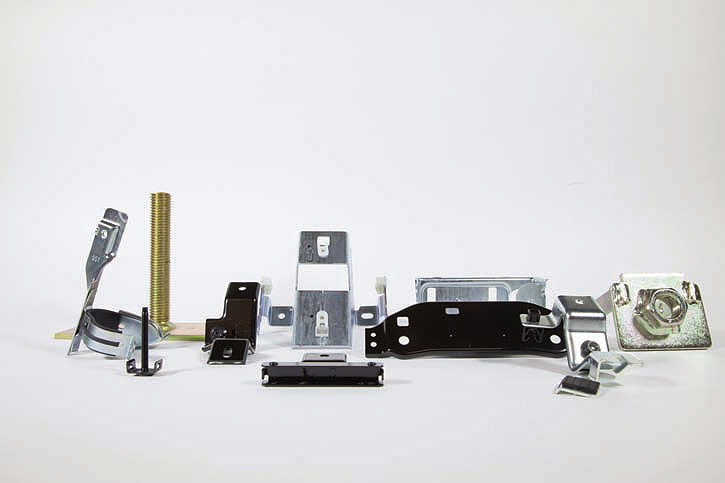 electrode and shielding gas are fed through a welding gun. Recent investments in this area of the business includes gas tungsten arc welding, also known as TIG welding; MIG or TIG welded products can also be leak tested on the company's state-of-the-art plc controlled Fishers leak test system. There is also laser cutting, for which the laser is capable of cutting up to nine millimeters of gauge mild steel plate, which provides a clean, non-contact, scratch free process; the laser comes with direct CAD links so that programmes can be downloaded straight to the machine. Additionally, the company also offers tube bending, which is utilised for manufacturing barriers, chair frames and other products that have a tubular form; at its plant, Baylis Automotive can bend/manipulate a range of materials, including mild steel, stainless steel and aluminum tubes.
Alongside these services, the company also offers prototypes, tool manufacture, assembly and finishing, quality control, logistics and anRFQ enquiry process. Priding itself on superior customer relations from the beginning, BaylisAutomotive has the skills and expertise to produce individual components to complete assemblies; the company also offers a comprehensive prototype service through the utilisation of its in-house equipment or one of its approved sub-contractors. In addition to managing the complete process from start to finish, the company maintains a close customer partnership by providing the client with regular updates throughout the project.
As it continues to ship more than one million components, from HVAC nozzles to large heavy duty side members for coolant systems, permonth, it would appear that Baylis Automotive is certain to enjoy a successful 2017. Having seen an upturn in business activity since Brexit and experiencing an increase in demand for export over recent months, the company is keen tocontinue with the next part in its history.
Baylis Automotive
Products: Manufacturer of pressings, welded assemblies and tube manipulation