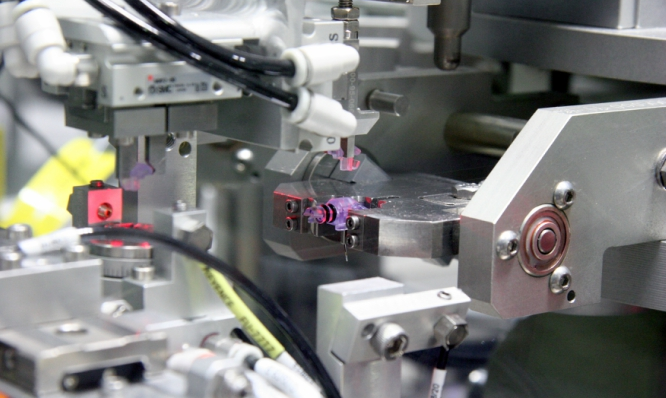 BBS Automation provides assembly and testing systems for clients in the life sciences, automotive, energy and energy storage industries, many of whom are Fortune 500 companies. In addition, BBS Automation performs contract manufacturing for customers that require multiple machines to be built.
Along with its Bartlett, Ill., location, BBS Automation has two facilities and its group headquarters in Germany, two in China, one in Malaysia and an engineering office in Canada. The company recently finalized Mexico expansion plans, according to Group Chief Operating Officer and President Darragh Staunton.
Staunton attributes the company's "life science" growth to implementing a new quality management system and operating under ISO 13485:2016 and GAMP5.
"My competitors in North America operate under 13485:2003 certification, we will be certified under the 2016 norms," he says proudly. "This puts us ahead of all of our competitors. Many of our new customers see this and there is a 'wow' factor because it's a big deal as 13485:2016 brings a more risk based approach as well as continuous improvements to the table.
"We're a serious company," Staunton notes, adding that he hopes the certification will not only bring in more new customers, but also spurs change in the industry. "The automation industry should be about more than just producing a piece of equipment," he says. "Ultimately, that would bring more value to our customers and the manufacturing industry in general."
Valuing Partnerships
BBS Automation seeks to develop partnerships or "marriages," as Staunton calls them, with its customers. He notes that being in a partnership creates a "much more enjoyable" workspace.
"As a supplier, you're always trying to beat your competitor and you're focused on providing the best solutions," Staunton explains. "Being a partner allows you to understand more of what the customer's business plan and model is."
That insight helps BBS Automation adapt its solutions to a customer's business model, which makes them both successful. "Being a partner not only provides us with an opportunity to look a bit further into our customers' pipeline, but also allows us to be proactive in coming up with solutions they will need in two to three years," Staunton says.
He adds that the company does not follow its customers, but instead leads them to showcase what they might be missing. "Additionally, we're challenging ourselves to bring them and BBS to the next step," he says. "It's about developing innovative strategies with carefully selected – and developed – customer relationships to grow with them.
BBS Automation also invites its suppliers to be a part of the solution, and not just as commodity providers, according to Staunton. "Our suppliers have been key to our growth," he says. "I think they've enjoyed that because it's allowed them to not only develop, but also develop what we're looking for, too. They share our enthusiasm for driving and leading the industry, and not just being a follower."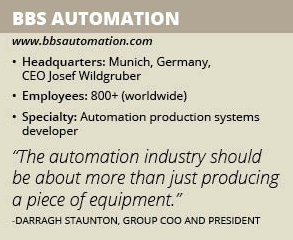 Staunton notes BBS Automation considers its projects as challenges, and works with its suppliers closely to make its customers better. "Automation in the world is stalled and it's looking for new innovation," he says. "Our suppliers enjoy working with us, and without them we wouldn't be able to do anything."
Ultimately, it's the collaboration of BBS Automation's team, suppliers and customers that makes the company successful. "We're all in one boat," Staunton says. "No business or project is based on an individual that makes it a success. We understand and admit that, and we integrate everyone into the team."
Customer Engagement
BBS Automation takes engagement with its customers one step further by allowing them to work on projects.
"Our customers have many years of experience with producing componentry in automation, so I invite them to come be a part of my team," Staunton says. "They work side-by-side with our employees on designs or process development. This not only allows us to share risks, but also mitigate risks together and help reduce costs for the both of us."
This close process ultimately makes the job more enjoyable, Staunton notes. He adds that there are many professionals who don't enjoy their job, but BBS Automation and its partnerships are not included.
"It's not boring, but exciting, as it's a challenge," he says. "Our customers enjoy it so much they're almost disappointed when a project comes to an end. It happens more often than not, and they look forward to the next project."
Staunton notes that his fundamental attitude plays a significant role at BBS Automation because it has never been about what someone can do for the company, but rather what the company can do for others.
"People don't do things for us," he explains. "When it comes to our customers, we see what we can offer and with that we know we will grow. Waiting around for what someone else will do for us is not our attitude. We want to be a better benefit and bring value to our customers."
Staunton adds that BBS Automations deems value-add and customer service as more valuable than "a piece of automation." He notes that value is an extra step, such as a personal approach.
"I welcome customers to come and challenge us with their next problem," he concludes. "Be it a process, automation or growth problem, come to BBS Automation and let us help. Together with you, our team and suppliers, we can help to progress your business."