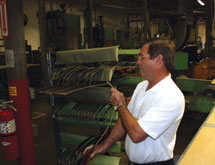 Named after the father of bowhunting, Bear Archery Products still carries on the legacy of Fred Bear, who founded the company in 1933. Born in Waynesboro, Pa., in 1902, Bear became an avid archer and won Michigan's state archery championships in 1934, 1937 and 1939. In the 1940s, he produced a series of bow-hunting films and had television programs about it in the 1950s. He remained active in designing products and promoting bow hunting until his death in 1988.
"Bear is the father of bow hunting," President Jack Bowman maintains. "He was a conservationist, somebody that was focused on the betterment of the sport. Fred always had a vision of where the sport should be and did many things that not only affected the archery industry but arguably the whole hunting industry."
That philosophy remains at Bear Archery. "We've got the whole spectrum, from cradle to grave," Bowman emphasizes. "You can get into a Bear bow at the entry level price point or go all the way up to the upper end. You can get into it from four to five years old all the way up to 60-plus years old. We have products for everybody – man, woman and child."
Bowman stresses that it is the employees' dedication that will keep the company successful after its near bankruptcy in 2003 and subsequent purchase by Escalade Sports. "It's about the people," he asserts. "It's about the commitment, about the time. We have folks that have been with the company for greater than 30 years.
"In fact, the father of our operations director, Neil Byce, was one of Fred Bear's personal bowers," Bowman adds. "So he personally made and designed every bow that Fred shot in the 1950s and 1960s. There are several employees like Neil that have years of experience.
"This has been a process of rebuilding an iconic brand in our industry," Bowman emphasizes. "It's had challenges, but people have risen to the occasion, accepted the challenges and we're rising back to the top where Bear once was."
CNC Skills
When producing a complete line of archery products for everyone from novice to expert, employees must be passionate about the products, hunting for the best production methods while still retaining the craftsmanship that gave Bear Archery Products its historic status. That combination has been achieved with the company's use of computer numeric control (CNC) to machine the aluminum in its compound bows.
Bear Archery's compound bows are machined from aluminum with the computer accuracy and consistency only the greatest bow-makers can muster on their best days. Their design requires formidable engineering and manufacturing skills.
The company's products are designed and manufactured based on feedback from customers and employees who bow hunt. "If it doesn't pass our group, it doesn't go to market," Bowman emphasizes.
"We are proud that all these products are designed by hunters," he continues. "This isn't just a job for people – this is their livelihood, but it's also their sport and passion. It says something about our products."
Hand Craftsmanship
Bear Archery's manufacturing plant in Gainesville, Fla., measures more than 150,000 square feet. The latest upgrade there was the addition of two new CNC machines to machine the aluminum for the compound bows.
Production of the company's traditional wood bows relies substantially on the employees' craftsmanship. "I would say the craftsmanship is probably more appropriate on the traditional side, because that is still all 100 percent basically hand labor," Bowman maintains. The company's new product line includes the new Kodiak traditional bow, on which Bear Archery Products built its reputation.
"The Kodiak is very reminiscent of what we call the 59 Kodiak, which was Bear's most popular bow of the time," Bowman explains. The Kodiak traditional bow uses a combination of woods such as purple heart in the I-beam and Bolivian rosewood on the sides, a riser faced and backed with thin strips of purple heart and limbs with maple cores.
In a bow to modern design, the Kodiak is faced with caramel-colored fiberglass and backed with a brown fiberglass. The tips are layered with brown and white fiberglass and hand-finished. "So we've brought a little bit of new technology into a 50-year old product," Bowman says.
"You've got a market that is very traditional, very nostalgic about their product," he adds. "This is what the foundation of Bear was built off of – this was its claim to fame."