Success that sticks
Beardow Adams has been digging deep into several strategically-chosen markets this year, gaining extra market share with the reliable adhesives it manufactures
Aiming to secure its stable performance in the years to come, the manufacturer of high-quality adhesives Beardow Adams decided to apply a structured approach in its activities throughout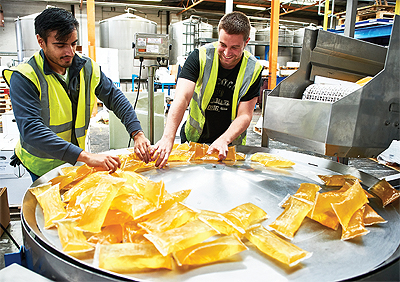 2018, centring on the development of what is referred to as the company's 'vertical' markets. "These are areas we have identified as either being historically strong or having a unique product offering – for example, packaging, filters, or water-based labelling," explains Group CEO, Adrian Day.
"Back in May, we held a conference for our global partners in Milton Keynes, which acted as a launching platform for this 'vertical' approach. More than six months on, we can report that the strategy has been well-received by the market and is starting to bear fruit," Adrian observes, adding that the year's largest growth markets have been the filters, pressure-sensitive (adhesives for tapes and labels), and packaging segments.
In 2016, Beardow Adams was awarded the British Retail Consortium (BRC) high-hygiene level certificate to the Global Standard for Packaging and Packaging Materials for the manufacture of hot melt adhesives for food and non-food packaging applications, becoming the first adhesive company in the world to receive the certificate. In Adrian's words, the recognition has proven a real differentiator in the market for Beardow Adams, opening a number of new opportunities in geographical areas, which were surprising even to the company itself.
"Latin America, for instance, is particularly receptive to this certification, and this has enabled us to win business on the quality and performance we can offer," he points out. "Initially, you might think that it would be difficult to compete in such faraway markets with UKmanufactured products, but being able to present assurance in their quality credentials really opens doors." In a confirmation to Adrian's words, Beardow Adams opened a subsidiary in Brazil in late 2017, which was followed by a local office in Colombia set up in July.
Born in response to certain heavy raw material restrictions the company encountered in late 2017, Beardow Adams introduced a new product range this year, whose items are aptly referred to as 'bridging the gap'. Adrian continues: "Admittedly, it was quite frustrating to see orders for products we knew we could not totally fulfil. The situation prompted some reactive developments from our UK R&D team and, having worked closely with our customers, we were able to retain their business and come up with the new range of products, which now sits uniquely in the market.
"These new products are to be used where you would not typically employ other adhesive technologies over a hot melt adhesive. For example, heavily glossed books or certain woodworking applications commonly use a polyurethane (PUR) adhesive, which is both costly and not the most environmentallysound of technologies. Our new range, as the name suggests, aims at bridging the adhesive technologies to enable users to step away from these PUR adhesive and move to more environmentally-friendly options," he maintains.
It can be easily noticed that environmental credentials and packaging waste have been established as the topic of the day by consumers, whose sustainability concerns are now increasingly being taken into account by manufacturers when the latter determine their production approach. "One of the main requests we get, is for a fully biodegradable adhesive, but, unfortunately,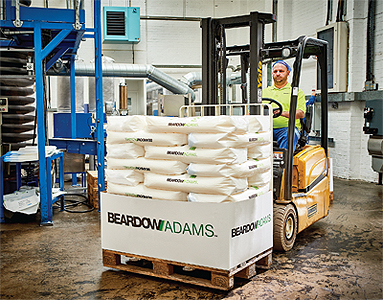 the technology that will allow us to formulate such a product is yet to be fully developed. Still and all, our adhesives can work towards a greener product offering – using a hot melt adhesive, which is 100 per cent solids, over a 50 per cent water-based product can help reduce the carbon footprint of the product. Similarly, using adhesives to secure pallet loads can eliminate the need for plastic pallet wrapping," Adrian comments.
Seeking a hot melt adhesive manufacturing presence in continental Europe, Beardow Adams is presently constructing a new facility in Frankfurt that is projected to open in mid-2019. Adrian provides us with a bit more detail on the capabilities of the new site: "Once completed, the factory will give us an extra 6000 square metres of material storage and production space, and our idea is to have it fully-certified to a BRC standard. At first, we are going to install one production line for the manufacture of low to medium viscosity products, primarily to serve the packaging market. This will give us a foothold in Europe, while also supporting our existing UK and US manufacturing. Thence, it will be a staged process to introduce new lines and equipment into the factory to develop the products it will be able to produce."
Beardow Adams has been operating in the US for five years now, but because the American market is so wide-ranging, the company can still be seen as a relatively young player. Such a sentiment is expressed by Adrian, who also regards this perception of the business as an advantage. "Any new player in any market will garner interest from customers and suppliers alike," he contends. "At the same time, we have already made our mark abroad with the seven subsidiaries in the seven different countries we have, in addition to the network of over 70 global partners who sell our products around the world. This has also helped to attract enquiries from the US. Ultimately, however, the main contributor to our success has been the quality of our adhesives and their ability to solve problems. Even though we trade in large markets, these are often closeknit communities and the word spreads fast if a manufacturer comes up with a working product."
2018 is the year in which Beardow Adams celebrates the 30th anniversary of its well-known BAMFutura technology, which creates adhesives that do not char in the hot melt tank, are clean running, and can be used across a wide range of production speeds. "In December, we are launching two new developments – BAMFutura 43 and BAMFutura 44, to mark the occasion. Based on the latest metallocene technology, these products offer their users a lower cost of ownership for their packaging adhesive products, without compromising on quality," Adrian reveals.
"Going into 2019, our primary concern will be to ensure a stable Brexit transition period for our customers and suppliers. Once these arrangements have been put in place, we will focus on the commissioning of our Frankfurt facility and on filling the extra capacity it gives us. In the meantime, we will continue to tweak our strategies in our target markets," he concludes by outlining his vision for the new year.
Beardow Adams
Products: High-performance adhesives