Sticking to sustainability
Having completed a significant investment in a new facility in Germany, Beardow Adams continues to perform well worldwide with its high-quality adhesives
2019 has been a year of important events for one of the world's top adhesives manufacturers – Beardow Adams. In the 12 months since we last had the pleasure to report on the business' development, it has released new products in line with emerging market requirements, continued to grow in multiple sectors, and completed crucial investments in its facilities.
"One of the most noteworthy highlights of the year was the opening of the company's first-ever purpose-built facility in Frankfurt," begins CEO, Adrian Day. "It is one of the largest production lines for hot melt adhesives in mainland Europe and is located alongside our existing site for water-based labelling adhesives. The unit spans 6000 square metres and comprises of three 2000 square metre halls that are linked together for optimum workflow. Once it has been operational for at least six months, our ambition is to have it accredited to the British Retail Consortium (BRC) Global Standard for food hygiene."
The decision to build a new facility, thus creating extra capacity, in Europe was a result of the Brexit referendum in 2016. Beardow Adams' original idea was to get the facility going in November this year when the UK was expected to have already left the EU. The extension of the deadline, however, took away the pressure from the company to hasten its production activities, allowing it instead to experiment with new manufacturing techniques.
"As the site is an extension to our UK operation, we could afford to slow down a little and play around with new processes. For example, we are doing a lot of testing around the coatings that we apply to the products and this will continue until the end of the year. Early in 2020, we will be ready to turn the light on and go into full-flow production," Adrian clarifies.
"The layout of the Frankfurt factory is unlike anything we have in either the UK or the US, simply because the facility was purpose-built Adamsfor us. In fact, we have drawn inspiration from its design to drive some improvements to our unit in Charlotte, North Carolina where we have reconfigured some of our equipment to make ourselves more efficient and increase productivity," he continues.
It is no surprise that Beardow Adams has aimed to introduce improvements to its establishment in America, given the strategic importance of the US market for the company. Adrian explains: "Because some of the technologies that we use in America have already been superseded in Europe, say, five years ago, in a way, we are trying to encourage the market to move to newer technologies, as we have experience of working with these. We can see that this approach is starting to bring the desired results, with a lot of our US customers being quite open to change, and we are expecting to have a 50 per cent increase in sales across the country next year."
Back on home soil, Beardow Adams has enjoyed promising growth with its woodworking products across the UK and Europe. Towards the end of 2018, the company also launched three new packaging adhesives as part of its BAMFutura range. "Woodworking and packaging are the two areas where we are seeing an uptake in demand for our products," Adrian says. "On the packaging side, the adhesives we introduced have diverse properties, one of them being highly resistant to both very low and very high temperatures, and another working very well with specialist boards on surfaces that are difficult to bond.
"Many of our customers tend to now insist on using recycled boards, which makes bonding harder. There is actually a general trend where people want to operate in an environmentally-friendlier way and replace one technology with another, driven by green considerations," he points out. "Therefore, we have developed a couple of adhesives, which aim to tackle some persistent issues. For instance, we created a pallet stabilisation product to stick boxes onto pallets and thus reduce the amount of plastic required to wrap these boxes. Similarly, we have also found a new solution to wash off the label of glass bottles, in response to new regulations that are being established in Sweden and Germany next year."
In Adrian's opinion, there are four main categories that customers are keen to fall into when pursuing a green solution for their products. "Sometimes, people do not necessarily have a clear idea of what they are looking for, but they know they want something. Usually, they are asking for a product that is either recyclable, biodegradable, compostable, or bio-based. Each of these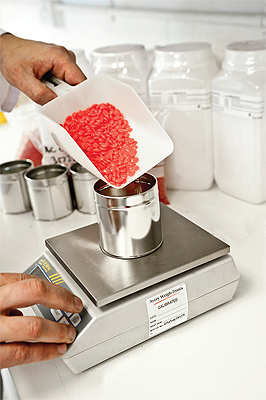 approaches contains its own challenges. Starting with recyclability, it is not easy to go for one solution that will work equally as good everywhere, because different countries have different levels of recycling infrastructure installed. This is why we need to treat each customer individually and take into account the specifications of their environment before developing a customised adhesive that allows the product it goes into to be recycled.
"The biodegradable and compostable adhesives are quite similar to one another, but the issue with them is to determine after what period of time you want them to start to biodegrade," Adrian goes on. "We have looked at the materials available to produce biodegradable solutions and at this point in time, there are companies that offer biodegradable solutions, but they seem very unstable and not fully functional. We pride ourselves on the quality of our products and because of that, we have chosen to continue to develop with raw materials as they become available for these types of glues, but not go to market just yet, because we do not think they represent the quality of an adhesive a customer would want nor the functionality their adhesive requirements need. Instead, we are focusing on the fourth type of requirement clients have, namely, that we produce bio-based adhesives. This means that we are buying our components from sustainable sources. We feel this is the right direction to go in, because there is a full cycle of buying sustainable materials, putting them into an adhesive and then into a product, and finally using it as a raw material again at the end of its life."
Due to the fact that each project Beardow Adams undertakes is heavily customer – and geographically – specific, the company has to demonstrate a very high degree of versatility in satisfying individual requirements. As Adrian notes, however, this is exactly where the manufacturer's strength lies. "We have a very quick turnaround in our technical development and it really helps that we operate in such a wide range of sectors, because we can apply our knowledge from one industry to another and draw inspiration from past projects."
While its sustainability efforts will remain a priority for the company in 2020, Beardow Adams is also conscious that it needs to fill the capacity of its German site, which will be another focus for the business in the coming 12 months. "From a sales perspective, we are seeing some growth in certain Asian markets, so another target of ours is to develop this further. Last but not least, thanks to the success we are having with our woodworking materials, we are now starting to look at producing in Eastern Europe, where we are expecting to attract a lot of interest from prospective customers," Adrian concludes.
Beardow Adams
Products: Adhesives