The smooth process
Beardow Adams' mission to be the first to innovate and the first to market has resulted in the development of reliable, high-performance adhesive products that meet the toughest of challenges
Typically taking the form of 100 per cent solid formulations based on thermoplastic polymers, hot melt adhesives are solid at room temperature and activated upon heating above their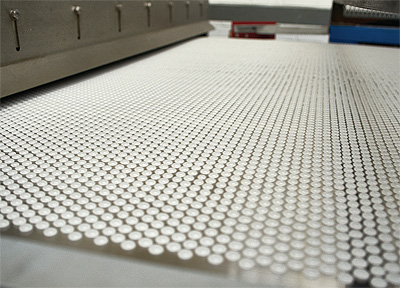 softening point. Following application, these adhesives retain the ability to wet the substrate until they solidify and return to a physical state that has structural integrity. This capability has resulted in hot melts being utilised in a wide range of applications and adopted by a varied mix of industry sectors.
The future potential for these adhesives was recognised by one Bob Adams back in the 1970s. A chemist with a passion for innovation and new products, Bob would partner with Len Beardow to create the company which bears their respective surnames in 1977. In the 40-plus years since, Beardow Adams has gained a reputation for developing quality assured adhesives, which are today trusted by more than 10,000 respected companies around the world across a variety of applications including, packaging, labelling, woodworking product assembly and bookbinding.
"Taking inspiration from Bob and Len, we have spent the last four decades being committed to the ethos of helping to solve the problems encountered by our customers," states Beardow Adams' Group CEO, Adrian Day. "In an industry that historically has been typified by large, multi-national companies churning out thousands of tonnes of product for specific applications, we have worked hard to carve out a place in the market where we have become a trusted servicer of bespoke niche needs. With a product variance of several thousand combinations, a total of 14 production lines throughout the UK, and the ability to produce batches between one and ten tonnes at any one time, we have the flexibility needed to develop a tailored adhesive and get it into production quickly. This is a quality that very few companies can replicate and has led to the success that we have experienced."
As well as being hedged well from a product and customer base perspective, Beardow Adams has ensured that it is also well positioned geographically, which has been essential to its growth with 80 per cent of what it produces in the UK now being exported. This business is further supported by the sites and former partner companies it has acquired in recent years in Germany, Sweden and in the United States.
"In the case of Germany, it is the largest consumer of adhesives in Europe so having a presence here is strategically very important, while the purchase of a former partner company in Sweden in 2014 has provided us a stepping stone into the Nordic region," Adrian explains. "When it comes to the United States, we took the bold step of purchasing and investing in a greenfield site in Charlotte, North Carolina, in 2012, in a bid to realise our own version of the American Dream.
"On this greenfield site we decided to construct a hot melt adhesive plant, replicating the success we have had in the UK, albeit on a slightly smaller scale. Whereas in the UK we can produce 50,000 tonnes per annum, in the US our facility has a capacity of 30,000 tonnes per annum, which we can leverage to serve a similar area of the market as that in Europe where the emphasis is on smaller, niche projects that have a shorter lead time. To date, we have experienced relatively quick growth on this side of the Atlantic and there are good signs that this will continue."
It goes without saying, however, that central to Beardow Adams success has been the its track record of producing quality products. Scientifically formulated and technically advanced, its adhesives consistently outperform traditional variants. Case in point is its BAMFutura range, which was first introduced in 1998 and has helped redefine the standards for adhesive performance. So much so that it led the company to its first Queen's Awards, this time for Innovation in the same year.
"At the time when we first developed our BAMFutura product it was a challenge for anyone to produce clear, clean running performance adhesives, particularly in the field of food packaging," Adrian continues. "What we created was a product that can be produced and applied quickly to multiple applications, and to this day nobody has been able to match its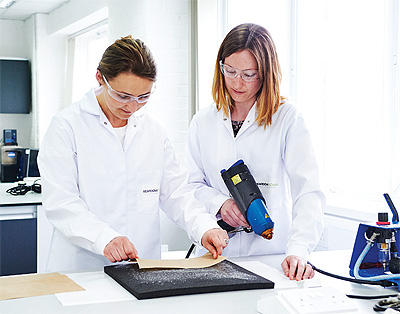 performance. The success of the BAMFutura range is also what led the company to achieving the British Retail Consortium manufacturing standard, meaning that we are able to produce this adhesive in a hygiene environment similar to that used within the food industry itself."
Further to the above range of products, a major source of growth for Beardow Adams during 2017 was its advances in pressure sensitivity adhesives (PSA's), particularly where they relate to the flexible packaging market. "Where you see all these mail order bags and packages used to deliver clothing from online retailers, you see an application that usually requires a self-adhesive strip to seal it," describes Head of Strategic Markets, Eric Coveney. "To service this rapidly growing market we have developed an extremely high performing hot melt PSA range called Pressen. Able to be applied quickly and work effectively across a range of different applications, temperatures and environments, Pressen has come to be one of our fastest growing product groups."
2018 is an exciting time for the company, not least of all as it embarks of a period of change within its management structure, with Bob Adams moving into the role of Chairman and the next generation of executives taking their place in leading the business forward, all the while ensuring that it remains true to its values.
From an operational perspective, the company finds itself in the process of building a new hot melt adhesive operation on the site of its existing Frankfurt facility. "This decision was taken to address our need to create more physical capacity and introduce our first hot melt activities on the continent," Adrian adds. "We anticipate having this up and running in 2019, after which we will be able to directly service our customers in the larger European markets.
"Meanwhile, we are excited to be in the process of commissioning a new product line, which will be going live in March 2018. This line will also fall into our PSA (Pressen) category and will increase our capacity by approximately 3000 tonnes. So, the focus for us as a business in 2018 will be in gaining capacity and presence in Europe, achieving growth in the United States, and building our partner and customer base in the UK."
Adrian, Eric and the rest of the Beardow Adams' team are all well aware of the reasons behind its success to date, namely its dedication to innovation and product development, and the need to remain committed to these principles. "The market around us continues to consolidate, and this is helping to create fresh opportunities as niche solutions become harder to source from the larger multi-nationals," Adrian says. "With this trend influencing the market we know that, so long as we stay true to our strengths and focus on developing quality, flexible and quick-to-market products, growth will come naturally to us as it has before."
Beardow Adams
Products: High performance adhesives