Cool operators
Bearward Engineering is the largest producer of industrial cooling systems and radiators in the world
Established almost six decades ago in 1958, Bearward Engineering has occupied premises in Northampton, UK, since the company was created – one of these being in Bearward Street, the site of bear baiting pits during the Middle Ages. Today, Bearward occupies a 40,000 square metre site, with additional manufacturing in Tennessee, USA, and Silvassa, India.
Having evolved in a considered fashion over the course of its history, Bearward saw rapid expansion through the years of 1999 – 2009, following customer requirements for Bearward to spread its global footprint to assist with local requirements. To make this happen in 2011, Bearward joined Wabtec Corporation – combining with the cooling group of Young Touchstone and Unifin.
With more than 13,000 employees, and 2017 revenues expected to be around $4.1 billion, Wabtec is a leading supplier of value-added, technology-based products and services for freight rail, passenger transit and select industrial markets worldwide. Through its subsidiaries, the Group manufactures a broad range of products for end markets such as locomotives, freight cars, passenger transit vehicles and power generation equipment, for both original equipment and aftermarket applications. Wabtec also builds new locomotives up to 5400 horsepower, and provides aftermarket maintenance and services for locomotives and passenger transit vehicles. In 2017, Wabtec finalised the purchase of Faiveley Transport S.A. in a cash-and-stock deal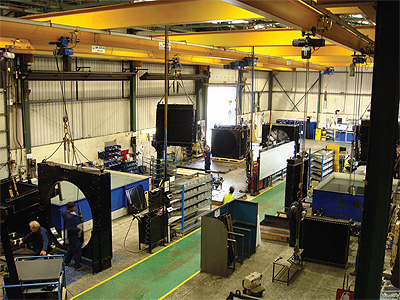 valued at $1.8 billion, including debt. Its most strategic acquisition to date, the Group believes this will help to position the company for future growth.
As part of the Cooling group within Wabtec, Bearward Engineering is a major supplier to the generator set market and also a key supplier to oil and gas, off highway, rail, and offshore markets – all ranging in sizes from 50kW to 3.5mW. The company currently manufactures over 35,000 radiators annually, thanks to heavy investment, innovative developments and its versatility when it comes to the manufacturing of systems. Indeed, by merging engineers with long-term experience with state-of-the-art technology, the company has not only developed a reputation for bringing new designs and bespoke applications to market, but has also accumulated a customer base that includes major manufacturers such as Caterpillar, Mitsubishi and SDMO.
With state-of-the-art research and development capabilities, and a philosophy of sharing new data and information throughout the firm, as well as newly semi-automated premises, decades of experience and heavy investment in the latest technology, Bearward Engineering has become renowned for its innovative approach and developed a worldwide reputation as an expert in the market. Furthermore, thanks to nearly 60 years of producing radiators for simple and complex installations, Bearward has acquired huge experience of working with, and understanding the needs of, end users, meaning it is able to provide cooling solutions that offer the very best service life, and lowest total cost. To make this possible, Bearward developed the innovative and unique 'Sectional' cooling system, which allows for low cost serviceability for radiators no matter of size or location. This allows the ability to maintain the cooling system in an 'as-new' condition, which improves cooling performance and maintains engine performance for life.
The 'Sectional' cores can be produced in Copper Brass, Aluminum or Cuprobraze technology. They allow very large radiators to be built using smaller modules; they are fitted into steel frames that can have a variety of finishes dependent upon end user requests, and these may include galvanizing, C5 Marine paint, stainless or any other specialised finish.
Designed in such a way that they can be individually removed while the cooling system is in situ for replacement or maintenance works, the sectional cores of these radiators offer huge benefits to end users in all markets as sectional removal can be completed by hand without the need for heavy lifting equipment. Moreover, spare components can be kept on site for quick changes, which significantly lowers downtime for companies. Ultimately, this product not only allows on-site serviceability for any size of engine, but also eliminates the failures that are associated with thermal expansion in cooling systems.
The products available from Bearward Engineering are divided into eight categories, with each one offering a different range of benefits for clients:
Back to Back Engine Mounted
Belt Drive
Belt Drive Remote
Cross Flow Engine Mounted
Horizontal Remote
Multiple Fan and Motor
Side-by-Side Engine Mounted
Vertical Remote
What sets all of the Bearward Engineering radiator sets apart from the competition is an overall emphasis on innovation and technical expertise. A good example of this is how it is developing smaller, more efficient radiators with enhanced noise reduction and emissions levels to address the needs of the offshore industry. It is this ability to address the needs of different markets in a timely and sophisticated fashion that appeals to blue-chip customers such as Cummins, with which Bearward works closely in the energy sector.
As Bearward Engineering approaches its 60th anniversary in 2018, its parent company Wabtec is also heading towards the very significant celebration of 150 years in business in 2019. Both companies are working hard to live up to their commitments to customers, employees, communities and shareholders – and striving to do so in ways that are environmentally friendly and responsible. In order to guide them towards the future, Wabtec created a series of values and operating principles and named it 'The Wabtec DNA'. These values and principles unite the entire Group around a common purpose and provide the foundation upon which to build and strengthen the company. Reliability, Passion and Collaboration are three points that have been highlighted as being at the heart of Wabtec and its divisions, and it has stated commitments to Safety (aiming for zero accidents), Customer Focus, Continuous Improvement, Teamwork and Leadership. These values support its never-ending drive to build long-term, sustainable shareholder value.
Operating today as one of the largest producers of industrial cooling systems in the world, Bearward Engineering has established solid, global foundations for growth. It has certainly created an enviable reputation and proven its ability to achieve the mission statement 'to ensure through a process of continual improvement and reduction of lifetime costs, to become the manufacturer of choice for industrial cooling systems.'
Bearward Engineering
Products: Cooling systems and radiators