#1 Lifecycle cost
Bearward Engineering deploys its sectional, modular-based manufacturing system to increase its productivity and the quality of its industrial cooling systems
As Matthew Eggleton, Senior Sales Manager UK at Bearward Engineering, aptly remarks, 12 months go by very quickly, making it hard to keep track of all the exciting developments that have been happening at the company. It was almost exactly a year ago when one of the world's largest producers of industrial cooling systems and radiators last featured in our magazine. In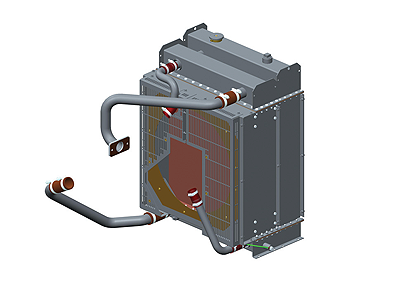 the time since, it has explored new manufacturing routes, diversified its offering, and continued to grow overseas.
"From a manufacturing standpoint, we've now released enhanced aluminium packages which drive down material costs. We have developed this for use on our high horsepower cooling systems that make use of our innovative and unique sectional, modular-based solutions. The latter allows for low-cost serviceability for radiators, regardless of their size or location, which helps to maintain the cooling system to an as-new condition, thus improving cooling performance and maintaining engine performance for life," Matthew explains.
Owing to the flexibility of the system, Bearward Engineering is looking to bring it into larger engines. The sectional core allows large radiators to be built using smaller modules that are fitted into steel frames with a variety of finishes. Matthew adds: "The modular system that we have, has a floating core design, which allows thermal expansion and serviceability in the aftermarket in the future. The cores can be serviced in situ without heavy lifting equipment. We have seen multiple benefits from revolutionising our manufacturing process, as we are now able to build low-volume cooling systems using high-volume manufacturing techniques."
Part of the reason for the company's intensified efforts to optimise its manufacturing process, can be associated with the increased competition Bearward Engineering is facing at the moment. Matthew comments: "This competition comes mainly from the Far East. More and more manufacturers have started developing their own systems and bringing them to Europe, especially in the last five years. This is a trend that is forcing us to be more resourceful in our manufacturing and bring our costs down, but we also treat it as an opportunity that enables us to take new paths and diversify our offering."
To affirm this point, Matthew reveals that Bearward Engineering has been investing in robotic welding cells for heavy fabrication works. "We need these to use them on the cooling systems for drive systems and chassis, to add value to our scope to customer. In fact, quite often, we collaborate with other companies within Wabtec – the group we are part of – to serve our customers as one entity that provides multiple components and not just cooling systems."
Being part of Wabtec's global network has been instrumental in Bearward Engineering's recent international growth, too. With business in 50-plus countries, Wabtec's experience is being drawn on by the cooling systems manufacturer in its overseas exploits, with Bearward Engineering currently pressing in the US, Chinese, and Indian markets, in particular.
"We supply cooling systems to some of the largest diesel generator manufacturers such as Cummins, Kohler, CAT and MTU and, as these companies have established a presence all over the world, it is just natural for us to follow them, if we are to stay competitive," Matthew claims. "Our approach is to manufacture key components in the UK and then ship them globally for assembly. We have got quite ambitious plans regarding our expansion in India and China for the next year. It is important for us to complete the technical signoffs for the high horsepower systems and introduce them into these markets. The plan is to be fully established in these regions within the next 12 months, which will allow us to think about further growth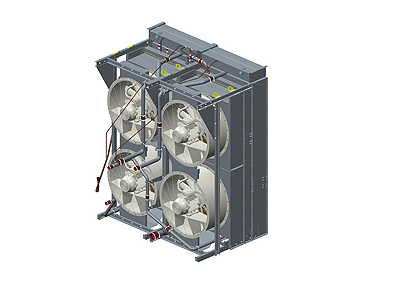 opportunities," he shares.
The last few months have also seen Bearward Engineering direct its attention to the field of aftermarket support. "When you supply to OEMs as we do, it is important to acknowledge the level of support our OEM distributors and end users require for aftermarket components as well as technical support. This also opens up additional sales revenue which operates at a different level to OEM work."
Further diversifying its activities, Bearward Engineering is now trying to capitalise on the increased growth in demand it is experiencing from the maritime, renewables, and offshore support markets. Matthew discusses: "What is more characteristic about our work in the marine industry, for example, is that we develop coatings for our cores, which enables us to provide cooling systems in coastal and offshore environments, ensuring that they have a long life. Operating in these sectors does not necessarily mean that we need to meet more unusual requirements, but we certainly do a lot of testing calibrated to ASTM B117, which is the most widely adopted standard for salt spray testing."
Backed by a well-established global corporation and constantly pursuing product developments and expansion in new markets, Bearward Engineering has laid solid foundations for its future growth. With the company continuing to regularly invest in strengthening its capabilities, there is little doubt that its efforts will continue to meet with success in the years to come.
Bearward Engineering
Products: Industrial cooling systems