Technical experts
By responding to market demand with innovative solutions, Bearward Engineering has cemented its position as a leading global producer of industrial cooling systems and radiators
As one of the largest producers of industrial cooling systems and radiators in the world, ISO 9001 accredited Bearward Engineering has developed a global reputation as an expert in the market since its foundation in 1958. Based in Northampton, UK, the company's name stems from one of its premises on Bearward Street, which was originally the site for bear baiting pits in the Middle Ages. Today the company occupies a 40,000 square metre site at Main Road, Far Cotton, Northampton, where it supplies to the world generating set market; the company also supplies radiators for pumping and construction equipment, off highway, and other specialist equipment sectors.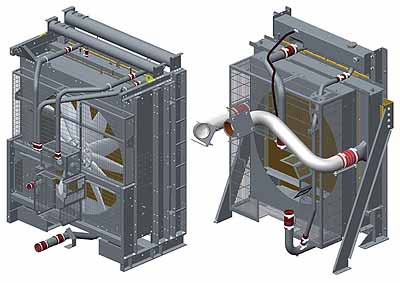 Currently manufacturing over 20,000 radiators annually, the company boasts a turnover of £30 million thanks to heavy investment, innovative developments and its versatility when it comes to the manufacturing of systems. Indeed, by merging engineers with long-term experience with state-of-the-art technology, the company has not only developed a reputation for bringing new designs and bespoke applications to market, but has also accumulated a customer base that includes major manufacturers such as Caterpillar, Cummins, Mitsubishi and SDMO.
With state-of-the-art R&D facilities in place that continuously share new data and information throughout the firm, Bearward has become renowned for its innovative capabilities; it also uses the latest automated processes to ensure absolute consistency when it comes to quality, while its sectional radiators give optimum process control. The company is also well-known for its strong focus on customer service and its commitment to delivering a comprehensive aftercare service to its global client base. To further cement its reputation as a reliable partner when it comes to service and repair issues that require a high quality solution, the company also supplies parts with full warranty.
Merging these strengths with major investments in cutting edge technology and rapid expansion from 1999 to 2009, Bearward had cemented its role in the market. However, customer demand for a more globally local service resulted in the company joining the $2.8 billion Wabtec Group in 2011 – combining it with the cooling group of Young Touchstone and Unifin. Viewed as a strategic complement to the group's existing thermal management business, the integration of existing products and technologies with Bearward's product line and European presence further strengthens both Wabtec's and Bearward's global position in the industrial cooling systems market.
Operating under the umbrella of Wabtec's cooling group has provided Bearward with the solid global foundations for growth and ability that it was seeking out to make its mission statement a reality. Focused on becoming the manufacturer of choice for industrial cooling systems through a process of continual improvement and a reduction in lifetime costs, the company used this dedication to develop its unique and innovative sectional cooling system.
Designed in such a way that they can be individually removed while the cooling system is in situ for replacement or maintenance works, the sectional cores of these radiators offer huge benefits to end users in all markets as sectional removal can be completed by hand without the need for heavy lifting equipment. Moreover, spare components can be kept on site for quick changes, which significantly lowers downtime for companies.
The sectional cores can be produced in copper brass, aluminium or Cupobraze technology before they are then fitted into steel frames that can have a variety of finishes dependent upon end user request; these may include galvanizing, C5 marine paint, stainless or any other specialised finish. Ultimately, this product not only allows on-site serviceability for any size of engine, but also eliminates the failures that are associated with thermal expansion in cooling systems.
Operating in industries that have become increasingly demanding in line with stringent regulatory requirements when it comes to the reduction of noise and emissions pollution, Bearward's focus on innovation has proven fruitful as it now boasts a strong product portfolio of products. From engine mounted to power modules, or purpose designed low airflow applications to high pressure reserve units for high acoustic applications, Bearward has a range of radiators to cool engines from 500 KW to three MW; this includes conventional jacket water radiators and water/charge-air configurations.
Although low cost producers of cooling systems are attempting to muscle into the market, Bearward remains confident about the future as it seeks to further strengthen its global presence through setting up sub assembly and service locations while also expanding its portfolio. With a strategy in place to ensure the next five years are as positive as the last few decades, it looks like Bearward will be generating growth for many years to come.
Bearward Engineering
Services: Manufacture industrial cooling systems and radiators