Creating a buzz
A leading UK based manufacturer of vitamins, minerals and supplements, Bee Health Ltd specialises in private label and contract manufacture for some of the world's largest retailers as well as its own vitamin and supplement brands
Operating from an 80,000 square feet state-of-the-ar t facility in Bridlington, Yorkshire, Bee Health Ltd has progressed from a small business specialising in bee-derived ingredients to being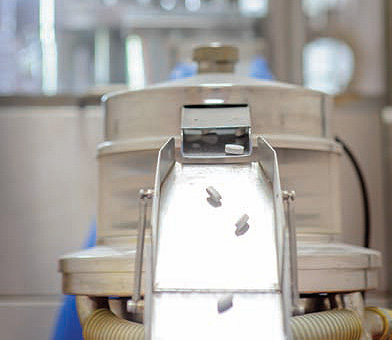 at the forefront of vitamin, mineral and supplement manufacture since its establishment in 1992. A producer of 100 million capsules and tablets per week for clients in more than 40 countries, the company was recently named by the UK's leading health retailer, Holland & Barrett, as 'Best Vitamins, Herbals, Minerals and Supplements Supplier' and 'Supplier of the Year'.
Bee Health continues to develop and manufacture the original Bee Health Propolis products that inspired its name, along with a number of its own high profile and popular health food brands, including FSC Supplements, vitamins and superfoods.
Staunch in its commitment to delivering the highest quality and meeting manufacturing standards, the company offers one of the broadest range of vitamin and supplement formulations for a multitude of product formats that meet the BRC accreditation grade A for global food standards. Operating to the GMP standard, the company's fully integrated quality management system maintains the audit and control of raw materials from source to finished goods. The company is also Halal registered and a member of the Soil Association to further ensure the highest organic product standards. This adherence to standards and regulations is further strengthened by Bee Health's experienced laboratory team, who remain up-to-date when it comes to these regulations in terms of the development of supplement products and vitamins. Formulation support is also offered, where the company works with customers from the initial concept stage through to troubleshooting and manufacture.
Split into six segments, the formulation of Bee Health's products includes tablets, for which the company has the capacity to produce all shapes and sizes, and batches as small as 100,000 within its suite of tableting machines; two-piece hard shell encapsulation, which come in gelatine and vegetarian, in batches of 100,000 capsules on its semiautomatic machines, or millions of capsules on its fully automatic machines.
The company's newest addition to its manufacturing suite is softgel capsules, which it can supply on a large scale in sizes ranging from five oval to 24 oblong. Also produced at the site are liquids, serums and sprays, which includes syrups, emulsions and oils. It is within this segment that the company handles glass and plastic bottles, and formulates new products as required. Bee Health also has manufacturing equipment suitable for small or large-scale batches of gels and creams, which are perfect for cosmeceuticals and personal care products, as well as a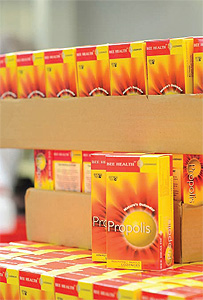 blending facility for an extensive range of powdered products.
As a company that offers a comprehensive manufacturing service, Bee Health can ensure each customer's project runs much more efficiently, while also ensuring cost-effective services and products that are of the highest quality. Once production is complete, the company has the facilities and experience to pack the products thanks to a large-scale packing hall. The array of presentation formats available includes pot and liquid bottle filling, blister packing, tinctures and vials, and bespoke packaging.
Focused on its mission to continually evolve its products, meet environmental needs and deliver the best possible quality and service, Bee Health and its team of pharmacologists, chemists, engineers and research scientists are keen to remain at the forefront of the healthcare manufacturing market through research and the funding of clinical tests that prove the effectiveness of its products.
Through ongoing enhancements in operations in all areas of the business, which includes the replacement or upgrading of every single piece of machinery over the last two years, with £1.4 million invested in new plant and machinery in the last 12 months alone, the company has achieved a strong reputation in the market as a manufacturer that delivers an unrivalled level of service. This has naturally led to huge annual growth of 40 per cent a year over the last three years and the company being named as one of the 1000 Companies to Inspire Britain in a new London Stock Exchange Group Report. As it continues to deliver assurance for those seeking quality, traceability and high standards, the future looks set to be a hive of activity for Bee Health.
Bee Health Ltd
Products: Manufacturer of vitamins, minerals and supplements