In good health
The year of 2019 is set to go down as a record one for Bee Health, with profitability at an all-time high, driven by impressive improvements in productivity, processing efficiency and customer service
For East Yorkshire vitamin and supplement manufacturer Bee Health, 2019 has been a hugely important year to date. It was July of this year that, after more than 25 years at the helm, its founder Steve Ryan stood down from his post of Managing Director – handing the reins to its Commercial Director Lewis Ryan – to take on the new role of Production Director. Since establishing the business in 1992, Bee Health has grown from a small business specialising in bee-derived ingredients, into one of the leading European manufacturers in its field.
"In the last few years, our business has undergone a period of rapid change – predominantly due to a big increase in our customers' e-commerce activities – and this resulted in me taking the decision that my expertise and knowledge would be best served on the ground floor," Steve begins. "Here it could be utilised to further enhance our production processes correctly, and bring them to the right levels of speed and cost. By also focusing on making improvements in efficiency and implementing lean manufacturing techniques throughout the business, we have already made a number of notable positive changes, including a marked increase in productivity and a lowering of our expenses."
The changes at Bee Health come at a time when the focus of the business has shifted away from its reliance on large retailers, in order to concentrate on companies that sell their products through the internet. "Today, we supply the top five or six e-commerce retailers in the UK in their entirety," Steve continues. "What we have done, which makes Bee Health all the more attractive to said businesses, is develop an advanced system that encompasses product design, development, manufacturing, packaging and distribution, meaning that the customer doesn't have to oversee any of the process and can just sit back and wait for an order to arrive at their door. I see this as being customer service of the highest level, and it has paid massive dividends, helping us to run a lot leaner and increase our profitability to the point where 2019 will be the year that we break all previous profit records."
This progress has certainly not gone unnoticed, with Bee Health identified for the first year running by the London Stock Exchange Group as one of its '1000 Companies to Inspire Britain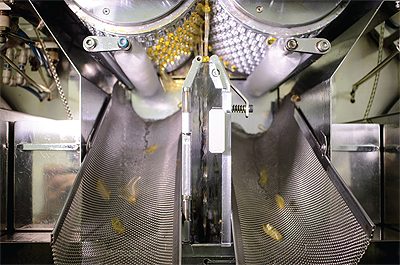 2019', an accolade that required the business to demonstrate positive revenue growth over the last three years, as well as its ability to outperform its sector peers.
In order to cope with the aforementioned growth, the company has had to channel investment into its operations over the last three years or so. "This year alone, we have trebled our bottle packing capacity," Steve explains. "This, as you can imagine, has required the company to significantly invest in upgrading our packing capabilities. In the meantime, other developments have included replacing one of our older lines with a faster solution, and adding in new automatic filling and powder lines to meet increased demand for our products.
"In terms of future investment, as a business Bee Health is always looking to improve on efficiency, and one of our primary goals at present is, naturally, to carry on achieving the growth rate that we have earned in recent years. As it happens, we currently have additional capacity so have a lot of flexibility to meet any increase in demand we may gain from either existing or new customers going forward."
Based on the second half of 2019 alone, Bee Health anticipates achieving an increased growth rate in terms of profit during the year 2020, and that is before taking into account any additional business from new contracts. "If, at the same time, we can successfully keep our efficiency levels where they are now, then the business really does have a great future," states Steve.
Bee Health
Services: Manufacturer of vitamins, minerals and supplements