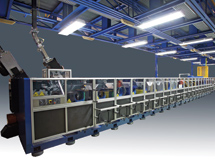 Belvac Production Machinery Inc.
When people enjoy a can of their favorite soda or beer, they often overlook the container that was used to store it and keep it fresh. But Lynchburg, Va.-based Belvac Production Machinery Inc. plays a role in that important process.
The company designs and manufactures continuous motion rotary machinery for two-piece can manufacturing. President Richard Steigerwald explains that Belvac's history goes back to 1962, when founder Alphonse Stroobants started the company as a machine shop.
Initially, Stroobants served local businesses in Lynchburg. However, "The business grew slowly and steadily enough," Steigerwald says, explaining that Stroobants eventually built a 25,000-square-foot facility for the company that has had additions over the years.
In 1975, the firm grew its reach to a worldwide market with the introduction of an advanced rotary can cutting machine. In 1978, it added a bottom coating machine and in 1982, it bought the Colorado division of Irvin Industries, which manufactured a necking machine licensed from Coors.
In 1990, Stroobants sold the company, which went through a leveraged buyout before becoming part of the Dover Corp. in 1993. Today, two-piece can manufacturing machines comprise the main focus of Belvac, which has a staff of 250 and has employees located across the world in locations such as Europe, Dubai and China, Steigerwald says.
"We set a revenue record in 2013," he says, noting that the company expects to set another this year. "That's a credit to the ownership that has allowed the company to be autonomous and explore its markets as it has over the years."
He adds that Belvac serves a tightly knit base of approximately 50 customers. While the firm's clients include some food and beverage companies, "We primarily serve can makers," Steigerwald says. "We're in 15 regional markets around the world.
"We have expanded our scope of supply, providing container design concepts for metal bottles, shaped cans; integration into specialty equipment (Bottle Can Manufacturing Systems and Shaping Solution Systems) solutions, including real time monitoring of equipment performance, all of which leads our industry."
A Dependable Source
After all these years, Belvac has earned a strong reputation in its market, Steigerwald says. "We are viewed as a very trustworthy, consistent supplier who is always trying to control costs of operations for the customers," he states. "We're [also] viewed as a company that has a level of dependability."
Belvac has earned this status thanks to the commitment of its entire staff, Director of Supply Chain Jack O'Brien says. "They pour a lot of heart and soul in the business," he says. "That's helped differentiate us from most of our competition and most manufacturers in other industries, as well."
Steigerwald also credits Belvac's success to its ongoing commitment to remaining innovative. Continuously, the company looks for ways to reduce energy costs for its customers through components and equipment designs.
This fits the demands of the market, which has recently added different size requirements on packaging and reduced changeover times. "We're stepping up to those challenges," he asserts. "[We also want] to show key customers that we are environmentally conscious."
He adds that Belvac is trying to find ways to reduce its own manufacturing costs, as well. For instance, "We're looking at different methods of lubrication on the equipment," he says.
Only the Best
Belvac ensures that it provides clients with the best products by maintaining relationships with the best suppliers in the world. "[They] are very key to what makes Belvac successful," Steigerwald says.
O'Brien notes that several factors determine what suppliers Belvac chooses to work with, including the level of expertise and equipment that the suppliers have. "[This is especially important] because of the precision and the speed of the can-making machines we produce," he says.
"A high level of skill and knowledge [are also required] to produce those components," he says. "It's really about trying to find a supply base that is looking for more of a partnership and not just adding another customer to their mix."
One supplier that Belvac has that relationship with is Fox Valley Tool & Die Inc., based in Kaukauna, Wis. O'Brien notes that Belvac has partnered closely with the firm in a way that goes beyond the normal supplier-customer relationship. "Our arrangement over the last couple of years has worked out for both organizations as a result," he says.
For instance, Fox Valley recently started producing a component for Belvac after another manufacturer had discontinued production on the part. "Fox Valley and a couple other suppliers … really stepped up and got involved in an area where they hadn't been involved in before," he recalls.
Additionally, Fox Valley often contacts Belvac to ask its client's opinion on new areas where it can provide service. "[As they make] enhancements in their own organization, [we're] involved in those discussions," O'Brien says.
Another supplier Belvac partners with is IndTool Inc., a provider of CNC machining services based in Burlington, N.C. "They view Belvac as a partner," O'Brien asserts. "They really go the extra mile to make sure that we're successful. Our success is their success, as well."
O'Brien also praises Sencon Inc., a Bedford Park, Ill.-based provider of sensors and controls. "They've worked well with our engineering group to make sure that the technology they put in meets [the needs of] our equipment," he says. "Over the last several years, we've really increased the speed of our machines. They've worked well with our electrical and design group in making sure they have answers to satisfy our [needs] moving forward."
Steigerwald agrees and also praises the company. "Sencon is the standard in the industry for two-piece can-making and inspection," he says. "They are really a well-accepted standard to our customers and very well thought of."
Belvac also maintains high standards when hiring, Steigerwald says. He explains that the company looks for people with a wide range of experiences and skill sets. "It's important that a business at this level has some people with exposure to global supply chain development, the latest equipment, lean selling manufacturing and innovative design concepts for improving energy consumption," he says.
But enthusiasm for the business is also required, Steigerwald asserts. "You've got to be dedicated to manufacturing," he says. "You need to have an appreciation for the whole process."
Belvac's Lean Journey
In the past six years, Belvac has significantly invested in lean processes, including adding manufacturing cells in its machine shop and modularizing its assembly processes. "We really changed the layout of the organization and enhanced our warehousing," O'Brien says.
The firm also applied lean to its assembly departments to make them more efficient. From 2010 through 2013, the company saw 15 to 20 percent improvement. But although Belvac has seen a marked improvement in how it processes material, its work is not done, O'Brien asserts.
"It's not something that we ever complete," he says. "If you get to a point where you can't do anything more, you're not thinking outside the box enough. [We're still] changing the entire warehouse organization in how to process and how to stock."
Steigerwald adds that he is pleased by the results. "Some of the improvements that we've put in have saved millions of dollars and have allowed us to rationalize costs," he says.
Belvac's strategy in the current economic climate, Steigerwald notes, is to establish itself as a key component supplier in its industry. "Over the last couple of years, we've tried to make our product capability as broad as possible, given the somewhat narrow scope of our customer base," Steigerwald says.
In addition, Belvac needs to continue to innovate in order to compete, Steigerwald believes. "We have to find ways to keep ourselves ahead [and] keep our name as the go-to company," he explains. "I want to make sure that we're innovative enough so that everyone's always looking at us to catch up."
He predicts the company will move into markets that are not currently involved in packaging.
For instance, "Africa and certain areas of the Pacific Rim are going to develop and become major influencers in how we provide solutions to some of these markets," Steigerwald predicts. "These are key, critical areas that will create opportunities for this company for many years to come."