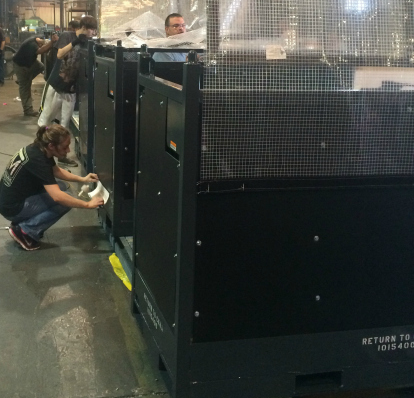 Benchmark Tool and Machine
One of the key things Benchmark Tool and Machine prides itself on is its transparency with employees. Daily and hourly targets are posted where employees can see them. Workers know the production schedule for the coming week and understand what they need to accomplish before going home. Leaders have daily meetings with employees where they talk about the previous day's output and accept feedback from workers on how to improve production. "We always speak the truth, we always speak from our heart and we always tell you what we feel," principal and Operations Manager Jeff Robinson says. "And we try to pass that culture on to the people on the floor."
Robinson believes that the truth sets you free and also builds a strong company. It's an approach that's tied to the family atmosphere Benchmark wants to build with its employees. The company believes workers should not only have a successful business life, but a strong family life, which is why it operates only four days a week with 10 hour shifts. Robinson said that shorter work week has led to more fulfilled employees and better production. "I think people are finally starting to catch on to the fact that if people are happy at home and inside spiritually they tend to be more productive," he says.
Expanding Capabilities
Benchmark was founded in December 2005 as a machining business supporting the automotive and earth moving industries. The company built items such as dies, molds, test equipment and quality gauges for large Tier 1 automotive suppliers. As Benchmark grew, it realized it needed its own tooling shop to support the manufacturing business. Customer trust in Benchmark quickly grew and one of the company's clients eventually asked the company if it could build steel bulk containers for transporting products from Tier 1 suppliers to OEMs. Benchmark accepted the challenge and began manufacturing steel containers in 2008, which remains its predominate business today. "Whenever you do a bang-up job for a customer they're always looking for other things you may be able to accomplish to support their company," President Jeff Hendrix says.
Today, the company also manufacturers shelf racks, fixed arm racks, bag racks and bulk bins out of its 67,000-square-foot facility in Pelham, Tenn.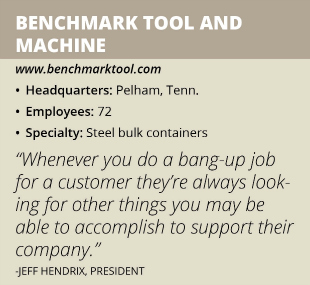 Hendrix believes Benchmark's reputation for quality sets it apart from other bulk container producers. "Our customers have the confidence in us that once we submit a schedule we're able on our side to get them what they need," he says. Benchmark has an in-house design department, allowing it to make adjustments on its own without the need for an outside firm – saving customers time and money. Going through a design house can take as long as eight weeks, but Hendrix says Benchmark can often turn designs around in as little as 24 hours.
The company is further increasing its capabilities to match customer demands. Benchmark recently added 5,000 square feet to its facility. The addition is a flexible space that can be used for metal processing, welding and powder coating, depending on need. Also, many clients are looking to refurbish or modify their old steel racks and containers instead of buying new to save on the cost of steel. Benchmark is investing $170,000 in various equipment, including a sandblasting building and reclamation unit to offer refurbishment services.
Tough Transition
At the time Benchmark began the transition to making steel bulk containers Hendrix says he didn't quite understand the breadth of the equipment he was getting into. The company had to add 50 welding centers and a $500,000 semi-automated powder coating line to paint the containers. It was a risky business move at the time because of the recession, which was just taking hold. Still, the new direction for the business appeared promising and Benchmark did close to a million dollars in revenue during the first month, January 2008.
But everything changed once the recession struck in full force. Benchmark's container business dried up by the end of the first quarter of 2008 and the company was forced to contract its workforce by 85 percent as it waited out the economic downturn. At one point, Benchmark's workforce was down to only four people. The company made it through those lean years by using the powder coat system to coat boat docks for another manufacturer and it built components for the stove industry.
Business began picking up again as the country exited the recession in 2010. Benchmark began hiring and returned to the container business, providing shipping containers for the automotive, earth moving and glass industries. Today, the company's revenues have grown to about $20 million annually.
Despite its success in recent years, the lessons of the recession are still informing how the company operates. "It's one time that will serve me the rest of my life as I go about my business," Hendrix says. "We don't hire anyone unless we absolutely have to have that person, and we don't buy anything unless we absolutely have to buy it."
Instead of investing in a larger workforce – Benchmark has 72 employees today – the company is putting more money into training and growing its supervisors skills. Hendrix says that investment is how Benchmark is building the company's culture and credits Robinson with driving those efforts. "One of his (Robinson's) focuses is to create the next generation of management for Benchmark," Hendrix says.