Benham Precision Engineering
Putting quality first
Benham Manufacturing is an established supplier to aerospace and defence OEM contractors and is committed to providing a flexible and responsive service to customers
Founded in 1978, family business D A Benham Engineering Limited was established to supply components for the communications industry. Almost two decades after its inception, the Southampton based firm acquired a precision engineering company that had similar strengths, capabilities and customers within the aerospace sector in 1995; the two businesses merged in 1998 and moved into a single purpose-built manufacturing facility located on the edge of the New Forest.


"The purchase of a green field site, erection of the current facility and the merging of the two organisations into one unit was quite an important time for us," says Paul Benham, Managing Director and son of the founder, Dennis Benham. "Since then, the company has seen a significant transition in its business activity and is today, in terms of supply, 75 per cent operating in the aerospace and defense sectors."
Now trading as Benham Precision Engineering and occupying 21,000 square feet, the site boasts state-of-the-art equipment and highly skilled, dedicated staff; a mix that enables Benham Precision Engineering to undertake a broad range of work such as the assembly of parts for anything from prototyping to being a strategic supplier supporting major aerospace and defence programmes. It is at this site that the company operates a 24-hour shift pattern that ensures customers receive increased flexibility through optimum efficiency. Notable investments include the purchase of six five axis prismatic and ten mill-turn work centres. Recent investments are focusing on enhancing the inspection capability at Benham.
In line with market trends and technological developments, Benham Precision Engineering also boasts CAD/CAM capability, which ensures it can consistently deliver a cost-effective and high quality manufacturing solution. On-site equipment includes Creo Elements 3D Modelling Mastercam, Camware and Camware MT as well as five axis plus 2D and 3D programming. This cutting edge, temperature-controlled inspection environment is staffed by fully qualified personnel, which ensures optimum quality assurance of all products, from the simplest component to the most complex.
The company has adopted the EFQM Business Excellence Model Framework. Total quality management in all areas of the company includes manufacturing excellence through adopting lean manufacturing and 'just in time' philosophies; a 5s approach to cleanliness and housekeeping and a 7 Wastes continuous improvement programme. The adoption of this framework has been set up with the goal of creating a workforce that is empowered to put quality first.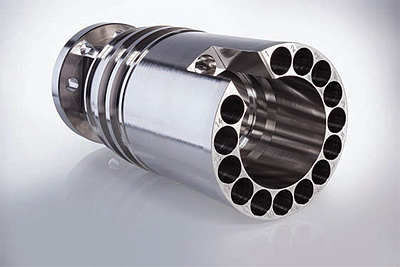 In addition to continuous improvements and strategic investments on equipment and the facility itself, Benham Precision Engineering has recently brought the majority share-holding of Newturn CNC Machining Limited, which will enable it to improve service offerings via access to additional capacity, capabilities and a highly skilled workforce, as Paul comments: "Our customers are original equipment manufacturers (OEM's) who supply product that is onboard most aircraft platforms. For these clients we manufacture complex and medium complex component parts and some assemblies. To further strengthen our business, we recently acquired the majority share of a business, which will enable us to support growth opportunities and service our customer base accordingly." The two organisations will continue to operate as two separate entities, with Newturn CNC working as a sub-contractor to Benham Precision Engineering.
This strategic acquisition was undertaken at a good time for the aerospace market, which continues to enjoy strong growth. In line with increased volumes of new and repeating work from customers, the company is seeking to expand its workforce to meet demand and support future expectations. Discussing these developments, Paul says: "There are always challenges in the market because business is forever changing and there is no such thing as permanent stability. However, I would say there are opportunities in the market and we see the future as positive, with exciting opportunities ahead of us."
Continuing with an explanation on the reasons behind the company's success, Paul comments: "It is not only our capability, but also the investment in our people, plant and facility as well as our strong customer focus and agility. Another reason for our growth, from a machine tooling perspective, is the partnership we have had in place with Mazak Machine Tools, a company that we have been working with since 1989."
Not a company to rest on its laurels, Benham Precision Engineering will be looking for growth opportunities as it continues to develop the business in a manner that meets the needs of its new or returning clients. "As a business we are looking for opportunities to further develop our customer base, specifically within the civil and defense aircraft sectors where Benham offer extensive capability, " concludes Paul.
Benham Precision Engineering
Products: Complex components and assemblies for aerospace, defence and hi-tech sectors