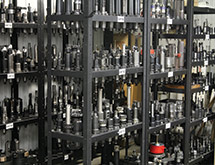 Bennett Machine & Fabricating
Founded in Iowa in 1973, Bennett Machine & Fabricating has grown considerably since its early days serving local farmers by repairing and maintaining their equipment. Bennett Machine still primarily serves the agriculture industry, but it works with a number of customers in other industries as well. The contract machine shop primarily machines cast iron parts but has the ability to machine other materials.
"We are known for our on-time delivery, and we deliver very high-quality parts at a competitive price when the customer needs it," co-owner and Vice President of Engineering Charley Martin says. "We provide machining on horizontal machining centers, lathes, vertical machining centers, broaching, balancing and assembly."
Developing the Market
After beginning to do machining for a foundry in Davenport. Iowa, and adding to its original  facility five times, the company moved to Anamosa, Iowa, in the mid-1990s. Bennett Machine added approximately 80,000 square feet of climate-controlled manufacturing space in 2005, and today has about 140,000 square feet.  The second generation of family ownership took control of the company in 2010 and soon after achieved IS0-9001-2008 certification.
The company manages all steps of the process for customers, providing complete parts with outside processes if necessary. It manages the purchasing and scheduling of all of raw materials to ensure that parts get to customers on time and to maximize its machine operation time.
Working typically with large OEMs, Bennett Machine supplies finished components for assembly. It is involved with customers during the design stage so it can design in manufacturability to reduce costs. By specializing in the machining of castings, the company can look into designs where weldments could be changed into castings to reduce costs for customers. In addition, the company machines steel and plastic.
"To develop a new customer base and get into different markets, we are working with an outside sales rep, developing contacts within the automotive, large truck and off-road industries," Martin says. "We consider those some of our key markets for diversification."
The company believes it can continue to grow through communication with customers on a daily basis.  It watches their schedules and lets them know if there are changes it cannot meet, and it alerts customers to issues within their own systems.
Setting Goals
One of the key areas that Bennett Machine has been investing in over the past few years is its company culture. The company's employees are a key reason why it is able to offer the quality and efficiency it is known for. That is why one of the focal points for the company is to improve its culture and make it a better place for everyone to work.  "We feel this will help us to maintain our current workforce, reduce turnover and training costs, and also reduce scrap due to the familiarity with our processes and parts," Martin says.
Other investment areas include expanding its manufacturing space by almost 80,000 square feet of climate-controlled area. This will give the company the room to add additional equipment as it diversifies by simultaneously providing a better working environment for employees.
"The facility has overhead hoists for lifting parts in and out of the machines, so we lower our risk for injury, and also reduce the fatigue factor as well," Martin says.
Staying on the cutting-edge of tooling technology allows Bennett Machine to get the most out of its machines and provide the most economical price to its customers. Many of the same basic machines are commonplace in the industry, but the way that Bennett Machine processes its parts helps to set the company apart from its competitors.
"Our employees help us to improve our processes and make suggestions that help us to produce better parts with less time and/or less effort," Martin says. "This makes their job easier and makes them want to suggest more improvements, which makes us more efficient and makes their jobs easier as well."
As it evolves, Bennett Machine is working to meet its customers' expectation for more transparency in areas such as labor rate information during quoting. The company has made that change and evaluated and adjusted its burden rates to make sure it is competitive.
In the years ahead, Bennett Machine knows it will be tasked with challenges in hiring and maintaining the right employees. The younger generation does not always see manufacturing as top career choice, but Bennett Machine is working to get the word out about the career opportunities in manufacturing.
It is also working to keep costs down. The company invested in geothermal heating and cooling in its office, as well as T-8 lighting throughout the warehouse and office and T-5 lighting in the production facility. It recycles coolant and evaporates cleaning water, while constantly watching chemical and oil usage to find eco-friendly alternatives. As the company seeks growth, it will strive to continue to be a good corporate citizen at the same time.
"Our goal for 2015 is to add another customer, managing our growth and not taking on too much work at one time," Martin says.