Fueled by the best
With a commitment to continuous improvement, innovative technology and on time delivery, Bennett is providing solutions to the fueling industry
The journey of Bennett Pump Company started with a hand-crank barrel pump, a little over a century ago. Under the leadership of Thomas Bennett, the business went on to branch into tank manufacturing and proved to be incredibly successful. These expansions only strengthened the company and in the early 30s, Thomas introduced several models of gasoline dispensers into production, while also launching its first shipment of gravity-fed visible pumps and eco tireflators. In 1942, the company began to manufacture war items including machine guns, which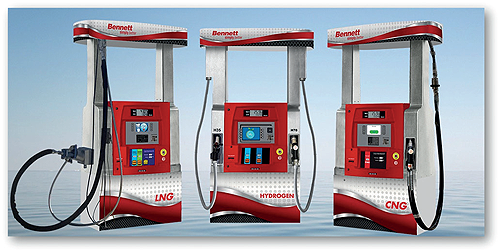 then set it off to develop the revolutionary fuel pump island, which combined air, water and gasoline.
Bennett then persevered further and challenged itself to be a leading provider for the fuel dispensary market, which enabled it to create its first pump to offer a wide panoramic curved glass dial face available in twin or single product and hose models capable of servicing two vehicles at one time, known as the 900 series. Since this momentous development, the company continually pushed itself to update the series over the decades. Another notable achievement happened in 2008 when the business introduced the Pacific Dispenser, the industry's first dispenser with a Payment Card Industry Data Security Standard system, which was a breakthrough innovation for the fuel sector.
Now, Bennett is the only dispenser manufacturer to offer a universal Europay, Mastercard and Visa (EMV) upgrade solution and has implemented the Conexxus Forecourt Payment Terminal V1.0 protocol into its EMV payment systems for new dispensers and EMV upgrade kits connected to Verifone Commander Point of Sales systems. For over 100 years, Bennett has been a leading manufacturer of retail and commercial fuel dispensers and components. With a headquarters in Western Michigan, and an additional manufacturing facility in Shanghai, China, the company has the flexibility to be a worldwide competitor in fuel dispensing products.
Alan Betts, the current Vice President of Sales, shares with us the ways in which Bennett has been able to excel as experts in the fuel dispenser industry and lets us in on a few trade secrets that have encouraged the business to pursue product innovation. "Bennett offers modular, factory-fit EMV upgrade kits for competitive fuel dispensers. These kits provide a seamless, integrated design that provides a quick, easy field installation where each component of the kit can be easily removed and replaced. All displays are also sold with an open architecture to provide simple media management with no contracts, fees or penalties. Bennett also offers several managed media options for retailers who prefer to have their media provided by a professional content delivery specialist," he informs us.
Bennett's compressed natural gas (CNG) and liquefied natural gas (LNG) dispensers are designed to provide customers with a familiar fueling experience by incorporating the same interactive features used on traditional fuels dispensers. These dispensers also use an active visual display of the fueling process to provide customers with the assurance of a full fill. The company also boasts the Bennett Hydrogen Series, a world-class hydrogen dispenser engineered to provide years of trouble-free service through the latest technology and robust design.
Tying in with these impressive capabilities, Alan highlights fresh, additional product launches that are set to push the business even further ahead of its competition. "Our new Bennett Site Master EMV payment pedestal delivers the convenience of fuel island payment that is capable of managing fleet and credit card transactions for multiple dispensers. This particular product utilizes the proven Bennett alphanumeric payment module (APM) and is ideal for fleet cards, even at unattended fueling sites. A single Site Master is capable of accepting all types of credit,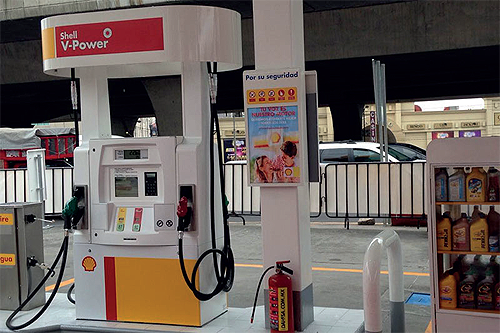 fleet and loyalty cards for up to 99 fueling positions. The optional integrated interconnection box simplifies installation and improves service diagnostics by using fewer wires," Alan explains.
He continues to discuss the company's Pacific Series Dispenser, which delivers the lowest cost of ownership using extremely low power (60 per cent less than similar competitive models), extended warranty coverage, and reduced maintenance costs with the trouble-free and accurate SB100 Fuel Meter, stainless steel grade select buttons, and hardened polycarbonate display panels, giving Bennett that extra edge.
Spencer Hines, Bennett's President, indicates the ability to push industry boundaries in order to fulfill the needs of the fuel dispensing sector is partly owed to Bennett's production facilities. "All of our engineering and design, sales and marketing, accounting, administration, manufacturing, and testing are done by approximately 170 employees in our Spring Lake headquarters and Shanghai. We are proud to utilize lean manufacturing processes to ensure efficient operations to generate quality products delivered on time to our customers." Further to this, Bennett has vertically integrated bringing manufacturing processes in house where possible; its surface-mount technology (SMT) line is just one example as it now builds all current production circuit boards at its western Michigan facility.
These facilities have enabled the business to take on greater and more remarkable projects to add to its timeline of achievements. Recently, the US Department of Energy awarded the company the opportunity to develop a high-flow hydrogen dispenser technology that aligned with the department's H2@Scale initiative. The initiative explores the potential for wide-scale hydrogen production and utilization in the US to enable resiliency of the power generation and transmission sectors, while also supporting diverse multi-billion dollar industries, domestic competition, and job creation. Bennett took on the project to deliver exceptional production, delivery, storage, and use for hydrogen and fuel cells to enter the medium and heavy-duty transportation sector.
Other exciting opportunities that presented themselves to the company allowed it to extend its business to international shores, one of which included the exclusive supply of dispensers in Mexico to Shell Oil. Recently, Bennett achieved OIML certification which will drive further business internationally. In 2019 Saudi Aramco and Air Products teamed up to build the first retail hydrogen fueling station in Saudi Arabia, which called on Bennett to supply its popular hydrogen fuel dispensers.
The final factor that completes the business recipe for success is of course its people. Bennett is very proud of its staff and how they represent the company's core values. Spencer believes that with a committed team of experts, there is very little that the business cannot achieve. "Our success is built on fundamental core values and we have a very diverse set of activities in this company that require experts. The more we know about our team members and products, the better the team and the product becomes, the better the product becomes, the stronger the brand becomes and the stronger the brand becomes, the more success we enjoy as a company. Curiosity will drive team members to continue learning, which in turn makes the product greater," he emphasizes. He further notes that by incorporating these values, Bennett is driven to uphold its high standards of safety and quality, with over 3000 days since its last lost-time and zero recordable injuries.
This combination of dedication, motivation and safety is exactly what fueled each team member to pull together and stay ahead of the challenges brought on by the Covid-19 pandemic. "At Bennett, our highest priority is keeping our employees, family members, customers, suppliers, and its surrounding community safe. We continue to follow guidance from the health department and as a result have implemented several procedures to help do our part to contain the spread of Covid-19. We would like our customers, distributors, and suppliers to please know that we maintain our commitment to provide outstanding service and support. We have the capability to remain fully functional; whether our employees are working in the office or remotely from their homes and in addition to facilitating workplace flexibility, we have implemented further steps to ensure our office and manufacturing warehouses are safe for all employees and we are ensuring that our business operates uninterrupted to meet our customers' needs," he states.
He continues to stipulate that, regardless of the uncertainty that the pandemic has inflicted on all businesses, Bennet remains determined to monitoring the situation and guarantees that its work ethic follows the latest directives from local, state, and federal health officials.
Although these adjustments implemented by the company to weather out the Covid-19 storm may have created a unique working environment, they have not slowed down the business innovation. With the conversation of sustainability quickly growing in the fuel industry Bennett is determined to remain part of the solution that helps decrease the industry's carbon footprint. Because Bennett feels strongly that alternative fueling technologies will affect manufacturers as well as consumers for the better, it launched its alternative fuel dispenser product line including hydrogen, CNG, and LNG. "Bennett has hundreds of dispensers in the marketplace and continues to develop new products in addition to participating in the US DOE project that drives high flowing hydrogen dispenser technology development. We see Bennett as strongly positioned to deliver towards the future needs of consumers worldwide, and the market for renewable energy and the challenges they present market also offers a tremendous opportunity for Bennet ," Spencer shares.
It is clear that Bennett is committed to providing customers with the right blend of features, technology, price and service. Through research, development and innovation, the business looks for ways to improve all aspects of the fueling experience. This is a company that is continually looking forward to improve its range and delivery, which is why its product line, offering and service have continued to grow successfully. From design to new technology to service and support, Bennett is simply the better fueling option.
Bennett
Services: Fuel dispenser manufacturers
www.bennettpump.com