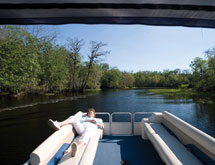 When it was founded in 1997, Bennington says it had a vision for its company that included a commitment to continuously improve its products' quality while simultaneously improving the quality of life for its customers, suppliers and dealers. Today, the pontoon manufacturer based in Elkhart, Ind., remains committed to that vision.
"Through hard work, belief in our team and constant innovation, Bennington has been honored with more quality and satisfaction awards than any pontoon maker in the industry," the company states. "Today, we are just as committed to our goals as we were when we wrote our vision statement 15 years ago."
Bennington offers 52 floor plans for its pontoon boats that vary in trim levels, styles and lengths with hundreds of options that allow customers to customize their pontoons for their style.
The company produces the Q, R, G and S series of pontoons that range in lengths of between 17 and 28 feet. Floor plan options include an entertainment bar, fishing amenities, stern lounge, touring port table group and a club amenity.
Bennington also offers numerous performance packages. These include the elliptical sports package (ESP), which Bennington says offers stability, performance, planning ability and sharp-turn radius for a "banking" turn. ESP is designed with a patented 32-inch elliptical centre tube and twin performance foils. ESP displaces more water and sits higher in the water for a smooth, dry ride that rivals a fiberglass monohull, the company adds.
Building the Boats
Bennington says it uses only proven construction techniques and the highest-quality materials.
"Since we take no construction short cuts, Bennington pontoons will be the most solid, quiet-riding boats on the water and they are backed by the best warranty in the industry," the company says. "If [customers] take the time to compare, [their] choice will be Bennington."
The company states that its ergonomic design approach offers the industry's most sophisticated seating. All Bennington pontoons feature exclusive Icon soft-touch upholstery, and Infinity Topcoat is engineered for UV stability, easy cleaning, and resistance to abrasions, mildew and stains.
"A satin texture weave backing allows for smooth, tailored, instant-recovery upholstery with no puckering and bagging," the company states. "The unique high-density foam used in five compressions provides the perfect combination of support and plush comfort."
The company also states that its 1.25-inch rails are serrated for strength and aesthetics, welded on four sides versus the traditional two sides, and anodized after welding for a superior finish. Bennington's M-deck brackets are thicker and stronger than sheet aluminum brackets, the company claims.
"Our stern deck brackets have four points of contact, distributing weight evenly over the end cap, the strongest part of the tube," Bennington says. "We space our deck brackets wider and lower than our competitors, greatly reducing the amount of twisting and racking the deck can experience while in rough water.
Full-length keels protect the tubes in shallow water and improve tracking while under way, Bennington says. Optional solid keels are recommended for use in salt water, as well, it adds.
Quarter-inch rail spacers are placed between the deck and rail, which Bennington says allows easy deck drainage and ventilation to reduce mold and mildew.
All wiring harnesses feature marine-grade, waterproof connectors, Bennington says. All under-deck wiring is encased in conduit.
Bow decks and corners are reinforced with a quarter-inch-radius bow channel that supports the heavy-gauge anodized aluminum bow trim. "Stronger than bow corner castings, they are less susceptible to damage," Bennington says.
The cleats and stern corners are made of stainless steel, which provides triple the strength of aluminum castings. "They won't pit, corrode or discolor, and they are less susceptible to damage," the company says.
The rails panels also have a resilient sealing strip to ensure a quiet, rattle-free ride. The anti-vibration process involves:
An insulated, resilient strip applied between all panels and rails;
An insulated, resilient strip applied between cross members and decking; and
Rails, furniture and console through-bolted to cross members.