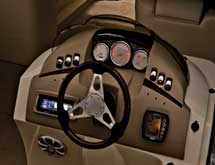 A manufacturer could hardly ask for better customer satisfaction than the kudos "Chip" Frederick Howalt gave to his experience creating a custom pontoon boat from Bennington:  "To say that our entire experience with Bennington was exceptional from start to finish would be an understatement. You guys rock! You elevate customer satisfaction and responsiveness to an entirely new level."
Founded in 1997, Bennington fo­cuses on a narrow class of boats – those that make use of pontoons for flotation. This focus quickly led to industry and consumer recognition for Bennington, now the most awarded pontoon boat manufacturer in the industry.  From inception, Bennington was recognized by Pontoon and Deck Boat magazine for the best-built pontoon boats.  Additionally, Bennington has been awarded the pontoon segment CSI award every year since its inception.  In 2002, consumer satisfaction and market research firm J.D. Power and Associates began tracking pontoon boat manufacturers. Since that time, Bennington's products and customer satisfaction levels have been either first or second overall in each J.D. Powers ranking. In an industry with about two dozen national brands and many smaller builders, winning consistently can only come from a combination of extraordinary attention to design and construction, married to close attention to customers.
Strategic Vision
Bennington couldn't have chosen a more perfect location for the development and enjoyment of power craft. Home to the meandering St. Joseph River, numerous smaller rivers, and countless lakes, Northern Indiana and nearby Southern Michigan provide ideal opportunities for weekenders and retirees to enjoy boating activities.
The short boating season also places pressure on boat manufacturers. Technical problems can easily ruin a precious weekend. "A boater has only so many months to use his boat. It's not like a car," says Steve Vogel, co-founder, president and CEO of Bennington. "That was really the foundation of our company. We wanted to be the best at quality and service. In order to have the best product and service, you have to have the best people."
Bennington's corporate vision statement mentions its dealers prominently. That's because the manufacturer-dealer relationship is critical for a high-end product where the market is recreation. Customer perception of the product is largely shaped by the dealers and their knowledge and concern for the needs of the consumer. Bennington chooses only the top dealers in each geographical region as partners. "Our dealers are the face of our company to the retail customer," Vogel says. Sim­ilarly, Bennington uses premium suppliers for the items they do not make. But unlike many in the industry, Bennington and its dealers do not hand off warranty issues to upstream suppliers. One of the results is that Bennington enjoys very little turn­over among suppliers. "We go to the suppliers who are going to give us the best service and the highest quality product," Vogel says.
Manufacturing Friendly
In manufacturing, particularly for consumer discretionary items like pleasure boats, managing the boundary between standardized and custom designs can be challenging. Building many identical items naturally brings economies of scale. On the other hand, boats are very personal purchases and each owner has specific feature and performance characteristics in mind.
To meet this expectation of individuality, Bennington allows customers to specify their own boat. Options are listed as check offs at the "Build Your Bennington" link on the firm's website.
"About 10 percent of our production is custom. Some of our best ideas come from customers," Vogel says, noting that Bennington has a full-time engineer who works on custom designs only. Customers are encouraged to make requests and Bennington does the feasibility and design work.
A Pontoon that Banks
As a class of boats, pontoon craft and technology are well known. Bennington quickly became an industry leader by building the highest-quality product in the market. Next, recognizing that pontoon boat owners also enjoy speed, handling, and performance, Bennington innovated and popularized the high-performance pontoon boat, among many other industry-revolutionizing innovations. In deciding on a boat, many customers compare a pontoon craft to V-hull designs, Vogel explains. Of course, the deck surface advantages, people handling capacity, and kid friendliness of a pontoon design cannot be matched by V-hull craft, he points out, adding that some customers, however still missed the thrill of a speedboat's agility.
In 2008, Bennington was granted a U.S. patent on an entirely new pontoon boat technology. By adding a third pontoon amidships, then shaping the pontoon elliptically, a pontoon boat behaves like a runabout, Vogel explains. Banking into powered turns because of the behavior of the center pontoon allows much greater maneuverability, he says. As a bonus, the additional flotation increases
the permitted engine horsepower. Bennington pontoon boats have always been a favorite with skiers and tubers but elliptical technology has created a whole new class of sport craft. Bennington has named this proprietary technology ESP™, for Elliptical Sport Package.
Keys to Success
Nearby Michigan represents the biggest market for pontoon boats, Vogel says. Detroit leads the state in volume, and it's also where Bennington holds a 25 percent market share. "It's showing us we've done some things right," Vogel says.
In 2008, Inc. Magazine put Bennington on its Inc 5,000 list of the largest firms, the only boat building company to be included. The ranking came as a result of 44.5 percent growth between 2004 and 2007.
Through a combination of technical innovation, product design, and careful cultivation of dealers and customers, Bennington continues to grow. For Vogel, these simple elements are the cornerstones of the company's success.
"It's really not that complicated," he says.