A ship-shape Operation
For over 100 years, Berg Propulsion has lead the industry with its innovative propeller technology
As a company with a history going back all the way to 1912, Berg Propulsion has established itself as an international supplier and manufacturer of the most cutting-edge propeller technologies. Having recently completed work on a large manufacturing facility in Sweden, which sees its entire operation consolidated in one space, the company now looks toward how its products can aid the shipping industry in becoming more sustainable.
"The company was actually founded as a shipyard, which built wooden shipping vessels. It was an integral shipyard, and they made everything themselves," says Berg Propulsion's Managing Director – West hemisphere, Jonas Nyberg.
"As the shipyard continued to be successful, they found that the equipment, specifically the propellers that they were making, could be sold to other neighboring shipyards. So that's what they did," he continues.
After years of success manufacturing shipping vessels and equipment, the founders of Berg Propulsion decided that propellers were the way forward. "After a few years, they decided to focus on specialist areas and, as lots of companies do, they realized that they were more successful in one particular field than they were in any other.
"The group was more successful when it came to making propellers, so, in 1962, they stopped ship production. The primary catalyst for this change was a shift in the shipbuilding industry. At that point in time, people had stopped producing wooden vessels, and begun making welded
steel ships. Therefore, the people behind Berg Propulsion at that time saw a brighter future in focusing on propulsion systems.
"From there, the company continued expanding the capability of its propeller technology; it established a name for itself by building propulsion systems, and grew into what is now a global business," informs Jonas.
Worldwide reach
With its new focus on propeller technology, Berg Propulsion saw exponential growth, and built a name for itself on an international scale. As Jonas details: "The business is now headquartered in Sweden, where we have three separate production facilities. Our sales services are more international; we have offices in Sweden, Dubai,
Shanghai, Guangzhou and Singapore, as well as a global distributor network.
"Having a global reach with our own offices, as well as an extensive distribution network covering essentially every corner of the globe, is one of the reasons Berg Propulsion is so successful today."
As a multi-national manufacturer and supplier, Berg Propulsion offers a range of propellers, aftermarket products, as well as electrical integration, all of which are made bespoke on a client-to-client basis. "Today we are building propulsion systems, which are the products that we manufacture in Sweden. Our range includes controllable pitch propellers, those are typically the propellers you have for the medium-to-large size ships, and we also build tunnel thrusters and azimuth thrusters, as well as supply complete electrical integration solutions for complete vessel systems.
"Tunnel thrusters are a piece of equipment used to maneuver a vessel sideways. We also manufacture azimuth thrusters able to steer 360 degrees, and provide workboats and offshore vessels with an excellent ability for fine maneuvering in all directions. Because these propellers can turn around, they can push the water in any direction, which makes them perfect for more agile vessels," Jonas summarizes.
Finding solutions
The intricate and unique nature of each Berg Propulsion propeller means that the company's technicians and sales team work intimately with customers right the way through from concept to end product. As Jonas explains: "I think entrepreneurialism is very important to the shipbuilding industry; ours is a business that tailors solutions to individual, specific customer requirements.
"This is not a business where we have a brochure or a catalog, and the customer comes in and picks something standard. Our company operates on its relationships with customers, we sit down with ship owners and designers, who are coming in to tell us what they need, and we try to find a solution that really optimizes their operating cost; if that discussion goes well, then we make a deal.
"Doing things this way means that the business requires an entrepreneurial spirit from all its people. It's a big part of the company culture; we are all about finding solutions, communicating, and understanding what the customer wants. We also need people with the skills to figure out how we can use our technology and products to meet that proposition."
Putting Berg Propulsion in an even stronger position to meet the needs of its customers is its brand-new campus facility. As Jonas reveals, the company has benefitted hugely from a consolidated space: "Previously we had a manufacturing footprint that was split between Sweden and Singapore; so we were manufacturing our main product line in Sweden, and producing most of our thruster product line in Singapore.
"Mid-2020, we made a decision to condense our entire manufacturing footprint into one single campus. This means that we now have three production facilities in Sweden; one facility manufactures the main propellers, which are the largest product we have, and then we have another facility that makes the thrusters, which were previously made in Singapore. We also have a final facility that is dedicated to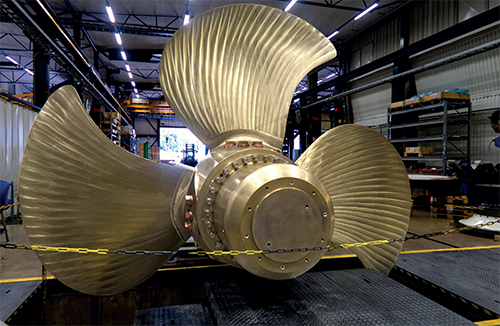 aftermarket products and spare parts.
"Once we consolidated our facilities, and moved thruster production from Singapore to Sweden, we realized that having everything in one single location came with a lot of significant benefits.
"With one large production facility, we were able to reduce the number of duplicate departments we were running; for example, things like HR, IT, purchasing, and administration can all be leveraged under the same set of functions. We also saw a very big benefit of having the production facility situated next to our research and development resources.
"This new campus has helped us to accelerate how we conduct product development, because the engineers can just walk out into the workshop, and have a discussion with the people that are building the parts. It means we can resolve things in minutes rather than hours."
Vessel optimization
Despite centralizing its operations in Sweden, Berg Propulsion remains a truly international company. "Shipbuilding is probably the most global business you will ever find. It's in the nature of building ships, because they turn into global assets when they're finished as well," states Jonas.
Whilst the shipbuilding and shipping industries have always been global in nature, new concerns about the environmental impact of such travel have changed the internal culture of these sectors. "The shipping industry has always been a conservative one, and as a result it has moved very slowly in response to climate change. Regulations have become tougher, but at a very slow rate," Jonas confirms.
As tides begin to turn, Berg Propulsion takes an active role in addressing the decarbonization needs of its customers. "The industry has found a new direction from its international community, and it has had more stringent requirements applied to it in terms of environmental consciousness, to the extent that we have started on a new department within Berg Propulsion dedicated to energy and efficiency. Within this department we work with ship owners on their existing fleets to reduce their energy consumption," reveals Jonas.
"This has already been very successful. We found, in one example, a way to validate and demonstrate a 22 percent fuel consumption reduction on a container vessel that usually burns thousands of tons of fuel a year, and we have been working with the ship owners to help them implement this technology.
"In addition, we have worked with a number of others, so we have a portfolio of successful projects, and a very strong drive toward helping ship owners reduce their carbon footprint by optimizing their vessels and operation.
"Quite a lot can be done in this area. Because shipping has, historically, been a very conservative industry, it has not had an extensive focus on sustainability, and so there is a now lot of space to innovate and grow. There's a real push to do this, because regulations are now catching up and coming back really strong, so I think we will see a lot of changes in this department," he announces.
As a key player in the shipping industry's burgeoning sustainability movement, Berg Propulsion continues to innovate for the better. "The shift toward decarbonization is going to be good for us from a business perspective, but it also feels very good, because we are an active part of a more environmentally conscious future for shipping.
"We can make really big differences, differences that mean eliminating thousands of tons of diesel, which would otherwise be over-consumed. That's really important to us," Jonas concludes.
Berg Propulsion
www.bergpropulsion.com
Products: Ship propellers and thrusters