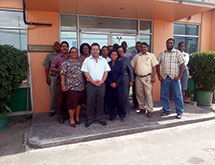 Berger Paints Trinidad Ltd.
Sunlight and humidity are two of the most damaging elements to paint, and both are in ample supply in the Caribbean. So coating products specifically engineered for the region are important, along with a brand with more than 60 years behind it. Berger Paints Trinidad Ltd. supplies both.
Meeting customers' needs more and more effectively is a constant goal at Berger Paints. "Our brand equity is still good out there," General Manager Omawatie Birbal stresses. "Our brand has a good name. We continue to supply a good quality product, and we measure our service level to our customers continuously. Every year, we make improvements. Customers come first. We are a service-based industry, so we try to deliver to the customer what they want how they want it. We do a lot of market studies to understand customers' needs."
Despite its isolated island location, Berger Paints has major competition. "We have five local manufacturers, and then we have a lot of foreign brands that are coming in," Birbal says. "We do a benchmarking exercise where we test our paints against the competitors, and ours are usually better. We want to be the best on the market."
Some of the foreign competitors' products cannot stand up to the punishing Caribbean conditions. "Because of the tropical conditions that we have, it's very damp, it's very moist, so it's easy for fungal growth," Birbal points out.
Retailers believe they can sell Berger Paints at higher prices than competitors' products. "Usually what happens is because Berger is a well-known brand, the dealers price it higher than others," Birbal observes. "Retailers feel they can get more. That has been the trend over the years."
Color Your World
Berger Paints produces approximately 2,700 kiloliters annually of its paints in up to 25 standard colors and can mix more than 8,000 custom ones. Its manufacturing plants are located in Trinidad, Barbados and Jamaica, and it has been manufacturing in the Caribbean since 1953. "We sell to the retail trade, which is made up of a lot of hardware stores," Birbal explains.
The company's paints also are produced in latex and oil bases, low-sheen and high-gloss finishes, acrylic and water-based emulsions and a variety of grades, such as economy, premium and ultra premium. The paint's raw material is a liquid, powder or an emulsion.
"You have your colored pigments that need to be dispersed," Birbal says. "You have the process of dispersion, where you have all these things being ground and mixed together, and then adjusted for viscosity and color. We are trying to increase automation on the floor. We are trying to do some automation, but it's not complete. It has increased production by about 10 to 15 percent over the last one-and-a-half years. It's a constant process to improve the way you do things, to improve the lifestyle, and trying to reduce as much manual labor as possible."
Coloring In
The Berger Paints line includes road-marking paints and industrial enamels, epoxies, two-part epoxies, urethanes and industrial and architectural coatings. "We try to provide paints that would satisfy each customer's needs," she says.
Being located on islands means that almost all raw materials must be imported. "The only thing we really get locally is our packaging – our metal pails and plastic pails," Birbal says. "All else is imported."
She estimates lead times to receive raw materials can be at least eight weeks from the ordering date. "We need to be careful in terms of lead times and issues at the port and congestion so that we can plan properly," Birbal stresses. "There's always some issue in the port, not just ours. Congestion in other ports can cause delay in our port. Raw materials coming from abroad are always a challenge so you're not under- or overstocked. We try to carry 90 days' inventory, but that's not always the case. In some items, we go under, and in some items, we go over, but inventory should be between 60 and 90 days."
The necessary supply is based on future demand that is calculated by being compared with the previous two years and with current trends. "So that acts as a guide for us in terms of material procurement," Birbal says. The company's quality control lab is located in Trinidad. R&D is done there and at the dedicated R&D center near Mumbai, India, of Asian Paints Group, which is Berger's parent company. "They are continuously working on new products," she asserts.
For the future, Berger Paints will concentrate on its ultra premium products and fashion finishes, as well as a product that combines a primer and a topcoat. Birbal expects these products and the prestige of the Berger name to grow revenue from 3 to 8 percent annually. "A lot of people are familiar with the name 'Berger Paints,'" she emphasizes. "It's a global name."