Life-saving components
Bespak has accumulated vast knowledge and experience for nearly 60 years in drug delivery device manufacturing, which has made it a trustworthy supplier to global pharmaceutical companies
Bespak's vast array of service offerings has continuously opened new doors for the company. Known as a leading developer and manufacturer of complex medical devices, its services can be broadly divided into three categories: proprietary devices and technologies, scale-up and industrialisation of an already-designed device, and design and commercialisation of novel devices
for existing drugs. Having started almost six decades ago, initially as a supplier of valves into the cosmetic and consumer markets, Bespak has gradually made a name for itself as a reliable pure play manufacturer within the drug delivery device sector, thanks to constantly developing its expertise and knowledge base. Managing Director, Keyvan Djamarani, was keen to explain to us in detail the history of the company, its core products and services, the latest developments it has undergone, and the plans Bespak has for the future.
"Since we first entered the pharmaceutical market in 1968, when we secured a contract with GSK for Ventolin, we have developed and sustained long-standing relationships with many of the key global pharma companies. We are internationally recognised as a leading player in the multi-dose inhaler (MDI) sector, but over the last ten years, we have made considerable efforts to diversify our products, hence, we regard our auto-injector solutions as one of the key elements in our product portfolio, a key driver for growth and a critical driver for further development of our manufacturing capabilities," Keyvan begins.
Being the subsidiary of Consort Medical, Bespak is a veritable pool of intellectual and technological talent. "We continually exploit the latest available technologies to deliver complex precision-moulded components, converting them via high speed assembly platforms into consistently reliable devices for our customers and the end user," Keyvan explains. He regards the reliability of Bespak's products and processes as a key strength for the company: "Given the nature of the market, we need to ensure that we develop and manufacture our products through a blend of programme management and production control competencies, without compromising the regulatory obligations that our customer base demands."
Keyvan notes that the experience Bespak has gathered as a company throughout its more than half a century of operation, has been one of the main reasons for its success. "We have acquired our expertise through years of continual learning and flair for innovation. Few companies can match our experience in the highly-regulated drug delivery device manufacturing sector. Our reputation is built on proven know-how and the technologies we use to address the ever-changing needs of the pharmaceutical industry.
"Our staff turnover is low, and the fact that we can retain their experience in one programme, and apply it to the next, means that we have a continually evolving value proposition. We have over 100 engineers and technicians who support the development, manufacture, and lifecycle management of a diverse array of increasingly complex, high precision components," Keyvan discusses. Arguably, it is the manufacturer's ability to offer complete lifecycle management that has attracted and retained clients, in some cases, for over 25 years. Keyvan explains: "We strive to provide 'best-in-class' service at all stages of a product's life – from initial product and component design and development, through the industrialisation process, into full commercial scale-up, and finally, wind down."
In a marketplace like pharmaceutical, innovation is a decisive factor for achieving ongoing success. This is the reason why Bespak set up its own Innovation/R&D team back in 2010. Numbering 40 product designers and engineers, the division can benefit from all the latest technology that allows it to create outstanding next-gen products. Keyvan mentions some of the trademark product solutions the R&D team has developed: "VapourSoft® is our compact energy source of contained liquefied gas, coupled with proven valve technology. It is an innovative technology that has been designed to power drug delivery, including that of highly viscous drugs. The VapourSoft® technology powers various product ranges, such as Syrina® and Lapas®. The former spans simple assisted syringes to fully-functioning auto-injectors, while Lapas® is our set of innovative bolus injection devices for use at home or in-clinic."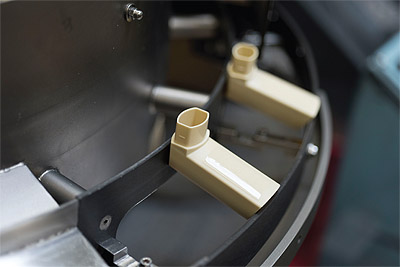 2017 was a busy year for Bespak, as one can imagine for a company of its scale. "We signed a master development agreement with a leading global pharmaceutical company, and also celebrated the success of UCB's Auto Click drug delivery device, which uses our technology under licence. At the end of the year, we completed our two-year asset management system implementation programme that now enables us to monitor the reliability of all our mould presses and high speed assembly platforms, and drive our preventive maintenance activities and the associated spares management. All in all, we saw further growth in revenue, and our manufacturing volume scaled up thanks to the implementation of some key industrialisation programmes. The growth justified our earlier investments in cleanroom manufacturing footprint and technology, and we anticipate placing further investment in 2018 to support the challenging demand profile that we expect to unfold over the next few years," Keyvan divulges.
Continuous investment is indeed a powerful characteristic of Bespak's approach, and the manufacturer needs to have a structured finance strategy, in order to secure the services of topclass equipment and facilities. Keyvan provides us with an overview of the most recent investments the company has engaged with: "We bought a £3 million high speed line for our MDI manufacturing facility that will enable us to accommodate the anticipated growth in demand over the next couple of years. We spent approximately the same amount of money to replace aging assets, and we also completed a £2.5 million refurbishment project of our office space and canteen, providing our staff with a modern and conducive work environment.
"A major point of focus in 2018 will be the preparation of our new site in Milton Keynes. With the longevity of a number of key supply contracts secured, it is a good time for us to open the facility, which will offer us the opportunity to expand our manufacturing footprint and technological capability. Its location will also let us improve our logistic and distribution offering, thus contribute to the strategic future-proofing of the business," Keyvan reasons.
Another ambitious project, which also serves as a solid proof of Bespak's willingness to develop its people and give opportunities to promising talent, is the opening of an academy at the company's King's Lynn site. Keyvan states: "By developing an accredited training school, we will ensure that our moulding and tooling capability will continue to be 'best-in-class', but what is even more important, we will be able to provide our people with clearly defined career pathways. The proposal for the academy has been approved, and the facility is expected to open its doors by the end of 2018."
The manufacturer will also be looking to form an advanced engineering team that will provide key subject matter expertise and explore emerging technologies that can possibly be integrated into the company's five-year planning cycle. "Industry 4.0 represents value for us, so we would expect to embark on this journey, led by the advanced manufacturing team," Keyvan concludes.
Bespak
Products and services: Developing and manufacturing complex medical devices