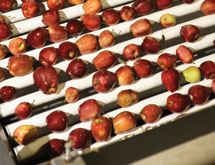 The "BEST" in BEST USA's name is an acronym for "Belgian Electronic Sorting Technology," but it's no coincidence that the four-letter combination also signifies the level of quality and value found in the company's equipment. By employing advanced technology and its team's vast engineering experience in optical sorting, BEST strives to set the industry's standards and maintain its reputation for quality, durability and innovation.
"Our mission is to be the best not only through our quality and reliability, but also by tackling new areas and coming up with new ideas," the company says. "That's why we are constantly striving to develop advanced, innovative and complete solutions for every sorting challenge imaginable."
BEST got its start in 1996, when engineers Paul Berghmans, Eddy De Reys and Marc Ruymen left their jobs. With years of experience in optical sorting technology for the food industry, they wanted to provide the market with "a new generation of modern and efficient sorting machinery," the firm says. Soon, Bert Van der Auwera, another engineer, joined the team to lead the sales of the new equipment. Working from de Reys' garage, their first invention was the Free-Fall laser sorter LS 9000. They sold it to a raisin exporter in Turkey within a year of when they started.
"There's no doubt that sorting is becoming more and more crucial," the company says. "The visual aspect of food already plays a central role in the retail business, not to mention among individual consumers. Even in emerging markets, where expectations are currently lower, rising standards of living are almost certain to lead to an equivalent rise in food standards. National and international governments and regulators also have a key role to play in normalization.
"Equally, environmental awareness is growing around the world – and particularly in emerging markets. Recycling is often the rule rather than the exception. As a result, manufacturers are demanding ever more speed, scalability and reliability. The need for better performance and sorting techniques will only grow."
BEST is headquartered in Belgium, but it also has operations in China, Japan, Netherlands, Spain, Hong Kong, Turkey and the United States. Its U.S. operations are located in Colorado and California.
Comprehensive Solutions
BEST uses a wide range of technologies to resolve many sorting challenges, which helps its customers optimize processing time as well as eliminate defects and foreign material from their products. The company explains its goal is to create technologies that cover clients' requirements throughout the entire process, from the start of the production line to the packaged product. Its first product – the LS9000 – fits applications that involve both color and structure sorting, such as raisins, shrimp, fruit and tobacco.  BEST's technology continues to advance, however, and its offerings now include:
SWIR – Short for "shortwave infrared," SWIR is a range of wavelengths in the electromagnetic spectrum that sort items – usually fruits and vegetables – based on water content.
Detox laser sorting – BEST's Detox system removes product contaminated with aflatoxin – one of the most toxic substances known to man – to ensure a clean and safe saleable product. BEST's system detects and rejects aflatoxin in nuts and dried fruit.
Multi-Spectral X-ray (MSX) – BEST compares its MSX technology to airport security scanners – the company says it adopted and improved this technology to detect "the smallest contaminants between food products."
Induction magnets and Eddy current – Induction magnets are a reliable and economic way to recover ferrous metals, BEST says, and Eddy current sorters separate non-ferrous metals out of different product streams.
Hyperion object property finder – This is the first product, BEST says, to accurately calculate and assess the characteristics of the defect and product simultaneously. This sorter will evaluate the importance of a spot with respect to the total area of the good product, recognize deformed products or sort based on the shape of the product, unimpeded by speed or capacity.
Rear injection system (RES) – BEST equipped its Helius laser sorter with RES, which was designed for the removal of unwanted material. As a result, it provides higher rejection accuracy, efficiency and consistency.
Regardless of the type of sorting technology, BEST stresses that it remains focused on quality. It continually invests in new developments and technologies to improve its machines or find new applications, and ensures its machines' performance supports clients' operations.
"The assembly of mechanical, optical and electronic components is done by well-trained and experienced engineers," the company says. "The BEST quality is guaranteed in the production process through regular quality checks in every part of the process and constant feedback of our field engineers. All of our engineers are required to maintain a high level of field experience as an essential ingredient to guarantee a customer-oriented, problem-solving attitude.
"Our machines are trusted everywhere and, by listening to our clients, we've grown into one of the world's most successful sorting companies."