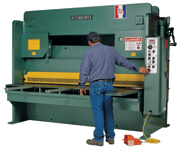 Betenbender Manufacturing Inc.
Betenbender Manufacturing Inc.'s hydraulic shears and press brakes can be found all over the world, even at the South Pole. President Max Betenbender says the reason customers have counted on its equipment since 1972 is simple – because it's simple. "Our machine is built like a 1970 Mustang, not like the 2013 Mustang," he says. "The old one you can work on yourself, the new one you can't."
The company's focus on building equipment that emphasizes simplicity and ease of maintenance has been one of the primary reasons for its success, Betenbender says. At a time when manufacturers face intense competition from overseas as well as the usual domestic competition, Betenbender Manufacturing's insistence on building equipment that is user-friendly is a significant advantage. Betenbender says the design and simplicity of its equipment has made it a staple in manufacturing operations ranging from one-man weld shops to aircraft production facilities for customers like Boeing.
Betenbender and his father, Glen, started the company 42 years ago after producing hydraulic shears for their own use initially. Glen Betenbender had been operating a small fabrication and repair shop since World War II, and Max Betenbender joined the company in 1967 after serving in the Army. Not long after they built their first hydraulic shear for use in their own facility, other customers began asking for shears and the company as it is known today was formed. The company estimates that there are more than 3,500 Betenbender shears and press brakes in use today, and they can be found in nearly every kind of environment. "We've got them at the bottom of aircraft carriers," Betenbender says.
Ease of Use
The core of the company's success is found in how easy it makes operating its equipment. Betenbender says many manufacturers today focus on integrating lots of complicated computerized controls into their equipment. Although this provides for increased automation and information gathering, it also makes equipment difficult for the average worker to operate or maintain. Betenbender Manufacturing's equipment, on the other hand, is manufactured to be operated simply and upgraded only if the customer desires.
"We don't build the computer and then put the machine on it," Betenbender says. The company builds equipment to customers' specifications, which means they can have computerized controls added to the equipment if they want it, but the level of sophistication is left entirely up to the customer.
"We're still building the simple, plain machine and then we'll put the computers on them if the customer wants," Betenbender says.
Global Competition
One of the greatest challenges faced by any U.S. manufacturer today is competing with manufacturers based overseas. Betenbender says the company encounters a lot of competition from foreign manufacturers who promise lower prices for their equipment. For many customers, the lure of lower-cost equipment can be difficult to resist, but Betenbender says they usually end up paying the price in other ways.
For example, he says, many potential customers have chosen equipment manufactured overseas from suppliers based in Turkey and other developing countries. However, even though they may have saved money in the short term, Betenbender says he's seen many of those customers run into problems only a few years later, with equipment breaking down and costing them more money and time than if they had purchased their equipment from Betenbender Manufacturing.
Betenbender says customers experience no such problems when they buy their equipment from the company, and he adds that this is because its equipment is made proudly in the United States. "We're U.S.-built and we're built with U.S. product," he says.
Slow and Steady
Betenbender Manufacturing continues to leverage its experience and reputation for quality equipment into new business. Betenbender says the company is in the process of talking to new customers about supplying them with new equipment rather than sourcing it from overseas. The company also is hard at work keeping its production facilities up-to-date, with recent upgrades to its CNC line and the addition of a press line from a company based in Nebraska that it recently purchased.
Overall, Betenbender says the company anticipates slow, steady growth over the next several years. Just as the company prides itself on the simplicity and easy-to-use nature of its equipment, Betenbender Manufacturing plans on keeping its growth as simple and as easy-to-manage as it possibly can. "We're going to be good at one thing at a time," Betenbender says.