Between inflation and the energy crisis, Thorite navigates manufacturing challenges with ease 
Stephen Wright has been with Thorite since he graduated with a business studies degree. However, Thorite has been with him for much, much longer. The company has been part of his family since 1850, and as the fifth generation in the pneumatics and hydraulics business, Stephen, alongside Marketing Manager, Carl Davenport, sits with Manufacturing Today to discuss the benefits of onshoring, and the state of Europe and its influence on the industry.  
One of the biggest manufacturing challenges across the continent is navigating supply chain instability. Thorite has focused on communication and securing stock in advance to manage the situation as best as possible. "From my experience, getting hold of product, and its cost price, amongst significant inflation, are probably the biggest issues with which we're grappling," shares Stephen.  
Coupled with this is price fluctuation. Previously, customers would place an order, and sign off on a price. Whereas now, Stephen highlights, prices are being adjusted to keep up with ever increasing costs. "It's not unheard of anymore for the final price to be different to the one that was originally agreed to. Manufacturers are experiencing core metal prices being changed all the time. Then there's the awkwardness of having that conversation with the customers. Secondly, there are also issues regarding staff, and people wanting to adjust wages to align with inflation as well." 
Enhanced transparency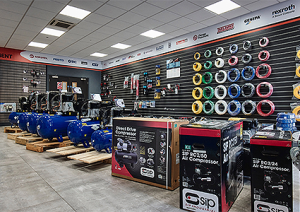 Considering the economic turbulence over the last three years, Stephen yearns for a calm period, but given the current state of Europe, that hope might take a while to come to fruition. "It's been an incredibly difficult couple of years since Covid-19. I'd love a chance for us to recover from what's happened. Unfortunately, the consequences of Brexit, the pandemic, as well as the war in Ukraine continue to stack up and our industry is taking a massive hit." 
On the note of the Ukrainian war, Carl adds that there needs to be a shift in mindset when it comes to energy, which will ease constraints within the manufacturing sector – specifically Pneumatics. "When you consider that around 80 percent of manufacturing uses compressed air in some way, and compressed air has traditionally been considered a free commodity to a certain extent. What we've seen is a hike in prices that was passed on to consumers and businesses. I think manufacturers do need to take a certain amount of ownership over that and look at inefficiencies or even leaks within their systems more critically than before," Carl explains. 
"I don't think people have perceived compressed air as entirely free," Stephen interjects. "I think the cost hasn't been fully understood, because it gets thrown into the running costs of the plant, rather than being separated. It's only really when we have a conversation with a customer when we're supplying a new compressor that we talk about data logging, and looking at how much the cost is to run a compressor. It's these sorts of things that manufacturers need to be more open about to allow a greater understanding of the overall price of the product," Stephen says. 
Ambitious growth 
Nonetheless, considering these obstacles, Stephen is optimistic about the future of Thorite, and how the business will thrive going forward. He predicts the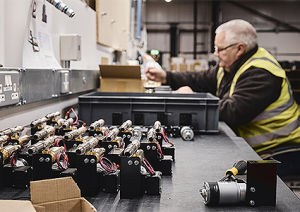 business will continue to grow, and he intends for it to stabilize against inflation. "I genuinely believe that we're beginning to see a reduction in supply chain issues. Towards the end of the year, I think it's going to return to a more normal cycle. 
"Employment on the other hand might take a bit longer as this is a generational issue. We're engaging massively with staff at present to make sure that it's not all about money, but it's about working in a good place, and having a great team spirit. We need to develop all of that, and I think all industries need to incorporate that sort of ethos into their businesses as well. From my perspective, the next big thing for us is a new ERP system; that's going to be super when it comes along, and then customers should begin to experience the benefits of that as well. 
"Beyond that, we've got a goal to be 30 by 30, which means we want a £30 million turnover by 2030. That's going to be about growing our business share with our customers, making sure we're supplying all the product we can to them, and it's about growing the types of products we're offering by increasing our systems division and ultimately growing our geographical coverage. We've added locations over the last few years, we started branching out into the Midlands with a trade counter in Brierley Hill, and we've opened another branch in Bristol.  
Improving service delivery 
"The next stage of our growth will be somewhere else in the South. Many of our national customers will have multiple sites, and we need to be covering as many areas as possible. We're among the biggest players in our field in the UK in terms of independent distributors, regarding the compressed air and pneumatics side of the business, and we want to keep it that way. So that's our growth strategy for the next five years." 
In closing, Stephen adds that the business is also determined to grow its training department to encourage emerging talent within the industry. In January 2021, Thorite moved into a new, purpose-built 44,000 sq ft headquarters, double the size of its previous facility, bringing its Bradford sales and service center, aftermarket services, systems design and build, training academy and national distribution center under one roof. This kick-started a £3.6 million investment to drive improved service delivery and growth, which he believes will truly establish the company as a one-stop shop, and support customers to the best of its ability well into the future.