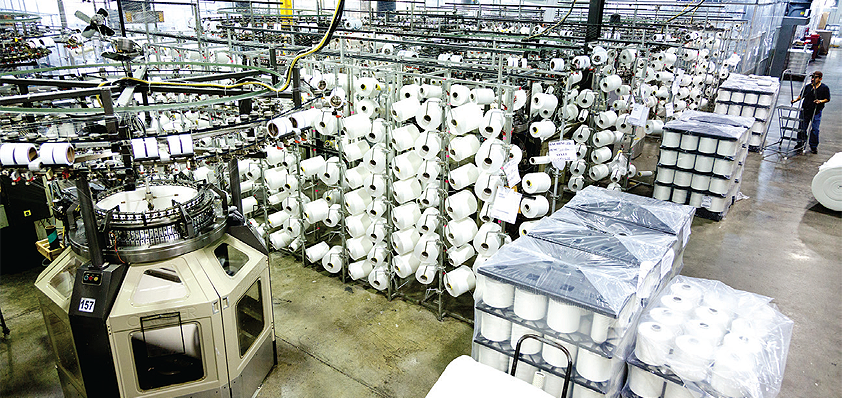 Stitched to the nines
Beverly Knits Inc is threaded with passion and innovation to pioneer the fabric industry towards greener solutions and broader sectors
This family-owned business has now stitched its way to becoming one of the largest circular knitters in the US, creating industry-leading products for the world's greatest brands of performance wear, athletic footwear, intimate apparel, outdoor products, mattress and beddings, automotive, industrial and medical applications, including personal protective equipment.
Located about 25 miles from Charlotte in Gastonia, North Carolina, Beverly Knits Inc (BKI) was started initially as a commission circular knit operation in 1980 by Bob and JoAnn Sytz.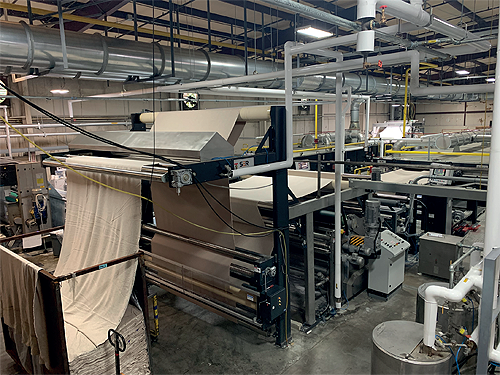 Serving the North American textile industry, it has significantly invested in expanding its capabilities to diversify its customer base. Now, operating out of five facilities, the enterprise includes Beverly Knits, Altus Finishing, Creative Fabrics and Creative Ticking. This collection of businesses has succeeded through the years by working hand-in-hand with its customers to develop unique fabrics to meet their specific needs.
Second generation CEO of BKI, Ron Sytz, talks to us about the success that the business has had in pushing its innovation to expand into multiple market sectors. He begins by explaining how part of the company's success is owed to its impressive infrastructure. "One of the reasons we have been able to branch out is owing to our facilities and ability to be a complete solution for our customers. Our diverse range of knitting machines vary from eight inches in diameter to 60 inches, then our gauges can range from seven to 42 gauge, and are available in single and double knit constructions. We also operate a fleet of fully electronic pattern knitting machines, which enable the production of custom engineered patterns," he says.
These facilities enable BKI to invest at each stage of the fabric formation process. Commencing with the knitting process, a range of yarns, natural to synthetic, coarse to soft and fine denier, some embodying specialized properties such as flame or cut resistance, are knit into fabrics. From here, these refined fabrics are sent off to Altus Finishing's state-of-the-art equipment, where BKI has recently installed two new stenter frames. These set the final width, weight, stretch and recovery properties of the knit fabrics. "Additional investments in advanced chemistry applicators allow for the application of specialized topicals to enhance and customize the performance characteristics of the fabrics and our finishing techniques are able to achieve the fabric's targeted properties and performance characteristics. We then move on to Creative Fabrics, the sales arm of the company, which sells finished products to a variety of markets, including the bedding industry, through the Creative Ticking brand," Ron iterates.
Several years ago, Creative Ticking began to develop and market Tio Tec® fabrics with capabilities to help bedding companies assemble beds faster. This technology incorporates the required fire barrier into the decorative cover fabric, making it more efficient to assemble mattresses.
Additionally, Creative Ticking developed and launched Zone 55TM, another performance technology where the company focuses the application of enhanced fabric cooling chemistry to mattress covers in the areas that matter most for its clients, moderating the temperature swings experienced while they relax in bed.
"We love working directly with high performance technical yarn manufacturers to help engineer specialized technical, industrial and medical textiles, with the objective of achieving specific performance characteristics," explains Ron.
This passion that Ron speaks about is what led the company to excel during the pandemic, a time when others may have been crippled. Although business for BKI consequently slowed down during the second quarter, it continued to operate throughout 2020 by incorporating the protocols for daily screening, masking, sanitization and distancing. The company was also able to take its production one step further to serve as part of the solution to the increasing need for personal protective equipment (PPE).
In early 2020, as part of the efforts to address the needs created by Covid-19, BKI pivoted very quickly to develop PPE products, specifically facemasks, made from knit fabric, for the
Department of Health and Human Services. The company utilized its own assets to develop a network of over 20 cut-and-sew operations across the US to supplement its own assembly capabilities and produced over 20 million masks in three months, which successfully compensated for the dip that the business experienced in the early stages of Covid-19.
BKI also took the exciting opportunity to reshore its business during the period when international travel was heavily restricted. "Exposure to offshore supply lines can unnecessarily jeopardize the timely and complete manufacture of multi-component products or create missed sales altogether with the inability to supply consumer demands in a timely manner. Additionally, supply side constraints and bottlenecks have created incredible inflation of the cost of international shipping, further adding to the cost escalation and issues with on-time delivery of offshore supply," Ron shares with us.
BKI believes that supply chain managers will continue to de-risk and simplify their supply networks by reshoring more of their critical needs, which will create more opportunities for domestic US manufacturing. In particular, BKI is seeing industrial applications benefit from this shift to local supply. "For example, the domestic production of knit components for seating, v-belts and molded part reinforcement enables automotive and heavy equipment manufacturers to keep assembly lines moving as planned as opposed to being disrupted by such components being delayed due to international transit issues. In 2021, supply chains will begin to require more production as they work through inventory gluts from 2020 and that reshoring will gain momentum across all segments," highlights Ron.
Alongside its reshoring developments, the company is also eager to expand into broader markets, and, in doing so, support the global move to greener solutions in the industrial sectors. "There are all kinds of trends going on. The light weighting of vehicles for example where people are trying to improve the consumption rates of fossil fuels, but also get into the electric vehicles, and, using high performance yarns, textiles play a massive role. We've worked with other companies to develop textiles to move into the exhaust system of automotive, mainly trucking. Instead of burning off the pollution that comes out of the exhaust, we're actually keeping up the heat high enough in the exhaust area to burn it off internally. In this way, these textiles that are wrapped around the exhaust pipes of these big rigs help improve the pollution of the emissions," Ron informs. He continues to iterate that BKI is also working to improve the use of recycled fibers for as many applications as possible. "We're using polyester yarns that are made either from recycled plastic bottles, or even reclaimed clothing or textile waste. At the same time, we are gathering a lot of our own textile waste and sending it out to companies that are then reprocessing it and turning it back into fiber to be reused," he adds.
Considering these impressive developments, it also worth mentioning that BKI is currently in the midst of another facility footprint expansion at its main plant, which will enable the installation of more knitting machines and the subsequent addition of more finishing capabilities. BKI will continue to diversify the mix of its products and expand into the end-use markets to where it can partner with its staff to deliver lasting value for its clients. "We are very focused on the continual developments of new fabrics and, through persistent innovation, we believe in creating the opportunities for each of our employees and associates to develop their own potential and we strive to always nurture a working environment where they are equally as passionate to help the company's name grow," Ron concludes. With these values at the core of what it does, the future is looking colorful for this circular knitting business.
Beverly Knits Inc
Services: Circular knitters
www.beverlyknits.com