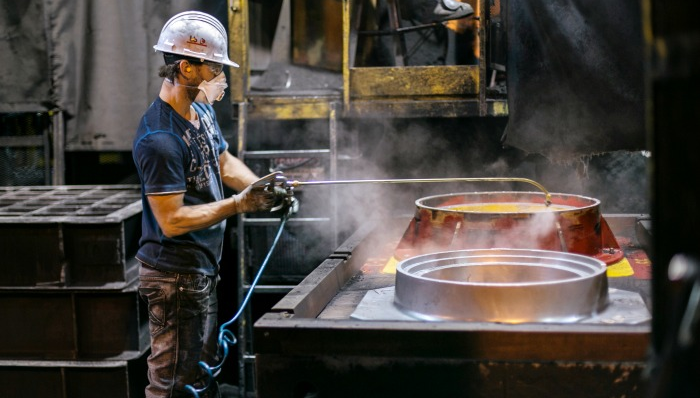 With a history that stretches back for more than 90 years, Bibby-Ste-Croix is today a two-foundry company located in Quebec. From its Foundry Ste. Croix and Foundry Laperle facilities, the company manufactures two distinct product lines: cast iron drain pipe, fittings, couplings and wade drains, and waterworks products like valve boxes and street castings. These products make up 90 percent of the 53,000 tons of product the foundries produce each year. The remainder is OEM products for dozens of different companies and industries.
"Bibby is the largest and by far the leader in the production of our types of products in Canada," President Tom Leonard says. "For drain pipe products, the biggest reason is we are the only producer left, as 19 years ago there were five foundries manufacturing cast iron pipe in Canada and now it is just us."
The waterworks side of the business is similar. Nearly 20 years ago, there were a dozen foundries in Canada making street castings. Now there are really only two to speak of, and Bibby is the largest. This is due to investment, as Bibby is part of the McWane family of companies, which has taken on the difficult and risky task of investing into Canadian and American manufacturing instead of heading overseas.
"Since 1997 when McWane purchased Bibby, millions of dollars have been invested every year to keep the two foundries modern, safe and competitive," Leonard says. "In 2016 at Foundry Ste. Croix, we brought in a Disa 240 moulding machine, a robotic grinding station for street casting, and a new bag house dust collection system to keep the air quality in the foundries to restaurant level."
Meanwhile, Foundry Laperle has moved to two new six-ton inductotherm electric furnaces while also adding a new 15,000-square-foot building with charging system and indoor scrap storage.
"These investments, as well as additional millions in maintenance and employee training, are representative of McWane's commitment and why Bibby remains strong on our sector of the market," Leonard says.
Highly Responsive
Primarily, Bibby serves stocking wholesalers and distributors across Canada and the northeastern United States. Whether a multiple branch organization or a single location independent, Bibby works closely with its customers to ensure quality and satisfaction.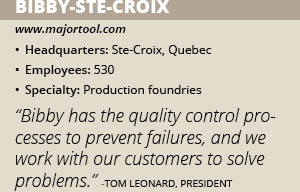 "Bibby has the quality control processes to prevent failures, and we work with our customers to solve problems," Leonard says. "For example, when the province of Quebec wanted to pave a new highway to Saint Ann's from Quebec City with 24 inches of asphalt, Bibby designed a new adjustable storm drain to accommodate the depth. When British Columbia allowed 10-story buildings to be built from wood, Bibby customers needed a cast iron expansion joint and we delivered. There are many more examples."
Among the trends that Bibby has seen in recent years is strength in the plumbing products sector. Leonard says that area has had a strong decade due in part to the fact that high-rise buildings across Canada have been in an ongoing growth mode, with Toronto, Calgary and Vancouver being the top three cities.
"Young and old alike now want to live downtown with traffic getting increasingly more time consuming," Leonard says. "Investment by foreign nationals has also been strong, protecting their money with Canadian real-estate. However, with the recent downturn in oil pricing and British Columbia putting a tax on foreign investment, we see a slow own in the market trend for plumbing products."
Fortunately, a move away from cheaper and more dangerous plastic products is taking place. The updated building codes are taking into account that it is smoke that kills people in a fire, not necessarily the flames, and plastic pipe gives off the worst kind of smoke that give off toxins in case of a fire. This trend has helped the cast iron business.
In the waterworks sector, Bibby says that is looking stronger over the next few years. The infrastructure in Canada has been pushed to its limit, and investment is required for both water and sewer to keep the country's cities and towns running.
"Pollution into our waterways such as the Saint Lawrence River has to come to an end, and this means investment into sewer lines and treatment of sewage," Leonard says.
Remaining Competitive
Bibby's biggest challenges remain fairly similar to those in years past. It must continue to compete against imported product from countries that do not have the cost of Canadian environmental, health and safety requirements, and there is no real barrier of entry for importers to come to Canada.
"The U.S. has current buy-American laws that support American foundries because the taxes returned to the government make it pay for itself many times over," Leonard says. "We at Bibby agree with these laws even though they prevent Bibby from selling Canadian product in the U.S., and we wish the Canadian government would do the same for Canadian foundries."
At the same time, Bibby's future remains bright. As part of the McWane family, Bibby will continue to invest into its foundries to ensure that it has the quality required to keep its 530 team members working in sustainable positions in Canada. It will continue to do battle with the importers from places like China and India by working with its customers to provide the service and dependability the contractors and municipalities require to support Canadian-made product.
"We will also work with the code and standard branches of government to keep safer iron products in high-rise buildings, schools and hospitals," Leonard says. "Bibby will continue to develop new products to meet the changing requirements of the plumbing and waterworks industries and be the last foundry standing in our industry if necessary."