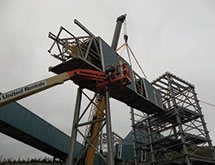 At B.I.D. Canada Ltd., there is no greater sight than its finished product headed down the highway to a customer's site or no greater sense of accomplishment than when its customers report installation and start-up went smoothly. "For B.I.D., this is another schedule met and another satisfied customer," Sales and Estimating Manager Derek Lawrence says.
Ray Sullivan founded the New Brunswick, Canada-based company in 1981 as a conveyor systems designer and later expanded to include manufacturing. "Ray Sullivan recognized a need to fill in our industries and that was to provide a one-stop-shop solution where the design and manufacturing [of conveyor systems] were together in the same company," Lawrence adds. "This created much less hassle for the end-user since they would have one contact to go to rather than multiple vendors."
Expanding into a one-stop shop also gave B.I.D. Canada more control over the quality of its products and systems. "Because of our flat organizational structure, all of our department teams work together to keep a fully aware, transparent and structured course for making our projects happen on budget, on schedule and to the customer's complete satisfaction," Lawrence says.
The ownership of B.I.D. Canada changed in 2010 when Sullivan retired and Brent Manuel took over, but the essence of the company remains the same. "The company goal remains to supply quality, reliable conveyor systems/products we are proud to stand behind and we proudly continue to meet this mission on a daily basis," Lawrence says.
Today, B.I.D. Canada designs, manufactures, installs and maintains custom bulk material-handling equipment for a variety of industries, including mining, cement, steel, utility, co-gen, manufacturing, ports and pulp and paper. The company not only creates conveyor systems, but it is also a general steel fabrication facility.
Quality Delivered
B.I.D. Canada creates custom conveyor systems for each of its customers and is therefore continuously innovating with every new opportunity. The company is often asked to provide suggestions for modifications, modernizations to improve a currently running system and perform site visits to offer recommendations and designs for a company to use.
"We are constantly comparing external environments against our system to provide the most productive, reliably running system specific to that site's conditions," Lawrence explains. "We work directly with the customer or with their engineering consultant to provide a custom-designed solution. B.I.D. builds quality conveying solutions."
A quality conveyor system is one that stands the test of time and holds up against the elements that it has been prepared for, Lawrence says. B.I.D. Canada has provided modularization to its customers for more than 20 years – well before it became popular, the company says. B.I.D. Canada offers preassembled modules that arrive complete with idlers, hoods, cladding, roofing, walkways, lights and a cable tray that are all preinstalled in the module.
B.I.D. Canada's product line changes with every project as it specializes in offering customized preferences. Because it is always building something different, every department in the company has to make adjustments. "B.I.D. offers flexibility, adaptability to change and agility to change quickly," Lawrence says. "B.I.D. has the ability to adapt to different systems we introduce into the manufacturing facility."
The company credits its reliable team of long-term manufacturing employees for its ability to stay flexible. Five out of its 48 employees have been with the company for 25 years, which is as long as its manufacturing facility has been operational. "Our employees know what it takes to get a project done on budget and on schedule," Lawrence attests. "They are willing to work harder and longer for the company should we need them. Our employees take pride in the work of building quality conveyors."
Staying Diverse
"Diversification has been our strategy for adapting to market changes," Lawrence notes. "As one market declines, another market tends to pick up business."
B.I.D. Canada's target industries are cyclical and commodity-based, and because of that maintaining steady business and workflow is always a challenge. In the mining industry, for example, B.I.D. Canada tends to see the beginnings of an increase in mining activity – helping with a client's feasibility studies – and it tends to be among the last divisions brought on board in a capital equipment project. "We see the change before we are affected," Lawrence adds.
Many of B.I.D. Canada's clients are multi-national companies that are building world-class facilities throughout the world, Lawrence says. "We have delivered B.I.D. Canada systems as far as New Caledonia and Kingston, Jamaica," he adds. "We had a local individual on a vacation to Jamaica recognize our work when they visited Kingston, which was cool for us."
The company also maintains strong links within the community by fulfilling smaller requests such as small fabrications for the local hockey arena, as well as donating firepits to the local Rotary Club and other community groups to be auctioned .
Maintaining its Reputation
B.I.D Canada's goal is to maintain its loyal client base and continue to provide the same level of customer satisfaction as it grows.
"We have a reputation with the clients that know us and have seen our work," Lawrence says. "Our quality is appreciated and recognized, making us a respected company and material-handling resource."
The company says gaining the respect of its customers is important because it can be attributed back to its quality systems. B.I.D. Canada grows its reputation every time it gains a new customer because of its commitment to work with them throughout the installation process and beyond by providing assistance and suggestions for improvements. "B.I.D. Canada's vision is to work with new clients while maintaining current client relationships, satisfying their material-handling needs and providing quality custom conveyor solutions while providing a healthy and safe work environment for employees," Lawrence says.