Clean air
Bigneat's equipment protects laboratory personnel from airborne hazards as well as offering process/sample protection during laboratory procedures, batch and on-line production processes
Formed in 1972 as a new start up, Bigneat is today firmly established as an award-winning, world-class manufacturer and leading global provider of clean air, hazard containment and safety systems to scientific laboratories and industry. The company's business strength is based on a capability and expertise built up over many years in the design and manufacture of high performance air movement and air conditioning systems, which use Carbon and HEPA filtration technology for the capture and removal of airborne hazards (both fume and particulate).
The business forms part of the larger 'Bigneat Ltd, Group of Companies', which comprises Bigneat, Solent Manufacturing and EFCO Furnaces. In its formative years Bigneat manufactured a 'standard' specification range of ductless fume cabinets, powder weighing cabinets and laminar flow cabinets, but over the years it evolved its product offering, with bespoke manufacture beginning in 1988. By the mid 1990s significant growth was being seen in the research and development departments of the laboratory automation sector, particularly in drug discovery sciences. Bigneat was also approached by a leading liquid handling company and asked to develop a range of enclosures to provide containment and process protection for their robotic systems. This led into another new speciality for the organisation.
Thanks to a continual evolution and willingness to adapt to the needs of the market, Bigneat now leads the world in containment technology and laboratory safety enclosures. Its range continues to expand, and today it also includes bio-hazard cabinets, MSCs, modular clean rooms, on-line packaging humidity control, PCR workstations, powder weighing hoods and ventilated filtration chemical stores and controlled atmosphere storage.
The sectors that come to Bigneat for solutions include biological, chemical, electronics, food, government, nanotechnology, pharmaceutical, photonics, universities, schools and in industry, for QA/research laboratories and sterile production areas.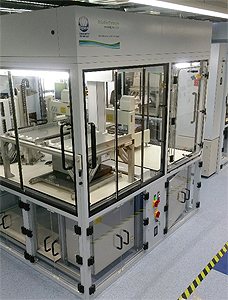 Having developed a number of bespoke projects for blue-chip clients in the manufacturing space across the world, including a contract with Jaguar Land Rover to produce an enclosure to help measure emissions in its research lab, Bigneat has created a working approach that embraces a true 'spirit of partnership'. The Jaguar Land Rover project was especially complicated, however Bigneat was able to design an enclosure which fulfilled all the client's requirements, and its suggestions lead to the concept of converting an existing room into a clean-room using the make-up air from the same plant that was running the enclosure. This ensured that very fine control of the various compartments would be possible within the cabinet with minimum plant running costs. Bigneat's Managing Director, Robert Monks, sees a wide range of possibilities for the company following the successful conclusion of this project. He explained that: "The requirements we fulfilled for Jaguar Land Rover are not merely the requirements of the automotive industry but of many areas of the pharmaceutical industry as well, which is a large part of our business." He says that his company will be taking the expertise developed with the JLR project and applying it to a wide range of applications in such varied areas as blood and cell culture incubation, micro-economic plant and seed propagation, as well as numerous potential areas across the pharmaceutical industry.
It is clear from the example project discussed above that the technical skills of Bigneat's people and their ability to work closely with customers represents one of the core strengths of the business. In fact, such is the quality of the team at Bigneat that when the company was announced as a winner of a Queen's Award for International Trade in 2017 – the UK's highest accolade for business success – Robert was quick to extend his gratitude to his staff and acknowledge their contribution: "I would like to take the opportunity on receiving this most prestigious business award, to personally thank all of our dedicated employees for their hard work, enthusiasm and commitment in driving our business forward," he said. "It is an absolute honour to be recognised by Her Majesty the Queen for the success we have achieved over the past few years. As a UK manufacturer, committed to providing industry around the world with technically excellent, safety hoods and enclosures, we pride ourselves on our long-standing heritage and our customer focused ethos."
The award was given in recognition of Bigneat's Outstanding Short Term Growth in overseas sales over the past three years. The organisation's export growth strategy involved examining differing regulatory requirements from domestic and European markets in overseas countries, undergoing assessment as appropriate to satisfy local product certification and establishing new and productive relationships with key distributors in these countries. In the case of the USA, a subsidiary, Bigneat North America, LLC, was set up to provide dedicated after-sales, service and maintenance. Following this acknowledgement of outstanding quality, Robert is confident that the success Bigneat has already seen will continue: "I feel Bigneat's position, with a broad range of quality products and with excellent overseas distributors, means future growth prospects are very positive," he stated.
Bigneat Ltd
Products: World-class manufacturer and leading global provider of clean air, hazard containment and safety systems