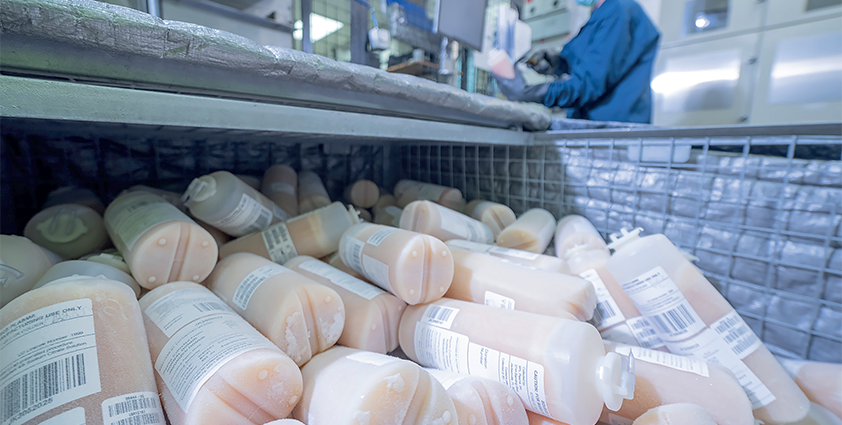 Critical supply
Armed with a rich history, plasma-derived products manufacturer BPL is eyeing up new markets around the globe, with hopes of delivering more vital medicines to those in need
The history of Bio Products Laboratory (BPL) stretches back to the earliest pioneers of blood and plasma-derived medicines in the UK. BPL was founded within the Lister Institute of Preventative Medicine before it became independent of Lister in 1954. The Lister Institute remained at Elstree until 1978.
BPL acquired its present form in 2012, following a decision from the UK's Department of Health to amalgamate several plasma-related operating divisions, including BPL and several plasma collection groups in the US, into one global commercial organization: BPL Holdings Limited.
Today, the company continues to evolve, balancing its established UK foundations with recent growth in international markets. The company is dedicated to producing a range of medicines that treat immune deficiencies, bleeding disorders, as well as for critical care, supplying patients in over 30 countries across the globe through its 50 international distributors.
"We're a company with almost 70 years of providing a supply of high-quality plasma-derived medicinal products," confirms Bob Rossilli, Chief Commercial Officer for BPL's Global Business.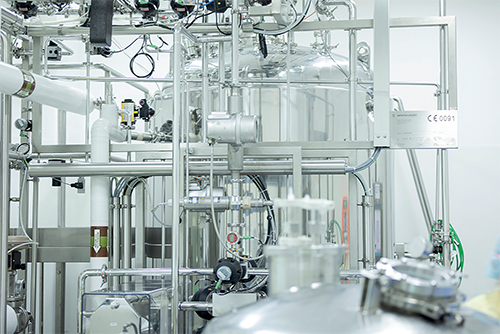 "Our new product development deliverables ensure that we deliver a highly differentiated rare disease product pipeline, based upon robust scientific methods and efficient processes. Our manufacturing standards contribute to the purity of our finished products, while our clinical trials produce data to demonstrate those products' unique value."
Already well-established in the US, with offices in Durham, North Carolina, BPL is turning its attention further afield. In January 2022, the company was granted a license to market Albuminex® 25% product to China – its first ever product approval within the country, and a major milestone. "The Chinese Albumin market is the world's largest in terms of volume, at over 600 million grams per year," says Bob. "More than 50 percent of that volume is imported, and all expectations point to continued growth. Our first product shipments are scheduled to be made in the first half of 2022."
Nor does the growth end there. BPL also recently announced its first ever direct sales in Mexico, as part of an important supply award of Zenalb 20% ®, which is a human albumin, and the first ever BPL product released in Mexico through its local affiliate at the end of 2021. "This supply is critical to meet the needs of Mexican patients who will benefit from albumin, in what is the largest regional albumin market in Latin America," Bob confirms.
It's a similar story in India, where BPL has been producing medicines for patients in areas of critical care, hemophilia, and coagulation disorders for more than 20 years. "As a growing healthcare market, India is of strategic importance to BPL," Bob continues. "We provide plasma-derived therapies to several key partners in India, and we continue to grow our global commercial presence there, in what represents a business opportunity of up to £70 million over the next five years."
To fulfil this ambition, the focus of BPL's UK operations is on the continued upgrade of its Elstree facilities, as it looks to further improve its efficiency. "Our objective is to reliably and efficiently supply quality medicines to patients on time, and in full," confirms Richard Gray, COO at BPL.
Efficiency strategies
As one example of efficiency improvements, BPL was recently granted a patent from the US Patent and Trademark Office for its 'E+I' process for extracting Immunoglobulin (IgG), from a waste stream. "That precipitate is produced during normal plasma fractionation processes, thereby increasing the overall yield of IgG from blood plasma," explains John More, BPL's Director of R&D, who invented the process at the Elstree site with Tara Dolan, Head of Bioprocessing at BPL. "With the granting of this patent, the process is now protected in the US, and we are close to getting the patent granted in Europe, adding to our already accomplished portfolio."
BPL has initiated several projects to improve the yield of its finished products, investing capital into equipment, and processes to do so. Another key component to improvement has been the adoption of Lean Manufacturing processes, underpinned by training and development in Lean principles across various multidisciplinary teams including Engineering, Production, Quality Control, Quality Assurance, Supply Chain, Technology, etc.
"In 2022, BPL will continue our Lean focus, with Visual Factory, 5S (Sort, Set-in-order, Shine, Standardize, and Sustain), and Standard Work," explains Paula Nicol, BPL's Production Director. "To ensure our finished product specifications are met it's vital that we minimize variability by ensuring that our manufacturing processes are clearly defined, validated to prove reproducibility, and then carefully monitored to give assurance that every vial is of the appropriate quality."
"BPL use statistical process control and monitoring systems throughout their manufacturing operations to ensure that processes are appropriately controlled, and to identify opportunities for process improvement," says Cathy Bateman, Quality Director for BPL. "A tiered meeting program deployed and overseen by Operational Excellence ensures that communication is clear throughout the organization, so that everybody is focused on the required activities for the day. Structured investigation tools are used to facilitate analysis and to drive improvement in the business."
Focus on training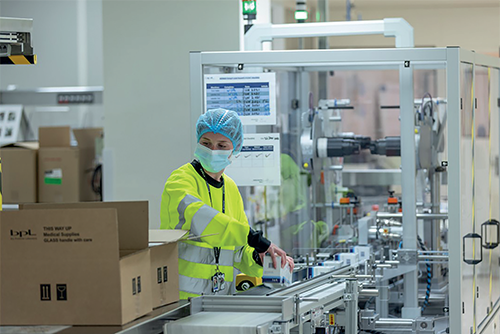 As part of its upgrade, in March 2021 BPL announced an investment of approximately £23 million to build a new aseptic processing line at its Elstree site. Intended to modernize BPL's filling capability with state-of-the-ar t technology, it's a move beneficial not only for the company, but for patients around the world, as it enables BPL to better-support the increasing global need for plasma-derived medicinal products. The suite will also provide BPL with increased capacity to manufacture upcoming new products, which are currently in development.
"The 1000-meter-squared suite will be built within an extended and re-purposed area, with construction commenced in 2021," Richard tells us. "The construction of the new facility is well underway with the area being completely stripped out, the front façade of the building modified, and a new extension slab laid in preparation to receive the kit. There have been some minor changes to the design as it has progressed, and the utility packages are being finalized for the delivery of the utility to the equipment specification."
The new filling line has a higher r un-rate than existing equipment line , with the capability for increased batch sizes to accommodate further growth in the future. The fit-for-purpose facility has also been designed with best practice people and materials flow to strengthen contamination controls. It is set to become operational by 2024.
The focus on contamination and the safety and security of staff is a key concern for BPL. It's indicative of an attitude of care within the company and is reflected in its heavy emphasis on training and development. "We want to be sure that our people are competent and confident in everything they do at BPL," confirms Sharon Lloyd, Business Excellence Director for BPL. "Recently, we have completely revised our training associated with technical and managerial capabilities in order improve efficiencies and support better career development.
"We've also started to enable colleagues to move through different parts of the business, giving them a broader experience of BPL as a whole," Sharon continues. "Our apprenticeship scheme, graduate scheme, and external training all provide further opportunities for development. We offer several formal certifications, including HNC, MBA, MSc, and PMP."
Strong relationships
BPL also takes great effort to cultivate a positive company culture. "Values drive how we behave at BPL. In 2020, we embarked on an 18-month project to develop those values," says Bob Rossilli, who sponsored the project. "A working group consisting of members of our team from Elstree and the US was charged with building and describing what matters most to us all at BPL. These values now help drive how we interact with each other, and how we work together to achieve results. They help create a sense of purpose, improve team cohesion, and create a sense of belonging and commitment."
"As we look to recognize our employees' achievements, we also issue a number of awards, including thank you cards, canteen vouchers, and encourage peer-to-peer recognition," Richard adds. "Similarly, we consider wellbeing a priority. We have mental health first aiders (MHFA) on site, and offer regular MHFA training, along with counselling and advice via our Employee Assistance Program. Staff volunteers recently initiated a project to build a Peace Garden on BPL grounds, and we work to create a sense of community and inclusion with regular book club and photo competitions."
Feedback is essential, and so a Pulse Survey is arranged annually for colleagues to offer their views on how the company doing as an employer. This feedback helps to steer the direction of priorities and objectives for 2022, driving improvements in employee experience, and ensuring that the business is a great place to work.
It's been a difficult couple of years for business worldwide, and BPL is no exception. Like all businesses in early 2020, BPL had to respond with vigilance to the onset of the Covid-19 pandemic. "We very quickly determined which essential staff had to remain on site, and who we could ask to work from home, and implemented this strategy within a week," Richard recalls. "On site, we introduced temperature monitoring, mask wearing, and extra cleaning to secure the safety of the site, and those working there. We also introduced an ongoing Covid-19 risk assessment (which is still continuously being updated), while our Covid-19 steering group met twice per day in the first six months to study the information from the media and government, and to adjust our site controls accordingly."
The aftermath of Covid-19 continues to hit hard, with significant disruptions to key supply chains. For the team at BPL, it's a period that has shed light on the importance of the company's strong relationships with its suppliers. "We meet regularly with our suppliers to discuss requirements, share visions and mitigate issues where possible," says Roy Lloyd, Supply Chain Director at BPL. "They understand the importance of the medicines we provide, and so they strive to make our requests a priority."
For BPL, a key objective is to bring key suppliers on-site. In doing so, the company hopes to develop an even deeper understanding with regards to the development of new technologies and solutions. "The rapport that BPL has built over the years with our suppliers was demonstrated by the commitment that they showed to us over the lockdown period," Roy emphasizes. "Add to that the tenacity and resilience of our own team, and you can see what it was that allowed us to continue operating during lockdown. As a company, we were able make important decisions quickly both internally and with our suppliers, ensuring we did our best to maintain supply of all critical materials."
The year ahead won't be without its challenges, as BPL continues to navigate not only the lingering effects of Covid-19, but also an unpredictable economic situation worldwide. "We're looking forward to welcoming some teams back on site for team days, while further exploring hybrid ways of working," Richard divulges. "We'll continue to execute our capacity and efficiency upgrades, while growing our medicines portfolio. We'll also continue our embrace of lean manufacturing, as we look to enable decentralized decision making and problem solving at the value stream."
As it looks to realize that growth, BPL is not alone. In January, the company announced that Funds advised by investment firm Permira had entered into partnership with the existing shareholders of Kedrion Biopharma SpA (another plasma-derived products manufacturer), in order to jointly acquire and combine Kedrion and BPL. The completion of this transaction is subject to regulatory approval, which is already in process, and will hopefully complete sometime later this year. The objective is to create a new global leader in the plasma therapeutics industry, deeply committed to best-in-class patient care and responsible donor engagement.
Bio Products Laboratory
www.bplgroup.com
Services: Blood plasma-derived medicinal treatments