Fit for purpose
Representing a genuine British success story, Bisley began business in the field of car body repairs and has grown to a leading specialist in the design and manufacture of steel storage systems
With offices and a customer service network throughout the world and a modern manufacturing facility located in Newport, Gwent, Bisley produces around 15,000 steel storage items per week. These items can be bought in over 50 countries, with clients including well-known names such as Direct Line, the BBC and PwC. "The origins of Bisley go back to 1931. It was in that year that Freddy Brown, a tradesman sheet metal worker, started his one-man business repairing damaged cars in a garage in St John's, Woking, Surrey. In 1941 the company moved to Bisley, Surrey when a 400 square metre manufacturing facility was built and various wartime defence contracts were undertaken. The company was responsible for designing and manufacturing the first containers to be dropped by parachute, which were widely used by airborne forces throughout the Second World War. Bisley subsequently received several
commendations from the Ministry of Defence for the work undertaken on behalf of the war effort," elaborates Operations Director, Paul Crutcher.
"At the end of the war in 1945, the company had built up a manufacturing capability for which there was now no demand. Car repairs had been resumed but no specific manufacturing role presented itself," he continues. "In 1946 a London wholesaler, Standard Office Supplies, now defunct, showed Freddy Brown a steel waste paper bin and was told that if he could meet the necessary price and delivery, then an order for 24 would be his. The rest, as they say, is history. The company made steady if unspectacular growth. In 1963 the repair of cars was discontinued to allow more emphasis to be placed upon office furniture."
Over the following years Bisley continued to develop, with Freddy Brown deciding to retire from the company in 1968 at the age of 67. The company was put up for sale and on 10 March 1970 Tony Brown, Freddy's son took proud ownership of the company. In that year Bisley had sales of £370,000 per annum and employed 45 people, with Freddy Brown remaining as Chairman of the company until his death on 29 December 1977. Growth in the business has been steady over the proceeding years and includes milestones such as the launch of the lines like the filing cabinet in 1980, the side-opening tambour in 1990, the pedestal in 1993, LateralFile in 1995 and InnerSpace in 2003. To meet expanding demand, a 17-acre site in Newport, South Wales was purchased in 1988. The purchase of the site in Newport meant that the company could concentrate upon export markets and export sales subsequently increased in ten years from £2.96 million in 1987 to £20.27 million in 1996. Bisley achieved a unique status in the office furniture industry by being granted two prestigious Queen's Awards for Export Achievement, in 1992 and later in 1997. Consolidated export sales for 2011 were £34.2 million. In 2012 the decision was made to consolidate all manufacturing on a single site in Newport. This was achieved through the acquisition of a 20,000 square metres property bringing the total to 60,000 square metres. In addition, Bisley has a showroom on London's Great Portland Street, as well as sales offices in France, Holland, Germany, Ireland, Spain, Dubai and North America.
In November 2015 Bisley was further recognised through the award of the Manufacturing Guild Mark by the Furniture Makers' Company. This prestigious award, which recognises excellence in design, sustainability and production, assures all its customers that the furniture they are buying is made with care and that Bisley adheres to the highest standards throughout its operations. Paul reveals: "Our success is based on enduring relationships, the latest manufacturing technology and the best people. Our 700 employees are always pushing the boundaries of manufacturing excellence and as a private company we're able to devote all our profits to our business. Since 1989 we've invested more than £80 million – helping us to become Europe's leading manufacturer of steel storage. In fact, 48 per cent of all UK steel storage originates from Bisley."
Bisley's manufactured product range spans from the classic MultiDrawer, to the highly customisable 'Be' range of integrated furniture solutions and nearly everything in between. The company is active within several key sectors and manufactures the fullest range of steel furniture for corporate, industrial and home markets. "Within the home market our MultiDrawers are viewed as being as iconic as they are versatile. Originally designed in 1958 to be a desk-side filing cabinet, they have since become a design classic – they are even ranged by the Museum of Modern Art in New York. Made from steel and powder coated with a highly durable smooth finish, MultiDrawers are not only the perfect solution for the home office but any other room in the house; in the bedroom for makeup and jewellery, in the bathroom for cosmetic items or in the kitchen for herbs and spices. They are the ultimate storage solution – compact, robust and built to last," Paul says.
"Designed in response to the upward trend in the number of people working from home, Stage is Bisley's modern, adaptable, shelving based furniture system which delivers both style and utility in the home. With a bespoke aluminium frame at its core, it has a contemporary open aesthetic with a mid-century look. Combined with a choice of sliding door colours and work surface finishes, each piece can be customised to suit any interior."
Within the office space, Bisley understands that dynamic organisations need to respond swiftly to changing work landscapes with minimum disruption. The company's intuitive Be range represents a convenient solution that can be arranged and reconfigured to support evolving needs. Indeed, Be is not simply a single solution, but a plethora of possibilities to suit the different needs of individuals and businesses now as well as in the future. Be includes office furniture solutions ranging from tables, desks and workspaces through to cupboards and drawers, all of which can be fine tuned to meet the specific needs of the client.
The company also offers clients operating within the office environment its 'Essentials' range of products, which is comprised of a core group of products that no office can function without, including cupboards, tambours, lodges, drawers, desk high storage and combination units. The line is designed to take the complexity out of specifying an individual workspace, while providing an affordable and high-quality storage solution.
Bisley is also active in the provision of products within the industrial and manufacturing environments through the delivery of its ToolStor line of storage solutions. The ToolStor range has been designed to take the rigours of industrial use and incorporate some of the most advanced design and manufacturing processes seen within Europe. All 1200 of the line's products are supplied with a ten-year comprehensive guarantee as a commitment to the lasting life cycle of the company's tool storage products. "ToolStor products are suitable for all industrial workplace environments making them the most appropriate type of storage to maximise your workshop's efficiency," highlights Paul.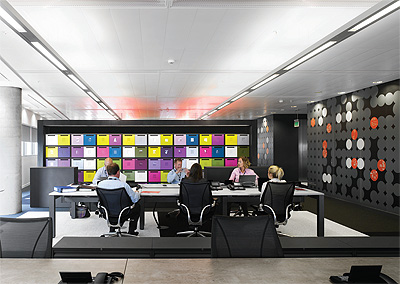 It is clear from Bisley's approach that one of the company's top priorities is to ensure that all of its products are designed and tailored with the needs of clients in mind. Paul confirmed that this requires close collaboration both internally among colleagues, and also with third parties should the need arise. "We have a strong in-house design and product development team, which constantly assesses our products while making improvements based on feedback from customers and the manufacturing team," he says. "We also work in collaboration with leading designers when we want an injection of a different type of expertise. Be and the highly adaptable Stage lines of office furniture were both developed with the support of external consulting designers."
The company's comprehensive range of office and industrial furniture solutions has allowed Bisley to provide workspace solutions to some of the world's most recognised names across a range of industries. Across the breadth of its clients Bisley is highly active within the charity, retail, media, legal, communications, finance, public sector, engineering, utilities, health services and education markets. For example, when the BBC announced its high profile move to Manchester's MediaCity in 2009, Bisley was contracted to provide storage at the new premises, including 300 lockers, many drawer units and cupboards in a multitude of colours. "The BBC Salford installation embodied today's evolving working habits and in terms of specification reflected customers' increasing sophistication when it comes to product flexibility. The BBC solution demonstrated that new demands in terms of personal storage have changed to become more lifestyle-oriented, with correspondingly less emphasis on traditional drawer or archive storage. Bisley is delighted that the BBC chose its LateralFile Lodge product which, proved flexible enough to meet the dynamic needs of the BBC."
Further to developing its presence within new and existing markets, Bisley also invests heavily into the continued development of its products and storage lines. This includes the development and training of its employees; visiting international trade shows to capture market trends; and the implementation of Lean manufacturing techniques. The company has recently invested into the development of its production facilities, including the introduction of a new electrostatic powder coating line. The company's central press shop produces nearly half a million steel components every week across over 6000 variants, some of which are produced in very small quantities, while others are manufactured by the thousand. Bisley routinely ships in excess of 1000 different finished goods variants every week. "The thrust of Bisley's new investments within the factory (beyond that of plant lifecycle renewal) has been focussed increasing our manufacturing agility with machines, which support greater flexibility, smaller batch quantities and increased factory throughput rates," Paul says.
"This includes the introduction of a Bystronic fibre laser with integrated materials handling tower for 'lights out' unmanned operation; two Salvagnini P1's – an all electric flexible folding technology; and an Amada Auto Tool Change Press Brake, offering true 'batch size of one' capability," he continues. "The new electrostatic powder coating line supplied by specialist Gema replaces 'end of generation' technology at one of Bisley's four main paint lines. The new application equipment concurrently reduces manual in-fill spray, improves the repeatability of automatic spray and can now handle spray batches, which may be highly variable in terms of their geometry. To this end the new installation will reduce operating costs, improve quality and consistency and further Bisley's ability to reduce its batch size of manufacture through the factory."
While the company's traditional and established markets continue to enjoy healthy levels of activity, Bisley understands it must address the needs of new and emerging markets if the business is to continue to grow. During the coming years, Bisley is keen to explore new market activities while continuing to service clients old and new. "The market for traditional steel storage is, at best, experiencing a plateau in demand. It is for this reason that, in order to continue its growth, the business will be looking to develop its value proposition in terms of value chain, breadth of product offering and market segments which remain undeveloped for Bisley," Paul concludes. "With regards to the market, Bisley will be continuing its diversification and exploring where our core competencies and brand awareness can add value for existing and potential customers. In terms of manufacturing, Bisley will be looking to consolidate on and build on its Lean journey. Much progress has been made to date, but as is often the waywith Lean, one never really feels as though the job is anywhere near done!"
Bisley
Products: Specialises in designing and manufacturing steel storage systems