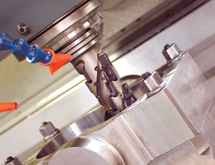 Blackhawk Engineering Inc.
Blackhawk Engineering Inc. realizes today's clients expect their contract manufacturer of choice to serve as a consultant instead of just a job shop. According to Vice President/General Manager John Oltman, Blackhawk Engineering has made a reputation for itself not only through quality products delivered in a timely manner, but also for its ability to assist customers with value-engineering.
"When a customer is developing a new product, we will become involved and renew their new designs with them, and often, we can identify issues that are expensive or next to impossible to produce," Oltman says. "It gives us an opportunity to create a design that is manufacturable and less costly."
Blackhawk Engineering was founded in 1974 to design and build tooling, dies and special machines for a variety of clients. In 1985, the company purchased additional CNC lathes and mills to focus on the machining of service and short-run production parts, and it acquired a large horizontal machining center for agricultural machine housings in 1988.
That purchase helped Blackhawk Engineering become the first certified supplier to John Deere Waterloo Works for drive train casting machining, and the company has maintained that relationship since 1989. Blackhawk also serves CAT, which is one of its largest clients.
In 1995, Blackhawk Engineering completed its expansion effort by adding a second building focused on horizontal milling for six-sided drive train machining. This made the company the world's top user of Hitachi Seiki Horizontal Pallet Changers. In 1996, the company introduced the Ford Quality Operating System to improve its overall business practices.
Today, Blackhawk Engineering still caters to agricultural OEMs primarily out of its facility at the company's Cedar Falls, Iowa, campus. The company currently operates out of 85,000 square feet, but Oltman says Blackhawk Engineering has started an expansion project that will add 40,000 square feet to its operations. Once completed, the company will add at least six horizontal machining centers.
Maintaining the Technology
When Blackhawk was attempting to find its footing in the contract manufacturing industry, upgrades to technology were made on an as-needed basis, Oltman recalls. Today, however, the company has an equipment maintenance program in place that has one or two pieces of equipment out for rebuild at any given time.
"Fortunately, since we are a much more viable company now, we have a plan where we rebuild equipment on a regular basis," Oltman says. "This isn't new equipment, per se, but it goes through a refurbishment process."
Blackhawk Engineering will replace equipment when the time comes, but it does not necessarily replace it with new machinery. Oftentimes, a refurbished piece of equipment will run the best.
"In addition to the acquisition of several pieces of equipment, we don't just buy new," Oltman says. "Some are just simpler to run, to be honest. It's like buying a car – you don't need a new one to get from one spot to the other. Used will work better at a more economical price."
This is especially true with regard to new technology. Oltman says Blackhawk Engineering does not have the luxury of experimenting with the latest innovations until they've proven fruitful.
"We use proven technology rather than leading- or bleeding-edge because we're in a production environment," he explains. "We will experiment with new cutting inserts in the market that would be better than what we have now. It's predominantly related to perishable tooling for our machining."
Machining from Scratch
Blackhawk Engineering starts the manufacturing process with raw gray and ductile iron castings purchased from suppliers throughout the Midwest. Using high-precision CNC machining centers and lathes, Blackhawk Engineering then creates the features in each raw casting according to customer specification with standard and specialized cutting tools.
According to Oltman, minor product changes occur about every six months, and new product programs are launched about every three years. The company adjusts its operations through frequent meetings called DPARs, which stands for design, print-and-process assembly review. Blackhawk Engineering conducts these meetings with its clients to offer suggestions on how to improve designs to reduce cost and improve quality control.
Efficient Engineering
Blackhawk Engineering adheres to various efficient manufacturing operational philosophies, such as the lean school of thought. Oltman says employees on the factory floor and the direct line supervisors are the best source for identifying process improvements and suggestions, and the company rewards its employees for the initiatives that lead to savings.
"We have an aggressive suggestion program and share in the cost savings with the employee," Oltman says. "We also have a lost-cost reduction goal of 3 percent of gross sales that everyone in the company from me to the janitor are expected to contribute to.
"My belief is there is always a better way to do something," he adds. "Try them. Some work, and some may not, but at least you tried and now know what doesn't work."
In fact, Blackhawk has been operating under the Ford-based quality operating system principles. The company says this system is a continual improvement process that monitors key business measures and is a way of driving its business. Blackhawk states that it allows the company to achieve increased levels of customer satisfaction, as well.
Blackhawk Engineering also has hired five engineers to focus specifically on process improvements.
"We monitor output daily by cell, continually tweak processes to reduce machining cycle time and utilize lean manufacturing techniques," Oltman says. "We also have hired additional engineers to focus on process improvements. They can pay for themselves with the savings they generate."
In spring 2012, Blackhawk Engineering's 30,000-square-foot new facility was completed. The new structure features:
15 large CNC machine tools;
Environmentally controlled CMM inspection room; One washing and packaging area;
Four shipping/receiving docks and  an inventory storage area; and
Office space for the engineering department and new restroom facilities.
"For the past 25 years we have focused on the difficult drive-train-type parts made from iron castings and utilized in the agricultural and off-road industries," Blackhawk Engineering states. "Our commitment to customer satisfaction and the ISO standard has elevated our quality, productivity, delivery and efficiency to a level that sets us apart from the competition."
Blackhawk Pride
Oltman says Blackhawk Engineering has come a long way since he joined the company in 2003. He is proud of the way the company has turned around, especially when considering the company now has a pay structure that rewards training and certification, plant expansion, fleet upgrades and, of course, increased profitability.
"We continue to focus on nurturing existing customers with quality and on-time delivery," Oltman adds.
Along with corporate pride, the workforce at Blackhawk Engineering exhibits regional ethics, as well. The company says its roots in the Midwest ensure a hard day's work for every dollar earned. "It's our Midwestern attitude toward hard work and focus on the needs of our customers that drives us to competitive pricing, on-time deliveries and making parts right," Blackhawk Engineering states.